Sarah Knapton and Hayley Dixon write in the Telegraph today: "A litany of failings in building regulation and safety rules have left residents in tower blocks vulnerable for decades. Despite constant warnings from fire experts, nothing was done to improve fire-proofing standards, or even review the current situation." They present eight times that the victims of Grenfell Tower were let down." 
These were:
A change in the law

Until 1986 all buildings in London fell under the London Building Acts which ensured that external walls must have at least one hour of fire resistance to prevent flames from spreading between flats or entering inside.
But under Margaret Thatcher's government, those rules were replaced by the National Buildings Regulations and the crucial time stipulation was scrapped.
Instead, materials used on the outside of buildings now only had to meet 'Class O' regulations and show that they did not add to the heat or intensity of a fire. But crucially they did not have to be non-combustible. For the past three decades fire safety experts have warned that the 'Class O' designation was based on small-scale tests conducted in laboratory conditions and did not properly evaluate cladding in a live fire. A recent London Fire Brigade investigation into the fire at a tower block fire at Shepherd Court in West London in August 2016 found that external cladding had helped the fire to spread.
They found that when exposed to high flames the metal sheet of the cladding had melted away, setting the inner polystyrene foam on fire and allowing 'flaming droplets' to fall onto lower floors while helping flames to spread higher up. Fire chiefs wrote to every council in London to warn them of the dangers but no action was taken.
Dangerous cladding
A leading fire safety expert warned Government advisors three years ago that a tragedy like the Grenfell Tower inferno would happen unless they changed rules to ban cheap, flammable insulation used on the outside of buildings.
Arnold Turling said the Grenfell blaze was "entirely avoidable" and that a gap between the panels acted as a 'wind tunnel', fanning the flames, and allowing the fire to spread to upper levels.
Turling, a member of the Association of Specialist Fire Protection, said: "Any burning material falls down the gaps and the fire spreads up very rapidly – it acts as its own chimney."
Three years ago Tarling, a chartered surveyor, addressed the British Standards Institute's seventh annual fire conference in London, at which government fire safety advisor Brian Martin was present.
"I said we will have this type of cladding fire in this country and it will lead to large numbers of deaths," he said.
It emerged last night that the United States had banned the type of cladding thought to have been used on Grenfell Tower. 
The material used on Grenfell Tower was sold under the brand Reynobond which comes in three different varieties: one with a flammable plastic core and two with fire-resistant cores and the cheaper, more combustible, version was banned in the United States in buildings taller than 40 feet. 
It is thought that Grenfell's exterior cladding, added in 2015, had a polyethylene – or plastic – core but conforms to UK standards.
Reynobond's fire-resistant panel sells for £24 per square metre; £2 more expensive than the standard version.
Following the Shepherd Court fire, insurer RSA wrote a report warning that flammable material in insulation panels "melts and ignites relatively easily", and can cause "extremely rapid fire spread and the release of large volumes of toxic smoke".
They concluded: "This allows extensive and violent fire to spread, and makes fire fighting almost impossible."
Architect and fire safety expert Sam Webb said there was a "conflict" between fire safety and the materials that are used to make buildings more energy efficient.
However Harley Curtain Wall Ltd said that it had installed cladding, with polyisocyanurate inside, a material which is "better than most at resisting fire in tests."
No government review  
After six people died in the Lakanal House fire in south London in 2009, the All-Party Parliamentary Fire Safety and Rescue Group called for a major government review of building regulations. Sucessive ministers since 2013 have said they are still looking at it.
They argued that 4,000 tower blocks across London were at risk because of a lack of fire risk assessments, and panels on the outside walls not providing the necessary fire resistance.
The coroner on the Lakanal House inquest also recommended the government simplify regulations relating to fire safety so they were easier for landlords to understand.
In 2013, then communities secretary Eric Pickles responded to the coroner's recommendations and promised a review with an updated version of building regulations published in 2016/17.
However, four years on and no review has been completed despite assurances from former housing minister Gavin Barwell, who is now Theresa May's chief of staff.
A spokesperson for the Department for Communities and Local Government said the work is "ongoing" and would not give a date for when the updated regulations will be published.
A single staircase
Residents in Grenfell Tower made repeated warnings that a single staircase was their only means of escaping the building.
Despite safety concerns of experts, tower blocks in Britain still only have to have one staircase, leaving Britain out of step with other countries in the world.
Russ Timpson, of the Tall Buildings Fire Safety Network, said his "foreign colleagues are staggered" that there is no requirement for a second staircase as he called on the Government to look again at fire safety regulations.
Residents fleeing in Tuesday night's blaze complained that stairways were blocked, full of smoke and had no sprinkler systems fitted. Firefighters also struggled to get to the upper levels.
Ronnie King, secretary of the All-Party Parliamentary Group Fire Safety & Rescue Group, said: "The staircase should have been protected route for firefighters and people escaping but it was clear that it wasn't."
The flats had recently been refitted and fire experts warned that gaps in the walls where new pipes were installed could have allowed flames and smoke to spread quickly through the communal areas.
Missing sprinklers
There was no central sprinkler system at Glenfell which members of the Fire Protection Association said would have "undoubtedly" saved lives.
MPs from All-Party Parliamentary Group Fire Safety & Rescue Group also said that MPs had been calling for sprinklers to be fitted on the outside of tall buildings for years, but said their calls have been ignored.
Currently, sprinklers only need to be fitted up to 30 metres, but in tall buildings like Grenfell it is impossible for fire hoses to reach the upper heights, leaving the top floors without any protection.
The Fire Protection Association said more sprinklers would "undoubtedly" have saved lives.
"Whether they'd have stopped that fire spreading at the speed it did up the outside of that building is another matter," Jon O'Neill of the FPA said.
"But to have had sprinklers in that building would have created an environment where it would have been easier to rescue people and increase survivability."
However in 2014 housing minister Brandon Lewis stopped short of forcing building developers to fit sprinklers, over fears it could discourage house building.
He said at Westminster Hall Debate: "The cost of fitting a fire sprinkler system may affect house building – something we want to encourage."
Missing fire doors
London Fire Brigade said claims that doors were not fire-proofed would form part of its ongoing inquiry.
Two separate sources have told The Telegraph that not all the front doors in the tower block were fire-proofed. Official fire brigade advice to stay put in the event of a fire is based on fire doors offering protection to residents told not to leave the building.
Fire doors are designed to stop the fire spreading rapidly through the building rather than being "compartmentalised".
Regulations state that all tower blocks being built must have fire doors on the flat, the stairwell and the riser doors, which give access to the pipes.
Building regulations are not retrospective, so cannot force the installation of modern equipment on old buildings.
However, Richard Brownlee, Managing Director of Surrey Fire and Safety Ltd, said that it would be expected that fire doors were installed as part of any refurbishment and installation would be recommended as part of any refurbishment.
Inspections
According to information released by Kensington and Chelsea Council under the Freedom of Information Act, the last time that Grenfell Tower was subject to a full Fire Risk Assessment was December 2015.
There is a requirement for every building to have regular fire risk assessments, but the amended regulations do not specify how frequently this should take place. Industry experts say that best practice is every 12 months.
It is also a requirement to have a fire risk assessment carried out if there is a "material change" to the building. The regulations do not specify how soon that inspection must take place.
The refurbishment to Grenfell Tower was completed in May 2016 and yet it does not appear that any safety checks were carried out, even though the new cladding work consisted of 'material change.'  
Firebreaks
Fires on outside of cladded buildings should have been controlled by firebreaks – gaps in the external envelope to prevent the continual burning of material. Under Building Regulations 1991, developers are warned that they must install systems to prevent flames from leaping from floor to floor. 
However the Fire Brigades Union and the Loss Prevention Council and the Buildings Research Establishment have frequently warned more recently that guidance is not adequate in the event of a fire. 
And fire safety experts said it was unlikely that firebreaks would have stopped the conflagration at Grenfell. 
Dr Stuart Smith, a building surveying and fire safety lecturer at Sheffield Hallam university, said: "The rate at which the building was burning suggests that even if the fire breaks were there, they didn't work. 
"Once the fire had got into the cladding, the rate at which that burns, I'm not sure fire breaks would work anyway." 
Jeremy Corbyn, who visited the community yesterday, to meet and speak with survivors and angry residents, said: "If you cut local authority expenditure then the price is paid somehow." He was noting the failure to install a sprinkler system and to overhaul fire safety regulations. 
Residents say they sought to obtain legal advice over safety concerns but were prevented from doing so by cuts to legal aid. Other tower block residents, many of them among London's poorest, have been anxiously contacting MPs for fear of a similar fate. 
Though fire crews were quick to arrive at the Kensington tower block (engines were there six minutes after being alerted), the effects of cuts were visible. "Put it this way, you're meant to work on a fire for a maximum of four hours, we've been here for 12," said one firefighter.
The Conservatives' red tape bonfire
The Conservative's Cutting Red Tape programme "allows Business to tell Government how it can cut red tape and reduce bureaucratic barriers to growth and productivity within their sector."  The Tories boast these "big successes" in getting rid of "unnecessary bureaucracy":
Over 2,400 regulations scrapped through the Red Tape Challenge

Saving home builders and councils around £100m by reducing 100s of locally applied housing standards to 5 national standards

£90m annual savings to business from Defra reducing environmental guidance by over 80%

Businesses with good records have had fire safety inspections reduced from 6 hours to 45 minutes, allowing managers to quickly get back to their day job.

Childcare providers now have to read 33 pages of need to know guidance

instead of wading through over 1,100 pages.
Apparently, "Cutting Red Tape wants to work with business, for business."  I don't see any benefit at all for citizens, or a democratic representation and reflection of public needs. Back in 2015, business Secretary Vince Cable and Business and Enterprise Minister Matthew Hancock announced that "better enforcement of regulation" is saving business more than £40 million every year. What that phrase actually means is not "better enforcement" – it's deregulation. The Tories are masters of Doublespeak.
The Focus on Enforcement review programme, which asks firms to identify poor "enforcement practices" that "hold them back", has benefited around one million businesses and boosted growth in 9 vital sectors of the economy from coastal developments to childcare. And building.
This builds on government action to scrap or reform regulatory rules which has saved firms some £10 billion over this parliament. It has also undermined health and safety legislation, consideration of which has a direct impact on the welfare of public.
The government is very "business friendly", but when it comes to the public sector, the relationship is founded on a longstanding animosity.
Boris Johnson told a Labour opponent to "get stuffed"in 2013 when confronted over devastating fire service cuts.
Theresa May accused the Police Federation of "scaremongering" and "crying wolf", when she was confronted over more cuts to the police. But the recognition and fear that emergency services can bear no further reductions is now becoming widespread.
And it's also at last becoming very evident that those who have born the brunt of ideologically driven austerity cuts for the past 7 years, so that very wealthy people can pay less tax, are too often paying an unforgivable price for the savage cuts to our public emergency services, in one of the richest nations in the world.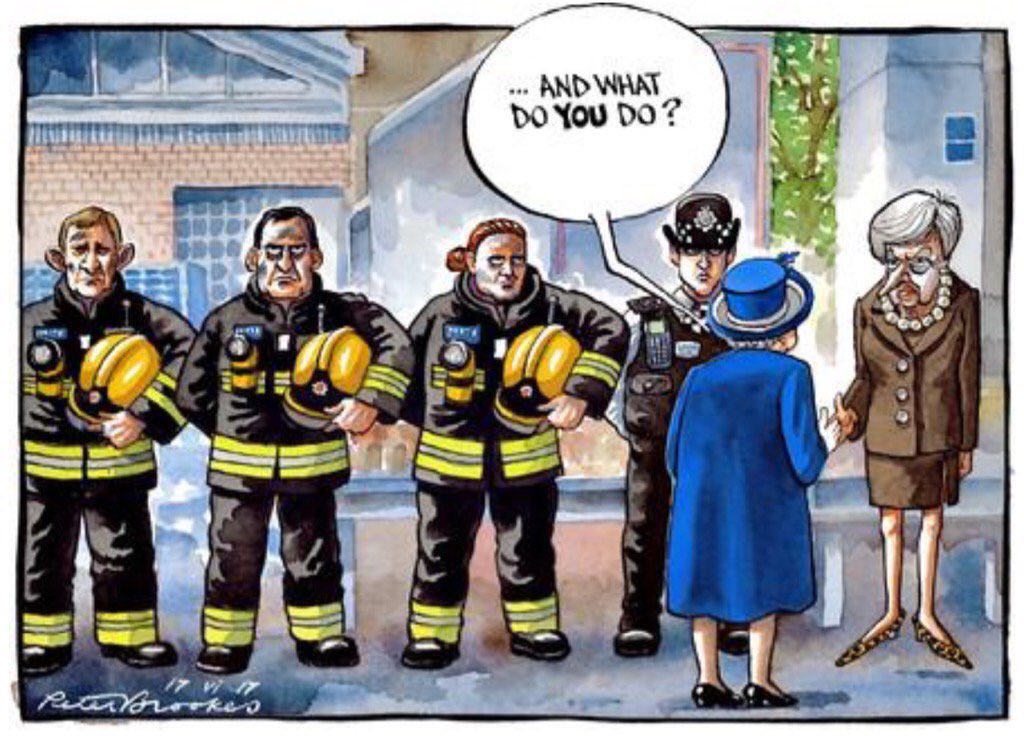 ---
My work is unfunded and I don't make any money from it. But you can support Politics and Insights and contribute by making a donation which will help me continue to research and write informative, insightful and independent articles, and to provide support to others.