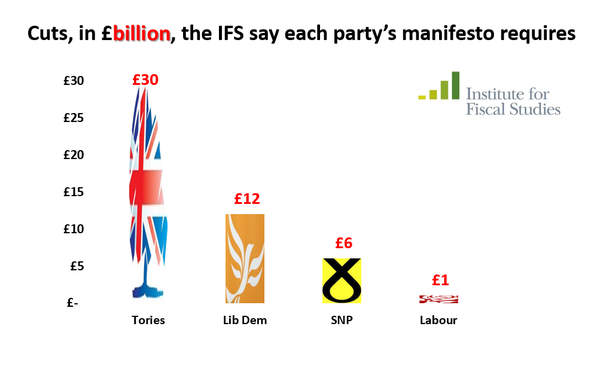 Thanks to Dr Éoin Clarke for the infographic
Nicola Sturgeon threatened that she would be prepared to have her MPs vote down a Labour Budget if Ed Miliband was not prepared to cut a deal with the Nationalists at Westminster. Taking part in a live televised debate in Edinburgh with the leaders of the other three main Scottish parties, Ms Sturgeon said she intended to block Labour's first Budget before negotiating a series of amendments. The Scottish National Party (SNP) leader's position, revealed just days ahead of Thursday's general election, was immediately seized upon by the Conservatives as the tedious stuck record styled electioneering "evidence" yet again that a Labour government supported by Ms Sturgeon's party would result in "absolute chaos" for the country.
Bravo, Nicola Sturgeon. She seems determined to allow a Conservatve victory because of her constant and unqualified attacks on the Labour Party, the issuing of threats like this one, and the perpetuation of nationalist myths aimed at undermining the chance of a Labour victory. It's bad enough with the Tories' scaremongering in the press about the prospect of a Labour/Scottish National Party coalition, without Sturgeon fueling it.
I have to add that Cameron's claim, repeated ad nauseum, that a minority Labour government would be held hostage by the SNP is purely propagandarised tosh. The truth is that the SNP will not in reality be able to hold a minority Labour government hostage unless the Tories allow them to do so, because of course, the Tories also get to vote on things like budgets, defence and so forth, in Parliament.
Scottish Labour leader Jim Murphy said that Sturgeon had already threatened to block his party's Queen's Speech.
It's worth a reminder at this point that crucially, the Scottish National Party's spending plans imply deeper cuts than Labour's plans entail over the next five years, as the Institute for Fiscal Studies (IFS) said in a report last month, highlighting a "considerable disconnect" between the nationalists' rhetoric on austerity and their policies.
"The "anti-austerity rhetoric" of the Scottish National Party is not matched by its detailed spending plans and it would impose deeper cuts than Labour," said the respected independent fiscal watchdog. The IFS also said that austerity would last longer under the SNP than under the other parties.
Furthermore, the IFS stated: "There is a considerable disconnect between this [SNP] rhetoric and their stated plans for total spending, which imply a lower level of spending by 2019–20 than Labour's plans."
This exposes Nicola Sturgeon's attempt to portray Labour as "Tory-lite" on spending cuts for the outright lie that it is. Sturgeon is no longer credible on every claim she has made, parading the SNP as the only alternative to austerity. In plain language, Carl Emmerson, deputy Director of the IFS said: "There would be more spending cuts under the SNP than under Labour or the Liberal Democrats according to the numbers in the SNP manifesto."
Shadow Scottish Secretary and Scottish Labour Glasgow East candidate Margaret Curran said: "For all the bombast and the bluster of the SNP it has now been conclusively shown that their anti-austerity posturing is nothing more than a front. Their plans would extend austerity and harm Scotland. And as is always the case the cuts would be felt by the poorest and most vulnerable in our communities. We cannot let that happen."
She added: "The choice is now simple – continued austerity with the SNP, or an end to Tory austerity with Scottish Labour."
Nicola Sturgeon claimed to have committed her party to kicking the Tories out of Downing Street. It might be a tad tricky for her to explain to her supporters a Commons vote which could, in theory, allow the Tories back in again. That's why, it's was a positive move on Miliband's part to call her bluff.
And let's look carefully at the details: Milband has not ruled out the possibility of discussions, consultations, or taking into consideration SNP views when framing future legislation. But he has made it clear he will not be manipulated or threatened.
"The Conservative plans to eliminate the deficit implied at least £10bn a year of unspecified cuts to child benefit, tax credits, housing benefit, disability benefits and other working age benefits out of a total budget of about £100bn," the IFS said in their report
Even if these cuts were achieved, the Tories would have to cut unprotected departments' budgets by another 18 per cent in real terms, about the same amount again as over the past five years. These cuts are also unspecified by the Conservatives, who have chosen, undemocratically, to hide the details from the electorate. We simply cannot risk another term of devastating Tory cuts to our welfare, public services and the NHS. Especially considering that risk would be founded on misinformation and lies.
Sturgeon's most recent revelation that the party could bring the Budget of a Labour government down came under fire from Kezia Dugdale, Labour's deputy leader in Scotland.
Ms Dugdale said: "Many people who have trusted Nicola Sturgeon will be shocked to hear her say she will vote down a ­Labour Budget. A Budget which will bring in measures such as the mansion tax and the bankers' bonus tax.
"This shows that the people of Scotland should not gamble with the SNP."
Ed Miliband, a principled internationalist, said: "Nationalism never built a school. It never lifted people out of poverty. It never created a welfare state that healed the sick and protected our most vulnerable. Nationalism cannot create the jobs we need."
"Labour believes in "the principles of sharing and solidarity", he added, "that underpin the partnerships of four nations in the modern UK."
He said: "If we set England against Scotland, if we set any part of our country against another, it does not help working people, it harms working people. It undermines the ability to share resources. It drives down wages and conditions in the race to the bottom."

Mr Miliband hit back at Ms Sturgeon's claims that if Labour "fails to work with the SNP," this would see David Cameron win a second term as Prime Minister. He added that if the Scottish Nationalists win dozens of seats from Labour in Scotland, this would increase Tory chances of being the largest party.
Mr Miliband vowed: "I will never put the Tories into government. I have spent my entire political career fighting them."
However Nicola Sturgeon has spent most of her career fighting the Labour Party and propagating lies about them. (See A crib sheet of responses to the crib sheet of lies about the Labour Party: Part one and Part Two.)
Sturgeon has suggested that though the SNP could be relied upon to help "lock out" the Tories from power, she would "be inclined," if voting in England, to endorse the Greens.
Doing the latter, it should be observed, makes achieving the former rather less likely. The more Green MPs there are the fewer Labour MPs there are and the fewer Labour MPs there are the more probable it is that David Cameron somehow stumbles his way into a second term. Sturgeon has some strange logic.
Given that the IFS have said that the true scale of the gap between Labour and the Tories has been further revealed – director Paul Johnson said at the post-Budget briefing: "Our latest estimates suggest that Labour would be able to meet its fiscal targets with no cuts at all after 2015-16," Sturgeon's ridiculously unevidenced, pure electioneering claim that Labour are "Tory-lite" – so easily refuted – is just one of the many lies she has told, and gives us good reason not to trust her.

If the SNP remain so aggressively uncompromising, divisive, chancing manipulation instead of cooperation, they will usher in another Tory government at Westminster, and in that event, they will certainly face paying a heavy political price among their supporters – as happened in 1979. Unfortunately, the rest of the UK will also pay a heavy price.
Despite Sturgeon's undoubted rhetoric skill, Scottish nationalism continues to be what all nationalism always has been: parochial, vicious, ugly, divisive and insular. It's evident that this has fostered a narrow tribalism, an inability to negotiate, or to build cooperation, and an inability to understand and comprehend the rational, logic and legitimacy of differing opinions, which is very evident in the non-democratic threats that Sturgeon has issued. It's a pity she doesn't oppose the Conservatives, rather than attacking the only viable progressive party for the UK. Sturgeon presents a superficial progressive rhetoric with no integrity, and no grounding in reality. The SNP's self-claimed progressive credentials don't stand up to scrutiny. When Sturgeon was asked at her manifesto launch to name a redistributive policy enacted by the SNP in Holyrood, she was unable to cite a single example.
Sturgeon simply chats about progressive ideas to advance the regressive goal of separatism. It's all style, with no real substance at all. Other than a clan SNP nationalist agenda.
For people living in England, NOTHING is more important than getting the Tories out. I suspect that is true for many in Scotland, too.  So please make sure that your vote is a considered, informed and responsible one. If the Tories get another term, we will lose all of the gains of our post-war settlement. We will see our Human Rights Act repealed, (Labour's legislation, and Cameron has also pledged to leave the European Convention.) That is why we MUST ensure that the Tories don't get the opportunity, preferably ever again.
The only sure way of defeating the Tories is with a Labour majority.
Related
The real progressive in the leader's debate is Ed Miliband
SNP appeal to Tory voters: We are just like you
If you think the SNP are a left-wing force, think again – David Clark