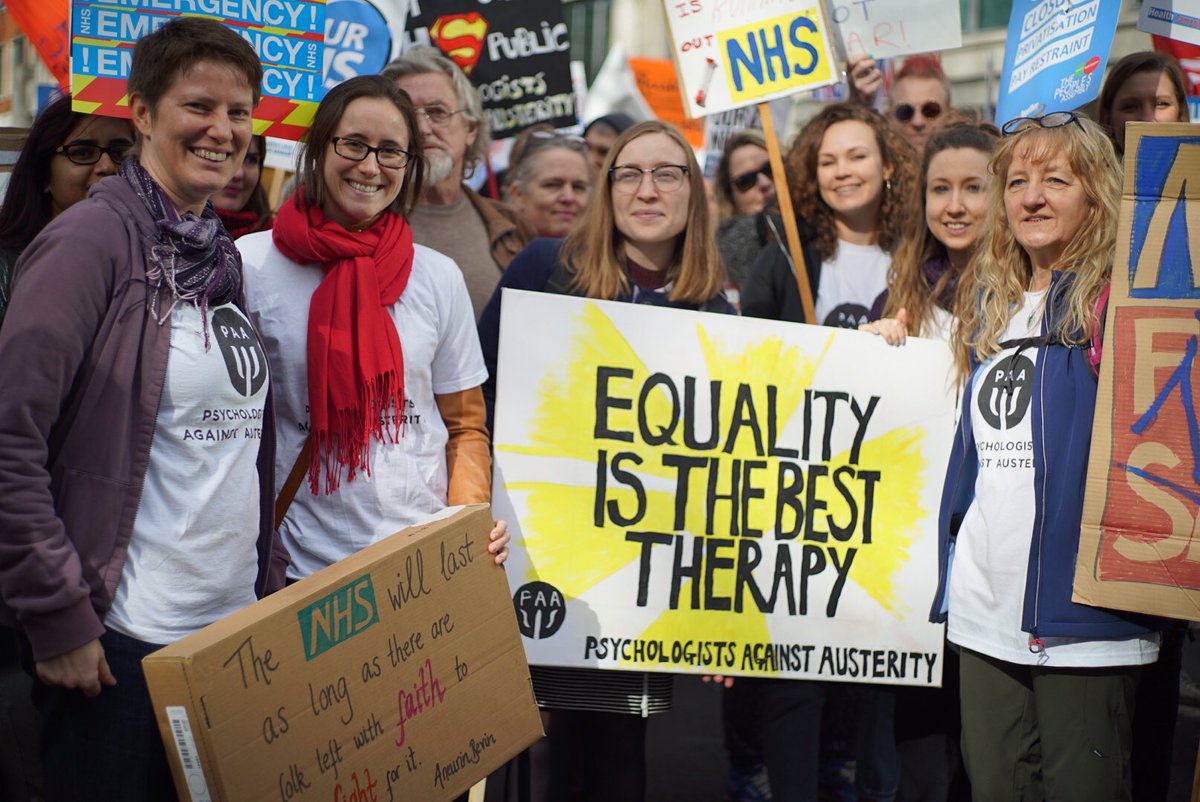 A recent report from the Psychologists Against Austerity collective directly links cuts to public services with mental health problems.
Well-established psychological research that explains these links already exists. However, this knowledge has been missing from the debate on austerity so far.
Psychologists are often in a position to see the effects that social and economic changes have on people. We also occupy a relatively powerful position as professionals and therefore have an ethical responsibility to speak out about these effects.
Introduction
The Coalition government since 2010 has implemented a program of cuts to public services and welfare that has disproportionately affected  the most vulnerable people in our society in the name of 'Austerity'. Measures like the bedroom tax, cuts to disability benefits, the introduction of Universal Credit and cuts to local government, social services and NHS budgets have been presented by the Coalition as necessary to the UK's economic recovery.
Ideas like 'the nation has maxed out its credit card' and austerity as a painful but necessary medicine have been used to frame these policy choices as unavoidable and moral.
We argue that recent cuts are both avoidable and immoral. As psychologists we are often in a position to see the effects that societal and economic conditions have on people.
Psychologists also occupy a relatively powerful position as professionals with access to resources like theory and research and therefore have an ethical responsibility to speak about these effects. Indeed, according to the British Psychological Society (BPS) code of ethics, part of the standard for competence is sensitivity to developments in our social and political context.
It is imperative to take into account the psychological costs of austerity for individuals and communities. Psychological impacts of recent austerity policies have been little discussed in media and policy debates, yet there is clear and robust research linking recent austerity policies with damaging psychological outcomes.
Work at an epidemiological level on social determinants of health like the Marmot Review and The Spirit Level shows robust evidence for the effects of social inequality on health, including emotional well-being. Mental health problems are associated with markers of low income and social economic status in all the developed nations, no matter which indicator is used. There are indications of higher levels of mental health problems following austerity, with a rise in antidepressant prescriptions, and GPs reporting increasing numbers of mental health appointments, and a rise in male suicides.
Since the financial crisis, suicides have increased in European countries that have adopted austerity policies (UK, Greece, Spain and Portugal), but not in those who have protected their welfare state (Iceland and Germany). In this paper, we assume that the emotional well-being of societies and individuals is determined by multiple factors that interact with each another. These include economic, societal, familial, psychological and biological influences.
We use the terms 'emotional well-being', 'distress' and 'mental health problems' rather than 'mental illness'. This is because there is disagreement about whether emotional difficulties are best understood as a product of individual pathology, or a consequence of toxic environments and difficult life experiences. We use diagnostic terminology as a proxy for a wide range of experiences of distress, which are biographically unique. As psychologists, we believe that the diagnostic and medical understanding of 'mental illness' often neglects socioeconomic context.
As Lynne Friedli says:
"Mental health is produced socially: the presence or absence of mental health is above all a social indicator and therefore requires social, as well as individual solutions."
Psychological research provides evidence for some of the wide range of pathways by which increasing social inequality and austerity increase emotional distress. In this paper, we have outlined well-established pathways to short and long term psychological damage from austerity policies; we have called these 'austerity ailments'.

They are:
Humiliation and shame

Fear and distrust

Instability and insecurity

Isolation and loneliness

Being trapped and powerless
Key conclusions
Austerity policies have damaging psychological costs. Mental health problems are being created in the present, and further problems are being stored for the future.
We have identified five 'Austerity Ailments'. These are specific ways in which austerity policies impact on mental health. These experiences have been shown to increase mental health problems. Prolonged humiliation following a severe loss trebles the chance of being diagnosed with clinical depression. Job insecurity is as damaging for mental health as unemployment.
Feeling trapped over the long term nearly trebles the chances of being diagnosed with anxiety and depression. Low levels of trust increase the chance of being diagnosed with depression by nearly 50 per cent.
These five 'ailments' are indicators of problems in society, of poisonous public policy, weakness of social cohesion and inequalities in power and wealth. We also know what kind of society promotes good health.
Key markers are that societies are equal, participatory and cohesive.
Some important indicators of a psychologically healthy society are:
1. Agency
2. Security
3. Connection
4. Meaning
5. Trust
Mental health isn't just an individual issue. To create resilience and promote wellbeing, we need to look at the entirety of the social and economic conditions in which people live.
Implications and recommendations
The evidence presented in this report indicates that a range of key psychological experiences can be directly linked to public policy, and are sensitive to macro social and economic changes.
It is therefore crucial that policy makers and service developers consider the psychological impacts of current and future policies. Creating the conditions for wellbeing and resilience directly helps to prevent distress in the short and long term, thereby saving resources and reducing suffering.
 We call for:
Social policy that works towards a more equitable and participatory society, to facilitate individual well-being, resilient places, and strong communities.

 Policy makers to take into account the psychological impacts of macro social and economic changes.

A social security system that empowers and supports, rather than punishing people in times of need.

Public services to increase focus on preventing distress, improving citizen participation and social justice, as well as help facilitate the five positive indicators above.

Co-production to be one such model of public service reform. This approach harnesses individuals' and communities' assets and expertise rather than viewing them just as passive recipients of and burdens on services.

A community-led approach to mental health and emotional wellbeing that develops collective responses to individual needs and by doing so works to strengthen communities and build on communal resources.
You can read the full briefing paper here.

---
I don't make any money from my work. I'm disabled through illness and on a very low income. But you can make a donation to help me continue to research and write free, informative, insightful and independent articles, and to provide support to others. The smallest amount is much appreciated – thank you.