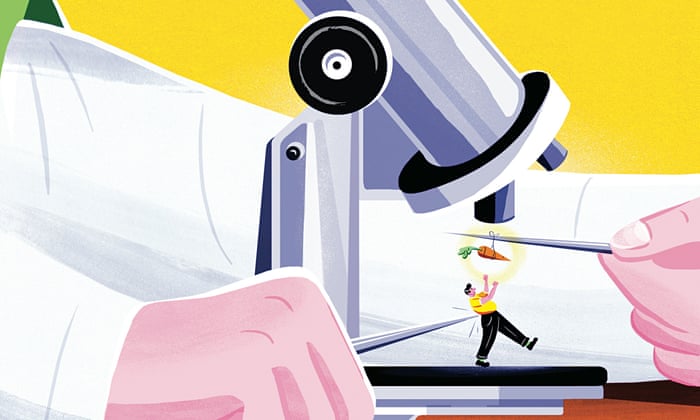 Illustration by Jack Hudson.
The increased use and rising severity of benefit sanctions became an integrated part of welfare "conditionality" in 2012. Sanctions are based on the behavioural theory called "loss aversion," which is borrowed from economics and decision theory. Loss aversion refers to the idea that people's tendency is to strongly prefer avoiding losses to acquiring gains. The idea is embedded in the use of sanctions to "nudge" people towards "changing their behaviours," by using a threat of punitive loss, since the underpinning assumption is that people are unemployed because of personal behavioural deficits and making "wrong decisions," rather than because of socio-economic conditions and political policy decisions.

However, a wealth of evidence has demonstrated that sanctioning does not help clients into work; indeed, it is more likely to make it much harder to get a job. Furthermore, sanctions are often applied in an arbitrary manner, without due regard to proportionality, rationality or for the health and wellbeing of people claiming benefits.
The Government is facing renewed calls for an independent review to examine its controversial benefit sanctions policy and to ensure vulnerable people are protected. However, Department of Work and Pensions minister, Priti Patel, has refused to examine the effect of its  sanctions regime on the mental health of people who are affected by it.
MPs used a question session in the Commons to raise concerns over the impact of benefit sanctions on the mental health of claimants.
Employment minister, Patel, said any analysis of the temporary benefit cuts' effects would be "misleading" in isolation and that their effect should therefore not be examined.
"There are many factors affecting an individual's mental health. To assess the effect of sanctions in isolation of all other factors would be misleading," she told MPs at a Work and Pensions Questions session in the House of Commons.
She also claimed that there was no evidence that sanctions particularly affected people with mental health problems – a claim contrary to the results of independent research.
More than 100 people with mental health issues have their benefits sanctioned every day, according to figures released earlier this year.
The government's refusal to engage with criticism of the sanction system's effect on mental health comes after the highly critical study by the charity Mind.
83 per cent of Work Programme participants with mental health issues surveyed by Mind said the scheme's "support" had made their mental health problems worse of much worse.
Jobseekers are to be given 14 days' notice before facing benefit sanctions under a new scheme being trialled next year by the Department for Work and Pensions (DWP).
But the government were questioned why they are waiting until next year to trial this idea.
Eilidh Whiteford, the SNP's social justice and welfare spokeswoman, told Ms Patel: "The so-called yellow pilot scheme is actually an admission by the Government that the sanctions regime isn't working at the present time, and it's particularly badly failing people with serious mental illnesses.
"Why is the Government waiting until next year to bring in this pilot scheme, and in the meantime will they please just stop sanctioning people who are seriously ill?"
Ms Patel said she would "respectfully disagree" with Ms Whiteford, adding: "Claimants are only asked to meet reasonable requirements taking into account their circumstances and I think, as you will find with the pilots as they are under way, that again this is about how we can integrate support for claimants and importantly provide them with the support and the guidance to help them get back to work."
Ms Whiteford insisted the reality is people with mental health problems are being "disproportionately sanctioned", adding that has been clear for "some time".
Ms Patel replied: "For a start, the Government has been listening and we have responded to the Work and Pensions Select Committee, hence the reason we will be trialling and piloting the new scheme."
She reiterated staff in jobcentres are trained to support claimants with mental health conditions, adding: "There is no evidence to suggest mental health claimants are being sanctioned more than anybody else."
Shadow work and pensions minister Debbie Abrahams told Ms Patel: "You may have inadvertently slipped up there.
"There is clear evidence from last year that 58% of people with mental health conditions on the Employment Support Allowance work-related activity group were sanctioned.
"Obviously that's over half and that's the equivalent to 105,000 people – 83% in a Mind survey say that their health condition was made worse as a result of this."
Data released by the mental health charity Mind recently revealed the scale of sanctions imposed on people with mental health problems being supported by out-of-work disability benefits.
Obtained by the charity under the Freedom of Information Act, the figures show that there were up to three times more benefit sanctions issued by the Department for Work and Pensions (DWP) to people with mental health problems last year than there were people "supported" into work.
There were almost 20,000 benefits sanctions received by people who were out of work because of their mental health last year, while only 6340 of this group were successfully supported into a job during the same period.
Professor Jamie Hacker Hughes, President of the British Psychological Society, said:
"Today's news, from a Freedom of Information request made by the mental health charity Mind, shows that three times as many people are subject to benefit sanctions as those who have been supported back into work."
"We in the British Psychological Society have become increasingly concerned about benefit sanctions and a number of other issues concerning the psychological welfare of those on benefits.
"We have repeatedly sought a meeting with the Secretary of State and his team and now repeat that request so that his Department may become aware of the most up-to-date psychological research and opinion on these issues.
"There are approximately 250,000 people receiving the benefit Employment and Support Allowance who need this support primarily because of their mental health. People can be sanctioned – have their benefits cut – if they fail to participate in work-related activity, including missing appointments or being late for meetings or CV writing workshops.
"However, many people with mental health problems find it difficult to participate in these activities due to the nature of their health problem and the types of activities they're asked to do, which are often inappropriate."
The government has a duty to monitor the impact of its policies, and to make the results public. Sanctions are founded on theory and experimental behavioural science, which adds a further dimension of legitimacy to calls for a review into the impacts of sanctions on people.

—
This post was written for Welfare Weekly, which is a socially responsible and ethical news provider, specialising in social welfare related news and opinion.