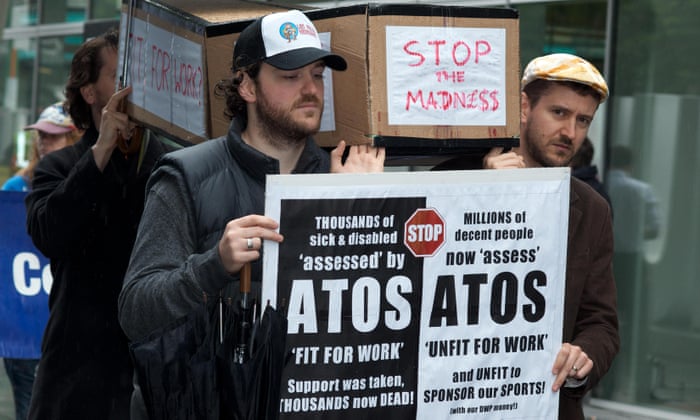 Research conducted by academics at Edinburgh's Heriot-Watt and Napier universities confirms what many of us already knew: that the government's "fit for work" assessment is causing permanent damage to some people's mental health, from which they are not recovering. 
The researchers say in their report that the Work Capability Assessment (WCA) experience "for many, caused a deterioration in people's mental health which individuals did not recover from".
The study comes at the same time as John Pring, journalist from the Disability News Service (DNS) has exposed private provider Maximus in their use of "brutal and dangerous" questions about suicide intention directed at people with mental health problems during their assessments. 
Dr Jay Watts, a clinical psychologist and academic, told DNS that people should only be asked about suicidal ideation by a trained mental health professional who can offer help, or someone in an "existing trusting relationship with the individual".
Watts said that WCAs were "degrading and humiliating experiences for most if not all claimants" and were carried out in a space which was "not a trustworthy one".
She said: "Individuals are required to parade their distress and feel compelled to answer intrusive questions (for the means to live relies on this)."
She went on to say: "To ask about suicide or self-harm in this context brings huge risks."
She added that such questioning "can be suggestive if the environment is unsafe."
She said that claimants were "battered with multiple questions about that which is most personal" in disability assessments and questioned about suicide while the assessors are "typing away" on their keyboards.
Watts concluded: "I have no doubt that questions on suicidal ideation, and the degrading manner in which they are asked, are one reason behind the suicide spike associated with the WCA process."
The tragic case of Michael O'Sullivan, who killed himself after being found fit for work by the government's disability assessors, has also cast a spotlight on the harmful consequences of the work capability assessment, particularly in relation to people with mental health problems. 
Though O'Sullivan's suicide is the first to have been judged a direct consequence of being found fit for work, the DWP has conducted 49 internal reviews into benefit-related deaths since 2012, according to data released following freedom of information requests by the Disability News Service.
Of these, no fewer than 40 were conducted following the suicide, or apparent suicide, of a person claiming benefit. This is both profoundly shocking and entirely unsurprising. It is the wholly predictable result of a system designed and operated by people who appear to lack even the most basic understanding of the realities of living with mental illness.
Despite providing reports from three doctors, including his GP, stating that he had long-term depression and agoraphobia, and was unable to work, O'Sullivan was taken off employment support allowance (ESA) and placed on jobseeker's allowance. The decision to find him fit for work was made after an assessment by a Department for Work and Pensions (DWP) doctor, a former orthopaedic surgeon, who did not factor in the views of any of the three doctors treating O'Sullivan.
Work capability assessments discriminate against people with mental health problems and should be "redesigned entirely", according to Professor Abigail Marks from Heriot-Watt University's Centre for Research on Work and Wellbeing. This recent study also established, through dozens of in-depth interviews of people who had been through the tests, that "in the worst cases, the WCA experience led to thoughts of suicide". Mental health charities said the contents of the interviews "reflect what we hear from people every day".

The researchers interviewed 30 people with existing mental health conditions who had taken the tests throughout 2016. The majority of subjects suffered from depression or anxiety, whilst a smaller number had more complex issues like bipolar disorder or borderline personality disorder. In addition, the team interviewed individuals from advocacy organisations, Citizens Advice Bureau and a former employee of Ingeus, one of the private Work Programme providers.
Marks said: "It is unacceptable that healthcare professionals who act as assessors for the WCA, for example, physiotherapists, nurses, occupational therapists are not fully qualified or trained to assess mental health conditions, yet they seem to be able to override participants' own GPs, community psychiatric nurses, and therapists.
The WCA must be entirely redesigned, and focus on the potential barriers to work for both physical and mental health problems."    
The report also highlighted that WCAs make non-Work Programme work experience, or other voluntary work, almost 'impossible' for people with mental health conditions. 
Dr Gavin Maclean, research assistant at Edinburgh Napier University, said: "Many of the participants in the study found the experience of the WCA so damaging that they stopped engaging in work-based activity and did not return to it.
This could further reduce their long-term employability and potentially increase their dependency on benefits."
Dr Sue Cowan, assistant professor of psychology in the School of Social Sciences, said: "For people with severe and enduring mental health conditions, voluntary work may be as 'good as it gets', as one of our participants stated.
This does not mean a failure to obtain more. Rather, it is a recognition that an individual is making a choice, and the current system does not recognise or support that in any way.
The assumption that engaging in voluntary work means an individual is fit for employment should be scrapped; there has to be much greater flexibility about undertaking training while on ESA and much greater value must be placed on voluntary work and work-preparation activity."
The qualitative study highlights in particular a lack of expertise in mental health problems among WCA assessors and advice from the WCA that was not consistent with what people going through the assessment had been told by their own GPs. In one case recorded in the study, a participant recounted a doctor "actually physically gasping" during an appeal because of the poor quality of evidence recorded by a WCA assessor. 
Some participants reported being in tears or having panic attacks during the tests, and others told the researchers that the assessments were "making me feel worse".
The researchers said that the extreme stress having to deal with multiple stigmas of being unemployed and having a mental health condition became "self-reinforcing and self-perpetuating", leading to the deterioration of peoples' condition.
It says in the report: "Our research has reinforced the fact that people with mental health problems face more stigma and discrimination than those with physical health conditions and that this discrimination is built into the WCA." 
Professor Marks, the lead author of the study, who is based at Heriot-Watt University, told the Independent that people who worked closely with such cases reported that deterioration in mental health conditions was an "almost universal" response to the tests.
Key causes of extreme stress were said to be a claimant's fear of losing their lifeline income, the prolonged nature of tests, a lack of specialist mental health training amongst assessors, and the fact the test was "clearly geared towards people with physical disabilities."
This said, many people with physical disabilities have also stated that the WCA experience has had an adverse effect on their mental health. 
Marks says: "A lot of the people we spoke to were in a position where they are preparing to go back to work before their assessment – they were doing training courses, community initiatives, or volunteering." 
"They said that after the assessment, because the assessment had caused them so much stress, they were unable to go back and take part in those activities because their mental health had had such a deterioration.
"Talking to the advocacy workers, as well, they said it was almost universal that after people had gone through an assessment there was a significant decrease in their mental health." 
In October last year the Government announced that it would stop repeat Work Capability Assessments for people with chronic conditions, characterising the repeat assessments it was scrapping as "unnecessary stress and bureaucracy".
Mental health charity Mind said the WCA was clearly "not fit for purpose" and that its lengthy and costly appeals processes could well make matters worse.
"The findings of this report are concerning but sadly not surprising, as they reflect what we hear from people every day," Ayaz Manji, the charity's policy and campaigns officer, said.
"People with mental health problems tell us that the current fit-for-work test causes a great deal of additional anxiety. We know the assessors rarely have sufficient knowledge or expertise in mental health, meaning many people don't get the right outcome and then have to go through a lengthy and costly appeals process. 
"The current approach is not fit for purpose and needs to be replaced by an open and honest conversation based on each person's individual needs."
Debbie Abrahams, the shadow work and pensions minister, said the study was more proof that the WCA "is not only unfit for purpose, but is causing harm to some disabled people".
She added: "That's why I have committed Labour to scrapping these assessments completely and replacing them with a holistic, person-centred approach."
As usual, a Department for Work and Pensions spokesperson dismissed the interviewees' experiences as not "statistically significant".
Apparently, qualitative data doesn't count as "empirical evidence", or contribute to it. Or put another way, if the government don't want to count it, it doesn't count.
The spokesperson said: "Only thirty people were interviewed for this report, which fails to acknowledge any of the significant improvements we have made to our assessments – particularly for people with mental health conditions." 
"Last year alone at least 35,000 work capability assessments took place in Scotland to help ensure people get the right level of support that they need."
In fact, 37 interviews were conducted for the study. Furthermore, there is much evidence outside of this study that supports the findings. Qualitative evidence often provides richer, more in-depth, detailed evidence than quantitative studies tend to permit. Yet the government insist that citizens' own accounts are not important, regularly dismissing them as "anecdotal".
The government have also failed to conduct a quantitative investigation into the established correlation between WCAs and a deterioration in mental health conditions.
In 2015, the "fit for work" tests, introduced to assess eligibility for disability benefit ESA, were again found to have caused relapses in patients with serious mental health conditions, Dr Jed Boarman, consultant with the Royal College of Psychiatrists, called for an  overhaul of the process.
Boardman, a consultant psychiatrist at the South London and Maudsley NHS trust, also said the WCA discriminates against those with mental health issues. 
Boardman, who treats patients with serious and long-term mental health problems, said: "People with severe long-term problems get very distressed about being assessed, probably because mistakes are made, because the process isn't perfect, because they don't feel they are being listened to in their interviews.
"You do see people relapsing as a consequence of getting distressed."
His comments followed a study, published the previous month, that linked the WCA tests with an additional 590 suicides, increased mental health problems and hundreds of thousands of antidepressant prescriptions.
The study, published by the Journal of Epidemiology and Community Health, showed a correlation between worsening mental health and assessments under the WCA.
The Department for Work and Pensions described the study as "misleading."
The study's main author, Benjamin Barr, said it was crucial the DWP takes seriously concerns that WCAs are "severely damaging" mental health. He called on the department to release data it holds to researchers to allow further analysis of the health impact of the controversial test.
Boardman added: "Their primary criticism of our study is that we don't have data specifically on people going through the WCA and consequent mental health problems," said Barr, from the University of Liverpool. "They have data on who has died following the WCA and they could facilitate linkage of that data with health causes."
Thousands of claimants have died after being found fit for work, according to statistics released in August 2015 by the DWP, following a freedom of information request and a determined and successful court appeal by Mike Sivier of Vox Political. Ministers insisted that the figures they have released could not be used to link claimant deaths to welfare reforms, but the government has refused to release figures that would make it possible to assess whether the death rate for people found fit for work is higher than normal.
Boardman and Mark's concerns are echoed by psychologists and benefit advisers working with claimants, who say they have gathered a lot of qualitative evidence that WCAs cause much additional psychological distress for those with mental health issues.
Related
Maximus 'admits' using brutal and dangerous suicide questions – John Pring
Man leaves coroner letter as he fears Work Capability Assessment will kill him
Doctors bribed with 70-90k salaries to join Maximus and "endorse a political agenda regardless of how it affects patients."
What you need to know about Atos
The importance of citizen's qualitative accounts in democratic inclusion and political participation
Dying from inequality: socioeconomic disadvantage and suicidal behaviour – report from Samaritans
---
I don't make any money from my work. I am disabled because of illness and have a very limited income. The budget didn't do me any favours at all.
But you can help by making a donation to help me continue to research and write informative, insightful and independent articles, and to provide support to others. The smallest amount is much appreciated – thank you.