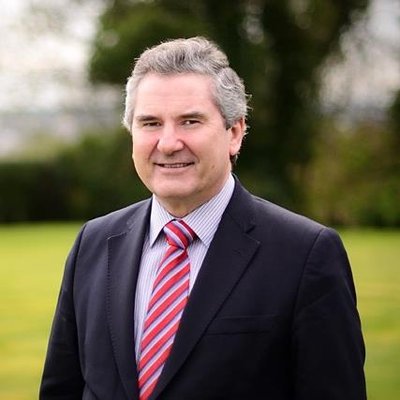 Roger Mullin of the Scottish National Party.
New cash for Conservatives scandal
Roger Mullin, MP for Kirkcaldy and Cowdenbeath, has called for an investigation after it was disclosed that "£5 million of HSBC loans were laundered directly to Conservative HQ." He isn't alone.
It appears that evidence has emerged of organised, very substantial and ongoing donations made by IPGL – a private holding company – and other subsidiaries, controlled by Michael Spencer, to the Conservative Party, totalling at least £5.3m, representing a "huge percentage of annual turnover". 
Michael Spencer's interdealer broker ICAP was fined for its role in the Libor scandal. The Conservative Party resisted calls from the opposition to return £4.6m donations ICAP and Michael Spencer made during the period of the Libor Scandal when Spencer was also Treasurer of the Party.
Campaigners and other opposition MPs such as Labour's John Mann, who serves on the Treasury Select Committee, have raised these issues, and many allege that such donations wouldn't have been possible without HSBC's financial support of IPGL.
The allegations were first raised by Fionn Travers-Smith of Move Your Money at the Annual General Meeting of HSBC Holdings PLC on 28 April. He said:
"Not only does this raise questions about HSBCs role in public life, the level of influence that you hold over government, and your own refusal to discuss the possibility of corruption and undue influence at last year's AGM – but it also raises questions over whether you have contravened your own policies on being politically neutral."
 HSBC's Douglas Flint responded to the allegations by evading the issues raised, and said "We are politically neutral" and "we're not going to talk about individual companies at all." 
Joel Benjamin from Debt Resistance UK questioned these claims of neutrality given deputy chairman of HSBC, Simon Robertson's £700k donations to George Osborne and the Conservative Party.
In their AGM notice, released in March, HSBC said to its shareholders: "HSBC has a long standing policy not to make any political donations or to incur political expenditure including in the UK or the rest of the EU within the ordinary meaning of those words.
"We have no intention of altering this policy. However, the definitions of political donations and political expenditure used in the UK Companies Act are very wide. As a result, they may cover activities that are an accepted part of engaging with our stakeholders to ensure that issues and concerns affecting our operations are considered and addressed, but which would not ordinarily be considered as political donations or political expenditure.
"As a result, the Directors have concluded that it would be prudent to seek authority from our shareholders to allow them to make political donations and incur political expenditure of up to £200,000 in aggregate in the period up until next year's AGM. In common with many other UK companies, this is purely a precautionary measure. The authorities sought are not designed to influence public support for any political party, or political outcome; they are simply to ensure that the Group does not inadvertently breach the UK Companies Act."
As the law stands, a UK-incorporated company must not make a political donation to a political organisation or incur any political expenditure without shareholder approval or, if the company is a subsidiary, the approval of its UK holding company. Directors could incur personal liability if authorisation is not obtained. Nor must it influence public opinion regarding candidates or political outcomes in elections and referendums.
Presumably, the three senior HSBC bank figures who have donated £875,000 to the Conservative party in recent years have done so without shareholder approval. 
Below is Roger Mullin's last letter as current MP,  parliament is now Dissolved until after the General Election. Mullin posted a copy of the letter on Twitter earlier today.
Some more context
In 2012, the US government was persuaded by our government not to pursue criminal charges against HSBC for allowing rogue states, terrorists and drug dealers to launder millions of dollars after George Osborne and the UK banking regulator intervened to warn that prosecuting Britain's biggest bank could lead to a "national and global financial disaster". Instead of facing a prosecution, the bank were given the option to pay a record $1.92bn (£1.4bn) fine. 
The House financial services committee report said the UK interventions "played a significant role in ultimately persuading the DoJ [Department of Justice] not to prosecute HSBC". 
The report revealed that Osborne wrote to Ben Bernanke, who was then the Federal Reserve chairman, and Timothy Geithner, the then treasury secretary, to warn that prosecuting a "systemically important financial institution" like HSBC "could lead to [financial] contagion" and pose "very serious implications for financial and economic stability, particularly in Europe and Asia".
In 2015, it came to light that there are long-standing links between the scandal-hit HSBC and the Conservative Party, after Electoral Commission records showed three senior bank figures have donated £875,000 to the party in recent years. It was revealed that HSBC's deputy chairman, Sir Simon Robertson, has made 24 separate donations totalling £717,500 in the last nine years.
As a point of interest, the links go much further back, as David Cameron's great great grandfather, Sir Ewen Cameron, became principal agent to the Calcutta branch of HSBC, following which he acted as manager of its Shanghai branch, where he served until 1890.
Further revelations emerged that the bank allegedly helped wealthy individuals evade tax through Swiss accounts. It was also revealed that HSBC's deputy chairman, Sir Simon Robertson, has made 24 separate donations totalling £717,500 in the last nine years.
He gave 17 donations to the Conservative Central Office between 2002 and 2014, and four totalling £100,000 to George Osborne between 2006 and 2009. The other three went to the party in East Hampshire. Robertson, who was knighted in 2010, is reported to have a personal wealth of £10m.
Conservative donors, peers and a high-profile MP are listed among the wealthy who legally held accounts in Switzerland with HSBC's private bank, for a wide variety of reasons. Their ranks include Zac Goldsmith, former MP for Richmond Park, plus his brother, the financier Ben Goldsmith, and a Swiss resident, German-born automotive heir Georg von Opel, who has donated six-figure sums to the government in the past two years.
Peers named in the HSBC files include Lord Sterling of Plaistow, the P&O shipping and ports entrepreneur who was ennobled by Margaret Thatcher, and Lord Fink, who was also a party treasurer under David Cameron and has given £3m to the Conservatives.
Zac Goldsmith has, with his brother Ben and their mother Lady Annabel, donated over £500,000 in cash and in kind to the Conservatives.
Big Banks Aided Firm At Center Of International Bribery Scandal
Cash for Conservatives Exposes the HSBC Dirty Money running the Tory Party – DEBT RESISTANCE UK
 HSBC files: Swiss bank hid money for suspected criminals
The British HSBC bribery and corruption cover-up – Nicholas Wilson
Business dealings of Tory donors could be wiped from official records
Update
One promising result:
And a rather hasty response from the Electoral Commission, which you can view here: http://www.electoralcommission.org.uk
---
My work is unfunded and I don't make any money from it. I am disabled because of illness and struggle to get by. But you can support Politics and Insights and contribute by making a donation which will help me continue to research and write informative, insightful and independent articles, and to provide support to others.