The Sun announced this morning in an exclusive that the Irish Republican party will travel to the House of Commons to take up their seats – despite their century-long policy of abstention in the UK Parliament. 
Sinn Fein won seven seats in the Westminster general election, running on an abstentionist ticket that has always been the party's policy. It's unlikely that the Sun's headline is correct. By abstaining from Westminster, Sinn Fein make a powerful statement – that they and the people who vote for them reject British rule and British interference.
However, there has been growing concern among the left nationalist parties in Northern Ireland about the implications of an alliance between the Conservatives and the right wing DUP.  That's worth some discussion.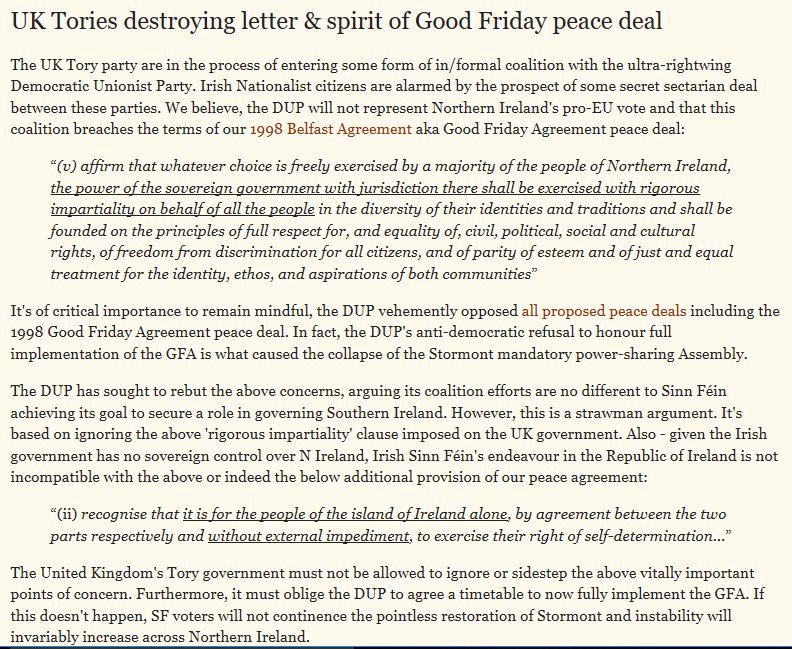 They go on to say: "Similarly, the Tory government must be obliged to acknowledge the DUP's historical and current links with paramilitary terrorist gangs."
"The DUP has consorted with the still active Ulster Defence Association terrorist gang since its creation in 1971. Notably, in 1975 the UDA bombed Biddy Milligan's pub in London. Here in 2017, UDA terrorists are still killing UK citizens with guns supposedly supplied by the Ulster Resistance gang founded by the DUP."
"There are other major civil society concerns with the DUP that ought to alarm all decent people. These include not least numerous instances of alleged corruption and discrimination: Brextit dark financing; RHI grants scandal; NAMA millions; Red Sky housing; and sectarian use of state funds funnelled to its supporters in the anti-Catholic Orange Order and often to UDA and UVF terrorist led "community groups" of various hues."
The active presence of seven Sinn Fein MPs in parliament would reduce the Tory majority to just four.
Sinn Fein's presence at Westminster will inevitably spark fears among the Conservatives that they are planning to break their boycott and join other opposition parties in opposing Theresa May's Queen's Speech. 
The Belfast Telegraph reports that a delegation of Sinn Fein MPs is traveling to London for a series of meetings with the Secretary of State James Brokenshire, other political parties and trade unions.
Sinn Fein's Northern Ireland leader, Michelle O'Neill, said: "There is wide spread concern that Theresa May in seeking a deal with the DUP to remain in office will make the job of re-establishing the Executive more difficult.
"The British Government must demonstrate that they will treat all parties equally and fully honour the agreements. To this end I have sought a meeting with Theresa May as a matter of urgency.
"The deal at Westminster cannot undermine the agreements or the talks to re-establish the executive.
"Regardless of talks between the DUP and Tories all roads must lead back to an Executive, which delivers for all."
Arlene Foster, the DUP leader, has warned Sinn Fein that the prospect of direct rule should scare Irish Republicans because the DUP now "have greater influence on the UK Government." 
She said: "If others decide that they are not coming back into the devolved administration here in Northern Ireland then those issues will have to be dealt with at Westminster.
"It is really for Sinn Fein to decide where they want those powers to lie."
Jeremy Corbyn has already unveiled plans to present an alternative Queen's Speech next week – including pledges to keep the winter fuel allowance, protecting the pensions triple lock and scrapping the bedroom tax, which he hopes will entice enough Tory MPs to deliver a government defeat.
The backing of seven Sinn Fein MPs would reduce the Tory majority to just four – which would bring the Government to the brink of collapse. That's why there are such fears, I suspect. Whether or not they are justified is another matter. This does, however, indicate that the government is feeling rather vulnerable. Though I am not entirely sure of the Sun's motive for publishing their article.
A defeat for May would topple her premiership and give Corbyn the chance to form a minority Labour government.
A Sinn Fein insider has refused to rule out taking the historic step of taking seats, if Corbyn offered a referendum on Irish unification. However, it is unlikely that the seven MPs will.
Sinn Fein president Gerry Adams said a referendum on Irish unity was inevitable as rival parties reconvened in Stormont yesterday to restore power-sharing talks following the six-months deadlock.
He said: "One thing we can say for certainty, there is going to be a referendum on Irish unity.
"I can't say when it's going to be, but there is going to be such a referendum."
The parties face a deadline of June 29 before direct rule is imposed on Northern Ireland.
Northern Ireland Secretary James Brokenshire – who flew into Belfast to chair talks yesterday – said he believed a deal to restore power-sharing before the end of the month was possible.
He insisted, remarkably, that the DUP-Tory arrangement in Westminster was an "entirely separate" issue.
But tensions are mounting because of the DUP-Tory alliance, which puts the Good Friday Agreement in jeopardy.
Interesting times.
---
My work is unfunded and I don't make any money from it. But you can support Politics and Insights and contribute by making a donation which will help me continue to research and write informative, insightful and independent articles, and to provide support to others.