The Conservative Party are facing another investigation from the Electoral Commission following evidenced allegations that they operated a secret call centre during the general election campaign, breaching electoral law, an undercover investigation by Channel 4 News has revealed. 
An undercover reporter working for Channel 4 News secured work at Blue Telecoms, a company in Neath, South Wales. In an area plagued by unemployment and low wages, the call centre hired up to a hundred people on zero-hours contracts. For weeks, they contacted thousands of potential voters in marginal seats across the UK. 
The hired callers were told to say they were working for a market research company called "Axe Research". No such company is registered in England and Wales. Furthermore, callers were instructed to say that the call centre was situated in Cardiff, rather than Neath.
The investigation has uncovered underhand and potentially unlawful practices at the centre, in calls made on behalf of the Conservative Party. These allegations include:
● Paid canvassing on behalf of Conservative election candidates – illegal under election law.
● Political cold calling to prohibited numbers
● Misleading calls claiming to be from an "independent market research company" which does not appear to exist
The Conservative Party have admitted it had commissioned Blue Telecoms to carry out "market research and direct marketing calls" during the campaign, and insisted the calls were legal.
A Conservative spokesman said: "Political parties of all colours pay for market research and direct marketing calls. All the scripts supplied by the party for these calls are compliant with data protection and information law."
Under the Representation of the People Act, it is illegal to employ someone "for payment or promise of payment as a canvasser for the purpose of promoting or procuring a candidate's election".
Call centre employees working on behalf of the party used a script that certainly appeared to canvass for support on film, rather than conduct market research. On the day of the election, call centre employees contacted voters to promote individual candidates.
Anya Proops, a QC specialising in information law, told Channel 4 that political parties had to ensure that third parties working on their behalf followed the law.
"It's an illegal practice, it's prohibited under the legislation and in so far as it's something which has tainted the overall result in favour of a political candidate, then it can void that result." 
Blue Telecoms is run by Sascha Lopez. He told The Guardian: "In relation to the Conservative party project, I am unable to comment on the content of the scripts or calls to TPS [Telephone Preference Service] numbers, as the scripts and lists of who to call and when to call were given to us by Conservative campaign HQ in London and were not influenced by my team."
However, a whistleblower at the call centre told Channel 4 News that they had been making potentially unlawful phone calls to voters. 
Undecided voters were fed key Conservative campaign messages, including references to the Brexit negotiations and warnings about a hung parliament.
On the day that voters went to the polls, undecided voters were told that: "the election result in your marginal constituency is going to be very close between Theresa May's Conservatives and Jeremy Corbyn's Labour Party". Callers were also recorded quoting media articles that were pro-Conservative. Operating from a script, the staff claimed they were carrying out calls for "market research" and "polling". 
One caller is recorded saying: "It was reported in the Daily Mirror in September last year that Jeremy Corbyn is not concerned about the numbers of people coming to live in the UK and it was reported on Sky News this year that Theresa May has restated her pledge to reduce net Migration."
People were then asked: "Just thinking about these reports in the media and the reports that you live in a marginal constituency that may determine who is prime minister. So does knowing that you live in a marginal constituency that will determine who is prime minister for the Brexit negotiations, does that make you a lot more likely to vote for Theresa May's Conservative candidate or a little more likely to vote for Theresa May's Conservative candidate, or are you still unsure, or does it not make a difference?"
The broadcaster's evidence suggests that on the day of the election, staff called voters in 10 marginal seats, including Bridgend, Gower, Clwyd South and Wrexham.
As the election campaign started, the information commissioner, Elizabeth Denham, wrote to all the major political parties reminding them of the law around telephone calls and data protection. She said that calling voters to promote a political party was "direct marketing" and was regulated by law.
A week before the election, the same call centre staff started saying they were calling on behalf of Theresa May's Conservatives.
The Conservative party said the call centre was conducting "market research" on its behalf, and was not canvassing for votes. The call centre confirmed it was employed by the party, but has so far denied canvassing on its behalf. 
The Channel 4 undercover reporter has captured evidence that certainly seems to refute that claim. 
The use of 'big data' and psychographic targeting
Teams of statisticians and behavioural psychologists who subscribe to the burgeoning practice of "psycho­graphic targeting" have designed their own version of a Myers-Briggs personality test. The original test explores "the basic differences in the ways individuals prefer to use their perception and judgement."
The test data is supplemented by recent issue surveys, and information from online surveilance, together they are used to categorise political supporters, who then receive psychologically tailored canvassing messages, social media targeting, phone calls and doorstep visits. The micro-targeting of voters has been around for a while, but the Conservative operation has deepened the intensity of the effort and the use of vast resources of psychological data.
This is the campaign approach from a government that claims to advocate a "small state" and "minimal interventions". However the methods being used which entail the manipulation and management of public perceptions and voting behaviours resemble those of authoritarian regimes, not a healthy liberal democracy. 
Authoritarian propagandists attempt to convey power by defining reality. The reality they portray is usually very simple. The account of reality is offered with the primary goal of switching voters' value systems to align with the authoritarian value system.
This whole approach is the logical conclusion of the libertarian paternalists' "behavioural change" agenda that has been embedded in policies designed by the nudge unit since 2010 in the UK. The political misuse of psychology has been disguised as some kind of technocratic "fix" for a failing neoliberal paradigm, and paraded as neutral "science". However, its role as an authoritarian prop for an ideological imposition on the population has always been apparent to some of us, especially given the more visible evidence of political narratives and the stage management of our democracy via an extremely manipulative mainstream media over recent years.
The Conservatives' behaviour change agenda is designed to align citizen's perceptions and behaviours with neoliberal ideology and the interests of the state. However, in democratic societies, governments are traditionally elected to reflect and meet public needs. The use of "behaviour change" policy involves the state acting upon individuals, and instructing them how they must be. This is profoundly undemocratic. In fact it turns democracy completely on its head. 
A dark message for democracy
Political "dark" advertising that is only seen by its intended recipients is a much greater cause for concern than "fake news" in the spread of misinformation, because it is invisible to everyone but the person being targeted. This means that the individually tailored messages are not open to public scrutiny, nor are they fact checked.
A further problem is that no-one is monitoring the impact of the tailored messages and the potential to cause harm to individuals. The dark adverts are designed to exploit people's psychological vulnerabilities, using personality profiling, which is controversial in itself. Intentionally generating and manipulating fear and anxiety to influence political outcomes isn't a new thing. Despots have been using fear and slightly less subtle types of citizen "behaviour change" programmes for a long time. 
The right wing media's blatant propaganda approach to election campaigning on behalf of the Tories had already contributed significantly to a serious erosion of democratic norms in the UK, the undermining of public trust, to such an extent that profoundly anti-democratic alternatives suddenly seem perfectly acceptable here.
The reality is that often, authoritarians construct an incongruent, flimsy and meaningless language of democracy in order to erect a fact proof screen around an undemocratic reality.  They offer a lot of glittering generalities to the public. However, those apparently incoherent, meaningless slogans are especially designed to signal intents to groups from which the government wants to gain approval. Dog whistling and wedge issues are used extensively by the right.  
Dog whistling is closely associated with a broader wedge strategy, whereby the political party introduces a divisive or controversial social issue into a campaign, aligning its own stance with the dissenting faction of its opponent party, with the goal of causing vitriolic debate inside the opposing party, defection of its supporters, and the legitimising of sentiment which had previously been considered inappropriate. Political campaigns use wedge issues to exploit tension within a targeted population, and undermine unity. 
In light of this, it's hardly a shocking revelation that an authoritarian government is also using highly tailored and underhanded "dark adverts" to target individuals online, on the basis of information gathered about them and then applied to a process of extensive psychological profiling in order to influence voting behaviours, and the election outcome.
UK voters are being targeted with highly specific and manipulative messages in an attempt to influence their vote.
The shadowy world of online political advertising has until recently gone largely unmonitored, despite the huge power and reach of Facebook and despite social media messaging now thought to have contributed to the election of Donald Trump and the Vote Leave victory.
The new forms of psychological electioneering are invisible to all but the individual people they are designed to reach and influence. 
During the EU referendum, Vote Leave spent a whopping 98 per cent of its £6.8m budget on digital advertising, mostly via Facebook. In the 2015 election, the Conservatives spent £1.2m on digital campaigning, compared with Labour's £160,000. This meant that the Conservatives reached 17 million people per week, while Labour reached only 16 million in their best month. Facebook claimed that the Conservatives had been able to serve adverts to 80 cent of the site's users in key marginals. It also boasted that the company "played a part on a highly targeted campaign, helping the Conservatives to speak to the right people over and over again."
The private companies and individuals who are stage managing our democracy
Dr Simon Moores, visiting lecturer in the applied sciences and computing department at Canterbury Christ Church University and a technology ambassador under the Blair government, said the Information Commisioners Office's recent decision to shine a light on the use of big data in politics was timely. He said:
"A rapid convergence in the data mining, algorithmic and granular analytics capabilities of companies like Cambridge Analytica and Facebook is creating powerful, unregulated and opaque 'intelligence platforms'. In turn, these can have enormous influence to affect what we learn, how we feel, and how we vote. The algorithms they may produce are frequently hidden from scrutiny and we see only the results of any insights they might choose to publish."
He goes on to say: "They were using 40-50,000 different variants of an ad every day that were continuously measuring responses and then adapting and evolving based on that response."
Strategic Communication Laboratories (SCL) is a British behavioural science company. The SCL Group, that once advised Nato on so-called "psy-ops", is a private British behavioural research and strategic communication company. The company describes itself as "global election management agency".  SCL's approach to propaganda is based upon a methodology developed by the associated Behavioural Dynamics Institute (BDI). Nigel Oakes founded the latter and also set up Strategic Communication Laboratories and using the new methodology from BDI, ran election campaigns and national communication campaigns for a broad variety of international governments. BDI say: "The goal of the BDI is to establish Behavioural Dynamics as a discipline for the study of group behaviour change."
There isn't much information around about BDI's connection with military operations, though links with NATO are well-established – see Countering propaganda: NATO spearheads use of behavioural change science, for example. From the article: "Target Audience Analysis, a scientific application developed by the UK based Behavioural Dynamics Institute, that involves a comprehensive study of audience groups and forms the basis for interventions aimed at reinforcing or changing attitudes and behaviour."
SCL on the other hand, has a clearly defined defence and military division who: "Target Audience Analysis, a scientific application developed by the UK based Behavioural Dynamics Institute, that involves a comprehensive study of audience groups and forms the basis for interventions aimed at reinforcing or changing attitudes and behaviour."
SCL has different "verticals" in politics, military and commercial operations. All of those operations are based on the same methodology (Target Audience Analysis) and, as far as can be discerned from the outside, SCL and affiliates have very obscure corporate structures with confusing ownership.
In the United States, SCL has gained public recognition mainly though its affiliated corporation Cambridge Analytica (CA). It was created in 2013 as an offshoot of its British parent company (the SCL Group,) to participate in US politics. In 2014, CA was involved in 44 US political races. Their site says: "Cambridge Analytica uses data to change audience behavior." 
PERSUASION
"More effectively engage and persuade voters using specially tailored language and visual ad combinations crafted with insights gleaned from behavioral understandings of your electorate."
And: "Leveraging CA's massive team of data scientists and academics, CA is able to provide optimal audience segments based on big data and psychographic modeling. Then, using a sophisticated electronic data delivery system, CA is able to provide TV advertising campaign data that may be used to inform media buyers about shows that have the highest concentrations of target audiences and the least amount of waste; all of which leading to higher media ROI [return on investment] and more voter conversions."
The company is heavily funded by the family of Robert Mercer, an American hedge-fund billionaire. I've mentioned Mercer in a previous article about the right's undue influence on the media and on voting behaviour. Mercer made his money as a pioneer in the field of Computational Linguistics.
Mercer later became joint CEO of Renaissance Technologies, a hedge fund that makes its money by using algorithms to model and trade on the financial markets. 
One of its funds, Medallion, which manages only its employees' money, is the most successful in the world – generating $55bn so far. And since 2010, Mercer has donated $45m to different political campaigns – all Republican – and another $50m to non-profits – all right wing, ultra-conservative. This is a billionaire who is trying to reshape the world according to his personal interests, beliefs, wishes and wont. He is an advocate of the neoliberal right, who seek to combine a market economy and economic deregulation with the traditional right wing beliefs in patriotism, élitism, and law and order, delivered within an authoritarian framework. Mercer is known for his anti-welfare and right libertarian views.
To give you a flavour of Mercer's interests, you only need to follow the money trail: he funds a climate change denial thinktank, the Heartland Institute, and he likes to disrupt the mainstream media. In this aim, he is helped by his close associate Steve Bannon, self-declared "economic nationalist", Trump's campaign manager and now chief strategist. The money he gives to the Media Research Center, with its paranoid, anti-progressive mission of correcting "liberal bias" is just one of his pet media projects. He has also worked as vice president of Cambridge Analytica's board, the private data-analytics that is owned largely by the Mercer family. 
Mercer and his family are major donors to Conservative political causes such as Breitbart News. He is the principal benefactor of the Make America Number 1 political action committee (Super PAC). Around 2012, Mercer reportedly invested $5 million in the British data science company, the SCL Group. Most political campaigns run highly sophisticated micro-targeting efforts to locate voters. SCL promised much more, claiming to be able to manipulate voter behaviour through psychographic modeling. This was precisely the kind of work Mercer values.
SCL claimed to be able to formulate complex psychological profiles of voters. These, say the company, would be used to tailor the most persuasive possible message, acting on that voter's personality traits, hopes or fears.
Of course Mercer was a major supporter of Donald Trump's 2016 campaign for president and Brexit in the UK. Mercer donated the services of the data analytics company Cambridge Analytica to Nigel Farage and UKIP. The company was able to "advise" and influence Leave.eu through harvesting data from people's Facebook profiles in order to target them with individualised persuasive messages to vote for Brexit. However, Leave.eu did not inform the UK electoral commission of the donation, contrary to the law which demands that all donations valued over £7,500 must be reported. 
When SCL Elections formed Cambridge Analytica in 2013, the company hired researchers from Cambridge University, hence the name. CA collects data on voters using sources such as demographics, consumer behaviour, internet activity, and other public and private sources. CA is using psychological data derived from millions of Facebook users, largely without users' permission or knowledge. The company is also trying to change people's perceptions and behaviours without their consent.
The company maintains offices in New York City, Washington, D.C., and London.
Cambridge Analytica claim to predict not just peoples' voting intentions and preferences, but also their personality types. The company is proprietorial about its precise methods, but says large-scale research into personality types, based on hundreds of thousands of interviews with citizens, enables them to chart voters against five main personality types – openness, conscientiousness, extraversion, agreeableness and neuroticism. With its head office in London, the company is "A global election management agency, skilled in applying behavioural modeling and microtargeting solutions to political campaigns."
The marketisation of democracy: the highest bidder wins all, while claiming to speak for the "ordinary person"
Stephen K. Bannon, President Trump's chief strategist and the intellectual force behind his nationalist agenda, said in February that the new administration is locked in an unending battle against the media and other globalist forces to "deconstruct" an "outdated system of governance". Jennifer Rubin in The Washington Post writes:
"'They're going to continue to fight,'" Bannon said of the media, which he repeatedly described as 'the opposition party,' and other forces he sees as standing in the president's way. 'If you think they are giving you your country back without a fight, you are sadly mistaken.'
Atop Trump's agenda, Bannon said, was the 'deconstruction of the administrative state' — meaning a system of taxes, regulations and trade pacts that the president and his advisers believe stymie economic growth and infringe upon one's sovereignty.
For those who doubted Trump-Bannon's determination to destroy the liberal international order that has kept world war at bay and promoted global prosperity since the end of World War II, this will come as a rude awakening. Bannon's simultaneous attack on the media suggests that it is not simply about trade or immigration policy."
So data technology, surveilance, psychology and social media and manipulative messaging campaigns are being combined in a powerful new way to sway opinions and win elections without people's knowledge. In essence, a new, dark, subliminal propaganda war is being waged against citizens by those who wield power, serving the narrow interests of those who do and who are funded by a hidden few who want to weild power also.
Lynton Crosby has been a close advisor in the Conservative election campaigns of Australia, Canada and the UK, and is well known for his racist dog whistling and wedge strategies, influential at an international level.
"In a campaign, what you try to do is either change or reinforce some perceptions that people have in order to influence their behaviour," says Crosby. 
Crosby's emphasis is on "below the radar" campaigning, and the targeting of marginal constituencies with highly localised campaigning, latching on to local issues and personalities. To find such divisive and potentially diversionary issues, Crosby's business partner Mark Textor runs focus groups to find which social groups to target with what questions. Crosby is said to focus on delivering simple messages, targeting marginal constituencies and the use of lots of polls and data.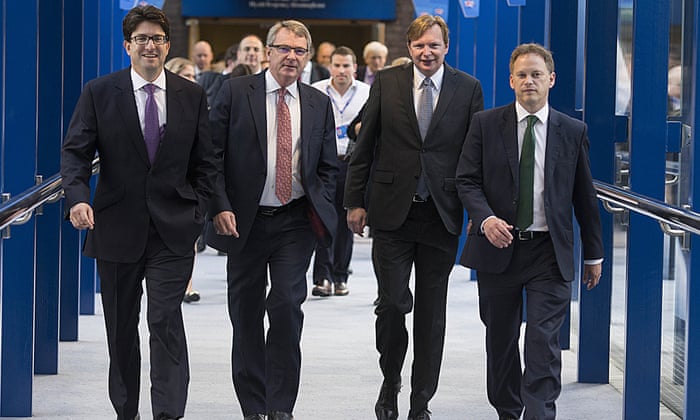 Lynton Crosby, second left, at the party's annual conference in 2015 with, from left, Lord Feldman, Jim Messina (former Obama campaign chief also hired by the Tories) and then party chairman Grant Shapps. Photograph: David Hartley/Rex
"In a campaign, what you try to do is either change or reinforce some perceptions that people have in order to influence their behaviour," Crosby says.
Their site commentary highlights whose "democratic" interests Crosby and Textor serve:
"We combine decades of experience in research, political campaigns, strategic communications, media, and corporate intelligence to deliver winning strategies at the highest levels of business and government.
Having worked on successful election campaigns across four continents, we understand the need for timely, actionable intelligence, so our clients can focus the right message and resources on their most persuadable 'swing voters' to get the results they want."
Note the reference to "behaviour changing messages".
Crosby Textor also claim that: "the team are specialists in advising major companies in how to position themselves to ensure they are integral to government decision-making."
It was Crosby that created the campaign for the Conservatives with the slogan "Are you thinking what we're thinking?": a series of posters, billboards, TV commercials and direct mail pieces with messages such as "It's not racist to impose limits on immigration" and "how would you feel if a bloke on early release attacked your daughter?" focused on hot-button issues like "dirty" hospitals, landgrabs by "gypsies" and restraints on police behaviour.
In April 2016, Mayor of London and Conservative, MP Boris Johnson, was accused of "dog whistle racism" by Shadow Chancellor of the Exchequer and Labour MP John McDonnell, when Johnson suggested US President Barack Obama held a grudge against the United Kingdom due to his "ancestral dislike of the British Empire" as a result of his "part-Kenyan" heritage after Obama expressed his support for the UK to vote to remain in the European Union ahead of the UK's referendum on EU membership. Crosby also tried to link Sadiq Khan with terrorist organisations –  the Conservative mayoral candidate's campaign, was run by Crosby Textor. 
Mark Textor, co-founder of the private company, was mentored by the late Richard Wirthlin, a pollster who was chief strategist to US President Ronald Reagan. Someone else with past connections to the Wirthlin Group is Kellyanne Conway, President Trump's election campaign manager and now counsellor to the president, serving alongside Steve Bannon, assistant to the President and White House chief strategist.
All singing from the same crib sheet.
Since Trump's inauguration, Conway has been embroiled in a series of controversies, including using the phrase "alternative facts", making reference to a "Bowling Green massacre" which never occurred, (Conway "cited" it as justification for a travel and immigration ban from seven Muslim-majority countries enacted by Trump), claiming Michael Flynn had the full confidence of the president hours before he was dismissed, and publicly endorsing commercial products associated with the president's daughter Ivanka Trump. As a result, a number of media outlets have called her credibility into question, with some refusing her requests for one-on-one interviews.
When such manipulative tactics are exposed from time to time, it's like a curtain shifting temporarily to give you a glimpse into another dimension, populated by billionaires and a handful of mercenary henchmen who drew up the machinations of a war being waged on democracies, in order to terraform political landscapes to suit the dystopic interests of one percent of the global population, at the expense of the needs of the ninety nine percent. You would be forgiven for thinking that the world and the media are being run almost exclusively by a small number of elitist, pan-nationalist aliens. It's not a conspiracy theory. It's a reality.
Jim Messina is a political adviser who was the White House Deputy Chief of Staff for Operations under President Barack Obama from 2009 to 2011 and served as the campaign manager for Obama's highly successful 2012 re-election campaign. Messina was hired as a campaign strategy adviser to the UK Conservative Party in August 2013. Messina operated from the US during the 2015 general election campaign. He has made statements about his personal admiration for David Cameron. Theresa May has also added him to her team of strategists. 
Gone are the days when it was expected that the public decided who to vote for because of the policies on offer from each party. Now the government focuses on the use of private political masters of the dark campaign arts, who use "political-voter surveillance" techniques, along with a combative and emotional approach to messaging, rather than a rational and reasonable one, and a level of cunning that most definitely treads around the very outer edges of ethics. 
One of Messina's key strategic methods is finding and targeting swing voters through the meticulous gathering and monitoring of voter information using private polls, and the use of social media "targeting".  He uses social networking techniques and social media, having sought and received advice from top names in the tech world including Steve Jobs.
Messina uses micro-targeting based on online data. His approach is based on the in-depth psychometrically profiling of people, using publicly available data, including their Facebook "likes" and group memberships. This information is used to create effective and directed digital dark advertising to target millions of voters and manipulate their psychological tendencies and play to their traits.  
Messina has developed a private consulting firm –The Messina Group, which "works with organizations in the private, public, and social sectors to achieve their strategic goals." The company has an office in London, on Old Park Lane. It says on the site says:
"Using state of the art data and analytics, The Messina Group can harness and amplify the reach of your social network. We accurately model your organization's likely supporter, voter, or consumer, and – by overlaying that with your existing social media base – we can develop a targeted list of potential new supporters. This targeted, person-to-person sharing is the future of advertising in a fundamentally digital and social world. The Messina Group will ensure that your organization is ahead of the competition." 
One tactic integrated in this method is aimed at generating a bandwaggon effect, which I have discussed at length elsewhere. The bandwagon effect occurs in voting: some people vote for those candidates or parties who are likely to succeed (or are proclaimed as such by the media). The bandwagon propaganda technique has been applied to situations involving majority opinion, such as political outcomes, where people alter their opinions to the majority view. 
Such a shift in opinion can occur because individuals draw inferences from the decisions of others, which shapes an informational cascade. A cascade develops when people "abandon their own information in favour of inferences based on earlier people's actions, regardless of how irrational that may be. Bandwaggon propaganda draws on our natural tendency towards social conformity.
During the 2015 general election, the government were accused of trying to "buy the general election" by quietly raising the legal spending limit by £6.2 million to £32.7m in the face of concerns from the Electoral Commission over "undue influence". The party has reportedly amassed a war chest of more than £70 million. The change to the law on candidates' election spending, passed without parliamentary debate.
A new project called Who Targets Me, has been attempting to address the lack of transparency of targeted election messaging, by recruiting social media users to share information on what political adverts they are seeing.
It says on their site: "Analysing the aggregated data will allow us to draw out insights about exactly which demographics are being targeted and the exact media and language that campaigners are using to influence your vote."
In an effort to do something about the lack of transparency, Who Targets Me built a browser extension for Facebook users to download that will then report live to that individual when a political advert is being targeted at them. It also tracks that information in its database. You can sign up to be a Who Targets Me volunteer here.
Given the instability of the government, following the general election delivering a hung parliament, it's likely that political advertising will continue. You will need to use the Chrome browser and install the Who Targets Me extension.
The Information Commissioner's Office has already launched a wide-ranging investigation over possible breaches of UK data laws. The Conservatives have so far refused to supply examples of adverts the party is sending to individual voters on Facebook, despite the growing concern over unregulated online election activity.
One problem is money. There are no spending limits on digital advertising and, put simply, the more you spend the more people you reach. Until now, that means it is primarily the wealthier, Conservative campaigns that have benefited.
Another is that psychological influences are different from transparent attempts at rational, reasoned and material persuasion, because they operate outside of conscious awareness. Hiding in plain sight, they trigger involuntary emotive responses in the human subconscious that most people are powerless to resist – and that happens even when they know they're being influenced. Much of the material being used to "persuade" is dishonest, and aimed at simply smearing the opposition and generating irrational and unfounded fears, rather than open discussion, about political and socioeconomic alternatives to neoliberalism and social conservatism. 
Such tactics are nothing less than a political micro-management of the public's beliefs an behaviours and are ultimately aimed at nudging your voting decisions to maintain a profoundly unbalanced, increasingly pathological and authoritarian status quo. Such tactics deployed in manufacturing consensus are widely used, and combined, they also serve to reduce public expectation of opposition and in doing so establish diktats: it's a way of mandating acceptance of ideology, policies or laws by presenting them as if they are the only viable alternative.
There is a much needed public debate to be had about the distinction between political "persuasion" and "manipulation".
And another about undue political influence. In their summary of electoral offences, the electoral commission says: "A person may also be guilty of undue influence if they impede or prevent any voter from freely exercising their right to vote – even where the attempt is unsuccessful.
Also: "It is an illegal practice to make or publish a false statement of fact about the personal character or conduct of a candidate in order to affect the return of a candidate at an election."
"Certain offences relate specifically to election campaign publicity material. Election campaign publicity material must contain an imprint, not resemble a poll card and not contain a false statement as to the personal character or conduct of another candidate."
The Conservatives have certainly taken advantage of our basic tendency to be more motivated by the threat of something presented and subsequently perceived as "bad" than by the presented opportunity for examining positive alternatives.
This is not just a story about the political and commercial misuse of social psychology and data analytics. It has to be understood in the context of a military contractor using military strategies on a civilian population. The public.
David Miller, a professor of sociology at Bath University and an authority in psyops and propaganda, says it is "an extraordinary scandal that this should be anywhere near a democracy. It should be clear to voters where information is coming from, and if it's not transparent or open where it's coming from, it raises the question of whether we are actually living in a democracy or not."
Related:
Social media is being used to stage manage our democracy using nudge-based strategies
EXPOSED: CONSERVATIVES IN HOUSE 'SURVEY' TEAM
The great British Brexit robbery: how our democracy was hijacked
Negative campaigning, emotions and political participation
Inverted totalitarianism and neoliberalism
What I don't understand about Conservatism
'Tory Election Fraud' Investigation Sees Conservatives Fined £70,000 By Electoral Commission
Political polls, think tanks and propaganda: the antidemocratic writing on the wall
Strategies and motives for resistance to persuasion: an integrative framework
I don't make any money from my work. But you can support Politics and Insights and contribute by making a donation which will help me continue to research and write informative, insightful and independent articles, and to provide support to others. The smallest amount is much appreciated, and helps to keep my articles free and accessible to all – thank you.