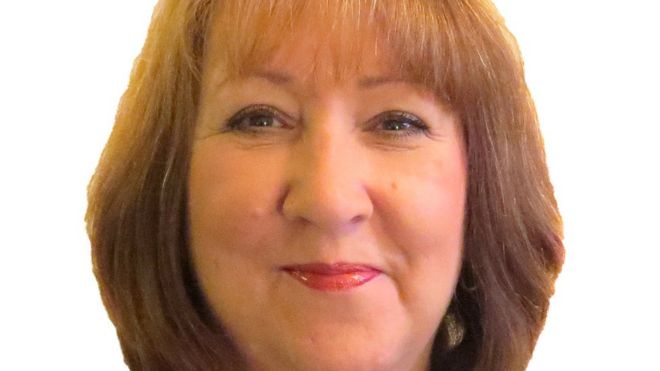 Councillor Rosemary Carroll
A Conservative councillor has been suspended for her sneering racism and despicable prejudice regarding welfare claimants. Some media outlets have described the comments as a "joke". It wasn't.
Rosemary Carroll, a Conservative councillor, shared a post about a man asking for benefits for his pet dog, making offensive rascist comparisons.
She was Mayor of Pendle until last month but was suspended from her party after the post appeared on her account this week.
The local Conservative branch posted a statement about the "inappropriate post" on Facebook after the allegations came to light.
Councillor Joe Cooney, leader of the Conservatives on Pendle Council, said Councillor Rosemary Carroll was suspended pending an investigation.
The comments, which have now been deleted, compared an Asian person claiming social security support to a dog. 
Speaking before the suspension was confirmed, Carroll said she had meant to delete the post but ended up publishing it "by mistake".
Philip Mousdale, Pendle Council's corporate director, said he received two formal complaints about the post at the time.
He said the complaints against the councillor, who represents Earby Ward, allege she had breached the council's code of conduct.
"As monitoring officer for the council I'm looking into the complaints," Mousdale added.
Cooney said: "We will not tolerate racism of any form. Rosemary Carroll has been suspended from the Conservative Group on Pendle Borough Council and the Conservative Party with immediate effect, pending a full investigation in due course."
Carroll claims she planned to post an apology for her bigotry.
However, this is not an isolated incident, and the Conservatives continue to show utter contempt for both people of colour as well as people who need welfare support, as this extremely offensive post from one of their Councillors shows.

Damage limitation
                        The obscene and extremely offensive original post
This isn't a one-off, it's how many Tories actually think
When it comes to displays of prejudice, the Conservatives have a long history. It's no coincidence that the far right flourishes under every Tory government, from Thatcher in particular, to present day.
Racism isn't the only traditional Conservative prejudice. Who could forget David Freud's offensive comments, made when he was a Conservative Welfare Reform Minister, that some disabled people are  "not worth the full national minimum wage"  and that some "could only be paid £2 an hour." Cameron claimed the disgraceful comments made by Lord Freud at the Tory conference do not represent the views of government. 
However, his government's punitive austerity measures and the welfare "reforms" tell us a very different story. The comments came to light after they were disclosed by Ed Miliband during Prime Minister's Questions.
Freud's comments are simply a reflection of a wider implicit and fundamental Social Darwinism underpinning Tory ideology, and even Tim Montgomerie, who founded the Conservative­Home site has conceded that: "Conservative rhetoric often borders on social Darwinism […] and has lost a sense of social justice." 
David Freud was made to apologise for simply being a Tory in public.
Social Darwinism, with its brutal and uncivilising indifference to human suffering, has been resurrected from the nineteenth century and it fits so well with the current political spirit of neoliberalism. As social bonds are replaced by narcissistic, unadulterated materialism, public concerns are now understood and experienced as utterly private miseries, except when offered up to us on the Jerry Springer Show or Benefit Street as spectacle.
Conservative policies are entirely ideologically-driven. We have a government that uses words like workshy to describe vulnerable social groups. This is a government that is intentionally scapegoating poor, unemployed, disabled people, asylum seekers and migrants.
One Tory councillor, Alan Mellins – called for the "extermination of gypsies", more than one Tory MP has called for illegal and discriminatory levels of pay for disabled people. Philip Davies has also said that the national minimum wage is "more a hindrance than a help" for disabled people, and proposed that we are paid less. A Conservative deputy mayor – retired GP, Owen Lister –  said, unforgivably, that the "best thing for disabled children is the guillotine."
Let's not forget Boris Johnson's grossly racist comments describing black people as "piccaninnies" with "watermelon smiles" in the Telegraph in 2002. He only apologised when he first ran for London mayor in 2008.
And Cabinet minister Oliver Letwin also escaped disciplinary action after it was revealed that he had said black people have "bad moral attitudes" when he was a top adviser to Thatcher. He actually said that any government schemes to help black people would be wasted in "the disco and drugs trade." 
In August, 201, Dover Conservative councillor Bob Frost describes rioters as "jungle bunnies." He lost his teaching job but the Tories suspended him for just two months. In 2014, he referred to the prospective Middle Eastern buyers of Dover port as "sons of camel drivers." No action was taken.
In January 2013, Enfield Conservative councillor Chris Joannides compared Muslim children to black bin bags in a Facebook post. In April 2014, Barnet councillor Tom Davey complained online about "benefit claiming scum", and said that it might be easier to find a job if he were "a black female wheelchair-bound amputee who is sexually attracted to other women." He was not disciplined by the party.  
These are NOT "slips", it's patently clear that the Tories believe these beliefs and comments are acceptable, just as long as they aren't made in public. We need only look at the discriminatory nature of policies such as the legal aid bill, the wider welfare "reforms", the cuts aimed at disabled peoples support and services – which were unthinkable before 2010 – and to research the consequences of austerity for the most vulnerable citizens, those with the "least broad shoulders" and the least to lose – to understand that these comments reflect accurately how Conservatives actually think.
The fact that dog whistle politics – political messaging employing coded language that appears to mean one thing to the general population but has an additional, different or more specific resonance for a targeted and prejudiced subgroup, maintaining plausible deniability by avoiding overtly racist language – has been normalised by the likes of Lynton Crosby, and is intrinsic to Conservative  campaigns, indicates clearly that the Conservatives want to appeal to racist groups.
Crosby created a campaign for the Conservatives with the slogan "Are you thinking what we're thinking?": a series of posters, billboards, TV commercials and direct mail pieces with messages like "It's not racist to impose limits on immigration" and "how would you feel if a bloke on early release attacked your daughter?" which focused on "hot-button issues" like dirty and over-stretched hospitals, "landgrabs" by "gypsies" and restraints on police behaviour.  
In the 2016 London Mayoral Election, Conservative candidate Zac Goldsmith ran a dog whistle campaign against Labour's Sadiq Khan, playing on Khan's Muslim faith by suggesting he would target Hindus and Sikhs with a "jewellery tax" and attempting to link him to extremists.
That this is considered acceptable behaviour by a government – who serve as public role models – is an indication of just how far our society has regressed in terms of human rights and our democratic ideals of equality and diversity. This is a government that has purposefully seeded and permitted social prejudice in order to gain support and power. 
This is a government that is creating and manipulating public prejudice to justify massive socio-economic inequalities and their own policies that are creating a steeply hierarchical society based on social Darwinist survival of the wealthiest neoliberal "small state" ideology.
The dispossession of the majority to ensure the relentless acculation of wealth for an elitist and greedy minority.  
The Tory creation of socioeconomic scapegoats, involving vicious stigmatisation of vulnerable and protected social groups, particularly endorsed by the mainstream media, is simply a means of de-empathising the population, manipulating public perceptions and securing public acceptance of the increasingly punitive and repressive basis of the Tories' crass neoliberal welfare "reforms", and the steady stripping away of essential state support and provision, for the public, which the public have paid for via taxes and national insurance.
At the same time that austerity was imposed on the poorest citizens, the millionaires were awarded a £107,000 each per year tax cut. It seems only some of us have to "live within our means". 
The political construction of social problems also marks an era of increasing state control of citizens with behaviour modification techniques, (under the guise of paternalistic libertarianism and behavioural economic theories), all of which are a part of the process of restricting access rights to welfare provision. Discriminatory political practices and rhetoric send out a message to the public, and that permits wider prejudice, hate speech, hate crime and discrimination.
The mainstream media has been complicit in the process of  constructing deviant welfare stereotypes and in engaging prejudice and generating moral outrage from the public:
"If working people ever get to discover where their tax money really ends up, at a time when they find it tough enough to feed their own families, let alone those of workshy scroungers, then that'll be the end of the line for our welfare state gravy train." James Delingpole 2014.
Delingpole was a close friend of Cameron's at university. Apparently, they would get stoned and listen to Supertramp regularly, whilst hatching their profoundly antisocial and anti-democratic obscenities. Their plot sickens.
Poverty cannot be explained away by reference to simple individualist narratives of the workshy scrounger as the likes of Delingpole claim, no matter how much he would like to apply such simplistic, blunt, stigmatising, dehumanizing labels that originated from the Nazis (see arbeitssheu.)
Poverty arises because of the consequence of political decisions, and structural conditions.
Climbing Allport's ladder
Gordon Allport studied the psychological and social processes that create a society's progression from prejudice and discrimination to genocide. In his research of how the Holocaust happened, he describes sociopolitical processes that foster increasing social prejudice and discrimination and he demonstrates how the unthinkable becomes tenable: it happens incrementally, because of a steady erosion of our moral and rational boundaries, and propaganda-driven changes in our attitudes towards politically defined others, that advances culturally, by almost inscrutable degrees. 
The process always begins with political scapegoating of a social group and with ideologies that identify that group as the Other: a common "enemy" or a social "burden" in some way. A history of devaluation of the group that becomes the target, authoritarian culture, and the passivity of internal and external witnesses (bystanders) all contribute to the probability that violence against that group will develop, and ultimately, if the process is allowed to continue evolving, extermination of the group being targeted. 
Economic recession, uncertainty and political systems on the authoritarian -> totalitarian spectrum contribute to shaping the social conditions that seem to trigger Allport's escalating scale of prejudice.
In the UK, the media is certainly being used by the right-wing as an outlet for blatant political propaganda, and much of it is manifested as a pathological persuasion to hate others. The Conservatives clearly have strong authoritarian tendencies, as I have been pointing out since 2012, when the welfare "reform" act was pushed through parliament with unholy haste, with the excuse of "economic privilege", despite the widespread opposition to that bill. The authoritarianism of the Tories is most evident in their anti-democratic approach to policy, human rights, equality, social inclusion and processes of government accountability.
Vulnerable groups are those which our established principles of social justice demand we intervene to help, support and protect. However, the Conservative's rhetoric is aimed at a deliberate identification of citizens as having inferior behaviour.
The poorest  citizens are presented as a problem group because of their individual faulty characteristics, and this is intentionally diverting attention from wider socioeconomic and political causes of vulnerability. Individual subjects experiencing hardships have been placed beyond state protection and are now the objects of policies that embody punitive and crude behaviourism, and pathologising, coercive elements of social control.
After seven years of Conservative governments, our most vulnerable citizens are no longer regarded as human subjects, they have become objects of the state, which is acting upon them, not for or on behalf of them. 
This has turned our democracy completely on its head.
It quite often isn't until someone Carroll, Freud or Mellins push our boundaries of decency a little too far. Then we suddenly see it, and wonder how such prejudiced and discriminatory comments could be deemed acceptable and how anyone could possibly think they would get away with such blatantly offensive rhetoric without being challenged. It's because they have got away with less blatantly offensive comments previously: it's just that they pushed more gently and so it wasn't obvious, we simply didn't see.
During a debate in the House of Lords, Freud described the changing number of disabled people likely to receive the employment and support allowance as a "bulge of, effectively, stock". After an outraged response, this was actually transcribed by Hansard as "stopped", rendering the sentence meaningless.  He is not the only person in the Department for Work and Pensions who uses this term. The website describes disabled people entering the government's work programme for between three and six months as "3/6Mth stock".
This infrahumanised stock are a source of profit for the companies running the programme. The Department's delivery plan recommends using  "credit reference agency data to cleanse the stock of fraud and error".
The linguistic downgrading of human life requires dehumanising metaphors: a dehumanising socio-political system using a dehumanising language, and it is becoming familiar and pervasive: it has seeped almost unnoticed into our lives.
As Allport's scale of prejudice indicates, hate speech and incitement to genocide start from often subliminal expressions of prejudice and subtle dehumanisation, which escalate. Germany didn't wake up one morning to find Hitler had arranged the murder of millions of people. It happened, as many knew it would, and was happening whilst they knew about it. And many opposed it, too. It still happened.
The dignity and equal worth of every human being is the axiom of international human rights. International law condemns statements which deny the equality of all human beings.
As a so-called civilised and wealthy society, so should we.
 It's time we said goodbye to austerity, the right-wing politics of inequality and prejudice.
This is a government that thinks that PEOPLE are a disposable commodity – "collateral damage" of a failing neoliberal mode of organisation. People dying as a result of austerity cuts are passed off by Tory ministers as "anecdotal evidence." The government claim there is no "provable causality" between their policies and premature deaths. Yet there is a well-established correlation, that requires further investigation, which the government has so far refused to undertake. But it is very clear that Conservative policies are driven by traditional Tory prejudices.
It really is time to say not one day more.
And never, ever again.
Update
A Tory Brexiteer has described the UK leaving the EU without a deal as a "real n****r in the woodpile" at a meeting of eurosceptics in Central London.
Anne Marie Morris, MP for Newton Abbot since 2010, made the astonishing remark while discussing what financial services deal the UK could strike with Brussels after 2019.
The phrase she used is from the nineteenth Century, and refers to slavery. It is thought the phrase arose in reference to instances of the concealment of fugitive slaves in their flight north under piles of firewood.
The origin of the phrase is from the practice of transporting pulpwood on special railroad cars. In the era of slavery, the pulpwood cars were built with an outer frame with the wood being stacked inside in rows and stacks. Given the nature of the cars, it was possible to smuggle persons in the pile itself, giving rise to the phrase.  
In July 2008, the leader of the British Conservative Party, David Cameron, was urged to sack Conservative peer Lord Dixon-Smith, who said in the House of Lords that concerns about government housing legislation were "the n***er in the woodpile". Dixon-Smith said the phrase had "slipped out without my thinking", and that "It was common parlance when I was younger"
Despite using the racist term, none of Morris's fellow panelists, including Tory MPs Bill Cash and John Redwood, reacted at the time.
After saying just 7% of financial services in the UK would be affected by Brexit, Morris said: "Now I'm sure there will be many people who'll challenge that, but my response and my request is look at the detail, it isn't all doom and gloom.
"Now we get to the real n****r in the woodpile which is in two years what happens if there is no deal?"
Morris said: "The comment was totally unintentional. I apologise unreservedly for any offence caused."  
She has been suspended.  
However, such supremicist, hierarchical thinking and language is entrenched in Conservative rhetoric and practices. This is far from an isolated case of an offensive, racist, prejudiced speech act.
---
I don't make any money from my work and I am not funded. I am disabled because of illness and struggle to get by. But you can help me continue to research and write informative, insightful and independent articles, and to provide support to others, by making a donation. The smallest amount is much appreciated – thank you.