The Electoral Commission has launched another investigation into whether campaign group Momentum breached rules on spending at the last General Election.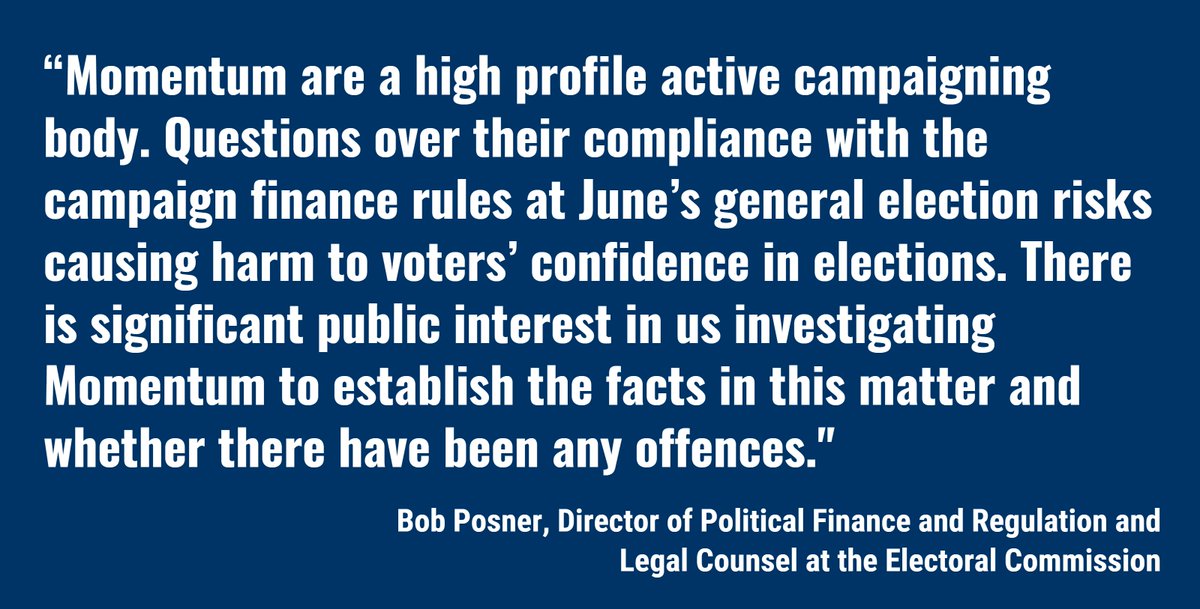 The Commission issued a statement, which says:
"The rules governing spending at UK Parliamentary general elections by permitted participants, including non-party campaigners, are set out in the Political Parties, Elections and Referendums Act 2000 (PPERA).
The investigation will look at:
whether or not Momentum spent in excess of the spending limits for an unauthorised non-party campaigner in the UK Parliamentary general election;

whether or not Momentum submitted a return that did not include accurate donation information and/or the required declaration stating that the donation return was complete and accurate;

whether or not Momentum submitted a return that was not a complete statement of payments made in respect of controlled expenditure;

whether or not Momentum submitted a return that did not include all invoices for payments of more than £200.
It is possible that during the course of the investigation, the Commission will identify potential contraventions and/or offences under PPERA other than those set out above.
All the Commission's investigations are conducted in accordance with our Enforcement Policy."
Bob Posner, the Electoral Commission's Director of Political Finance and Regulation and Legal Counsel, said:
"Momentum are a high profile active campaigning body. Questions over their compliance with the campaign finance rules at June's general election risks causing harm to voters' confidence in elections. There is significant public interest in us investigating Momentum to establish the facts in this matter and whether there have been any offences.
"Once complete, the Commission will decide whether any breaches have occurred and, if so, what further action may be appropriate, in line with its enforcement policy."
Rules for non-party campaigners
Rules have been in place since 2000 for all campaigners that spend money on regulated campaigning activities. These rules include campaigners and campaigning organisations which are not political parties but whose activities can be reasonably regarded as intending to influence voters in the run-up to an election.
The law enables non-party campaigners which wish to undertake 'targeted spending' – intended to influence people to vote for one particular registered political party or any of its candidates – to do so within prescribed spending limits. These are £31,980 in England; £3,540 in Scotland; £2,400 in Wales; and £1,080 in Northern Ireland. These limits apply during the regulated period which is 9 June 2016 to 8 June 2017.
Registered non-party campaigners are only entitled to spend above these limits if they have the authorisation of the political party that they are promoting. If that party provides authorisation, the registered non-party campaigner can spend up to the limit authorised by the political party. It is an offence to spend above the statutory limits without the party's authorisation. Should the party provide authorisation for a higher spending limit, any spending by that non-party campaigner up to that limit would count towards the party's national spending limit.
A spokesperson for Momentum said: "Momentum put a lot of effort and resources into detailed budgeting and financial procedures during the election to ensure full compliance.
"Our election campaign was delivered on a low budget because it tapped into the energy and enthusiasm of tens of thousands of volunteers across the country.
"Much of the Electoral Commission investigation refers to administrative errors that can be easily rectified. We have a good working relationship with the Electoral Commission, and will fully comply with the investigation going forward."
Momentum have been under almost continuous investigation since 2015, following various complaints ranging from data mining to sending unsolicited emails. The Information Commissioner's Office (ICO), however, found no evidence to substantiate what was a handful of complaints. A disclosure from the ICO states: 
The ICO made enquiríes around Momentum using personal data to contact Labour part members following a small number of complaints December 2O15.
We did not find any breach of the Data Protection Act. 
Consequently there is no strong evidence in this case to indicate that Momentum has breached the DPA. We do not, therefore, intend to look further into this concern unless you can provide some evidence to indicate that Momentum did in fact obtain your personal data from the Labour Party. 
We are aware of media reports about this matter but the ICO works on the basis of evidence and to date we have not been provided with any such evidence. I should also explain that we do not have any wider concerns about Momentum's information rights practice at this point. Therefore we have not raised your concern with Momentum on this occasion and are not taking any further action in relation to your concern.
However, your concern will be kept on file and this will help us over time to build a picture of Momentum's information rights practices.
Thank you for bringing this matter to our attention.
Yours sincerely
Joy Corne
Lead Case Officer
Information Commissioner's Office.
Following the General Election in July, the Electoral Commission highlighted "troubling" reports that a number of people (students) had voted twice in the election, saying evidence had emerged of people admitting to the offence online. 
An election analyst had cast doubt over claims that some Conservatives could have lost their seats in the General Election due to double-voting by students. 
More than 1,000 emails were sent to the watchdog by members of the public over the issue, while 38 Conservative MPs also complained about the alleged crimes. Of course the Commission found no evidence of double-voting.
It's as if the Conservatives deliberately refuse to understand that some people don't want to vote for them, especially groups that have been targeted for draconian Conservative policies. The Tories have not been kind to young people.
The Conservatives also have longstanding form in smearing and discrediting their opponents in the most outrageous manner. Disabled people can testify to that. As can jeremy Corbyn. Just a glance at the right-wing press tells you all you need to know about Conservative rumour-mongering, lies and utterly psychopathic ruthlessness.
Here is the outcome of a previous ECO inquiry: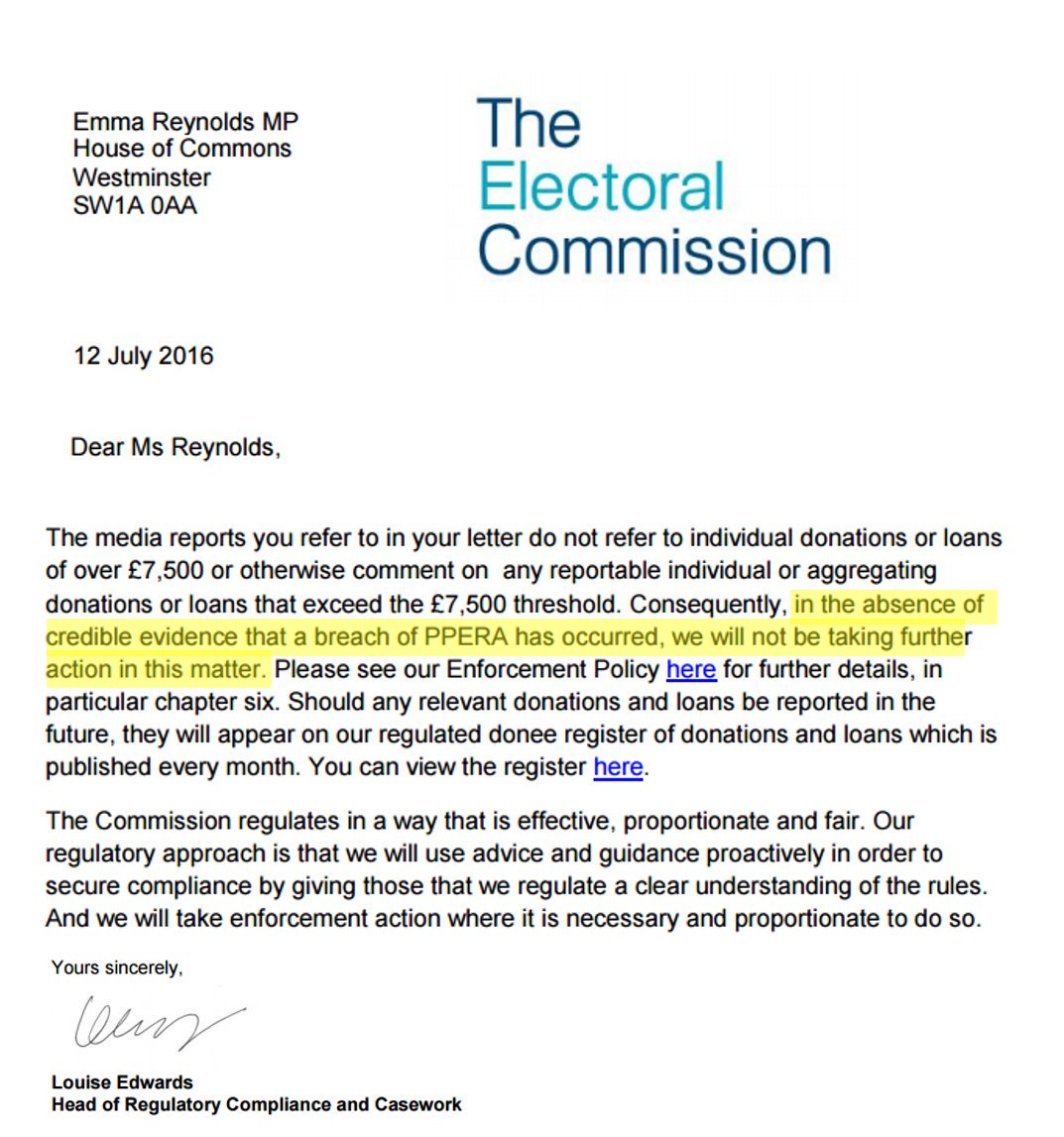 Most media outlets have reported this second inquiry. The timing certainly draws a little fire away from the current catastrophic punch-drunk and incoherent stumblings of the Government. I predict that once the media have finished beating their drums, the matter will simply vanish from the public news radar, finally coming to rest in that graveyard where all dead cat strategies end up bouncing to. 
It's in a tiny village in a City called 'distraction', a called 'no evidence' , where people speak the language misdirection.
Related
More allegations of Tory election fraud, now we need to talk about democracy

---
I don't make any money from my work. But you can support Politics and Insights and contribute by making a donation which will help me continue to research and write informative, insightful and independent articles, and to provide support to others. The smallest amount is much appreciated, and helps to keep my articles free and accessible to all – thank you.