I wrote a fairly comprehensive article this week about the outrageous allegations that were made by the right-wing press and some Conservatives that Jeremy Corbyn was a "Commie spy" and so on. Of course it was the usual ritualistic vile lie and smear tactic that the right-wing press have been doing since they succeeded with the fake Zinoviev letter in damaging the Labour party's prospects at the election in 1924. The gutter press have been trying to stage manage our democracy by telling blatant lies ever since, with the same hysterical McCarthyist-styled headlines.
It seems the tabloids confuse 'free speech' with telling malicious lies and reducing politics to nasty rumour-mongering and smear campaigns. It's a longstanding attempt to re-categorise the Left with negative attributes associated with them, that are directly harmful to them, while creating public fear. 
The media and politicians, however, have a duty to be more careful with their all too frequent use of inciteful language, and a democratic responsibility to ensure that they don't construct and share fake news and lies – which reflects intolerance, arrogance and authoritarianism. Spreading fake news is being used to advance specific goals, influence political decisions and serve a narrow range of economic interests. It's shameful verbal violence that is role-modelling despicable motives and behaviours by those in positions of power and influence.
Conservative MP Ben Bradley sparked outrage last week with a tweeted comment, claiming that Jeremy Corbyn had 'sold British secrets to communist spies'. The tweet prompted a letter to Bradley from Corbyn's lawyers, who insisted that Bradley issue an unreserved apology, and that he asks his followers to share it and make a significant donation to charities of Corbyn's choice – or face court action.
Bradley deleted his malicious tweet.
He has also tweeted the following apology:
The full statement says:
On 19 February 2018 I made a seriously defamatory statement on my Twitter account, 'Ben Bradley MP (@bbradleymp)', about Jeremy Corbyn, alleging he sold British secrets to communist spies. I have since deleted the defamatory tweet. I have agreed to pay an undisclosed substantial sum of money to a charity of his choice, and I will also pay his legal costs.

I fully accept that my statement was wholly untrue and false. I accept that I caused distress and upset to Jeremy Corbyn by my untrue and false allegations, suggesting he had betrayed his country by collaborating with foreign spies.

I am very sorry for publishing this untrue and false statement and I have no hesitation in offering my unreserved and unconditional apology to Jeremy Corbyn for the distress I have caused him.
Ever since Jeremy Corbyn became party leader, he has been utterly and outrageously smeared by the right-wing media. Theresa May made her disastrous decision to call an election, the right-leaning papers went to town in an all-out vicious campaign against Labour's leadership.
Who could forget the Sun's front page showing a picture of Corbyn inside a rubbish bin – so childish, it's like kindergarten bullying. The Mail, meanwhile, showed Corbyn alongside shadow Chancellor John McDonnell and former shadow Home Secretary Diane Abbott under the disgraceful headline "Apologists for Terror". The Express told its readers: "Vote May or we face disaster", as if it's somehow appropriate for journalists to tell people in a democracy who they should vote for while telling atrocious lies about the opposition. 
However, I found it hilarious that both May and the right-wing press gangs so badly overestimated their own and the prime minister's credibility and popularity.
It seems readers don't make judgements purely on the basis of their preferred newspaper's editorial line. The Conservative leader and her friends in the media wrongly assumed that vicious attacks against Labour's leaders would be enough to secure a Tory win. It didn't, because the public is all too aware now of the behavioural patterns and ideological headline habits of the attack dogs. The public recognises that tabloid press overconfidence has led to a complete lack of verisimilitude in screaming and often libelous headlines, seriously undermining public credibility. 
It's not just that the right-wing rags are run by lying anti-liberals. Conservatism is pretty tame compared to some of the narratives these rags peddle to the public, veering further to the right of support for an authoritarian government, their final destination being in the realms of totalitarianism and fascism.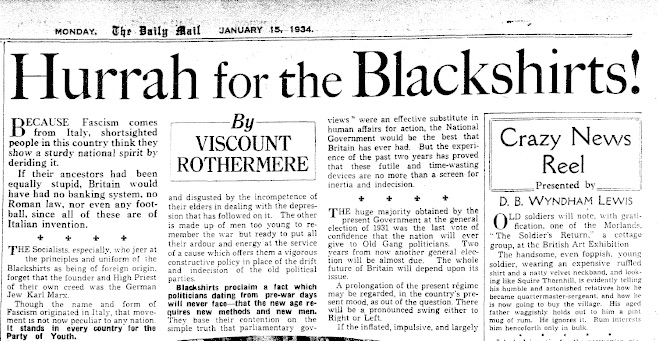 The smearing campaigns of the right-wing tabloids has a long and repetitive history. In September 2013 the Mail attacked Labour Party leader Ed Miliband for having a father – the Marxist academic, Ralph Miliband – who "hated Britain." This was ironic on a number of levels. 
Firstly, a key piece of "evidence" for this allegation was the 17 year-old Ralph Miliband's diary, where he speculated that the English are "perhaps the most nationalist people in the world," which of course is something you could very easily conclude from the Mail's longstanding editorial stance alone. However, Miliband was a staunch anti-Stalinist, so his political views are rather more like Orwell's than Stalin. 
The Mail clearly isn't afraid of afraid of being accused of hypocrisy, in the face of their own history of support for Adolf "the Great" Hitler and the National Front; Ralph Miliband, on the other hand, fled to the UK in 1940 to avoid anti-Semitic persecution, enlisted in the Royal Navy, and served in the D-Day landings. This prompted a particular public dressing down by Mehdi Hasan on the BBC's Question Time programme, prompting the Mail to respond with vicious smear campaign against Hasan.
Then there's the Sun.
This was the Sun's front page on 19 April 1989. The allegations were later proven to be entirely false, with the Sun later admitting their decision to publish the 'allegations' was the "blackest day in this newspaper's history." 
Despite the Leveson inquiry, following the News of the World scandal and the fallout that led to Sun staff being charged with conspiring to commit misconduct in a public office, unfortunately, the right-wing press have yet to learn the fundamental difference between 'free speech' and corruption, coupled with frequently published, disgraceful, malicious and intentional lies.
Last month, the Government launched a new unit to counter "fake news". 
Downing Street told political reporters: "The government will respond with more and better use of national security communications to tackle interconnected complex challenges.
"We will build on existing capabilities by creating a dedicated national security communications unit. This will be tasked with combating disinformation by state actors and others. It will more systematically deter our adversaries and help us deliver on national security priorities."
Given that Conservative MPs have demonstrated just how freely they share disinformation when it suits them, it's very worrying that the move to 'systematically deter our adversaries' seems to include codified totalitarian attacks on Her Majesty's loyal opposition. 
---
I don't make any money from my work. I'm disabled through illness and on a low income But you can make a donation to help me continue to research and write free, informative, insightful and independent articles, and to provide support to others. The smallest amount is much appreciated – thank you.