From left to right: Lord Feldman, (in March 2016, Feldman was questioned by journalist Michael Crick about election expenses that may have broken the law); Lynton Crosby (longstanding 'campaigner' and expert dog whistler, dead cat strategist and wedge tactician for the Conservatives); Jim Messina (a former Obama campaign chief also hired by the Conservatives) and then party chairman Grant Shapps.  Photograph: David Hartley/Rex
The political and corporate economy is driving the implementation of 'behavoural science', including 'nudge', by self-interested (and boundedly rational) incumbent governments, policy makers, bureaucrats and corporations has been largely neglected, though a few of us have been raising concerns about the implications of the microregulation of citizen perceptions and behaviour for democracy for a few years.
In their haste to portray populations as irrational and cognitively flawed, behavioural economists, governments, bureaucrats and the murky underworld of the big corporate lobbying, PR, 'strategic communications' and 'consultancy' industry seem to have overlooked a couple of whopping 'cognitive biases' of their own. These are their strong inclination towards profit and power, regardless of any ethical boundaries. 
As soon as the Conservatives casually announced their 'behaviour change' agenda back in 2010, and instituted the 'Nudge Unit', a scandal of the type surrounding Cambridge Analytica/SCL was inevitable. How could anyone expect that an authoritarian government, somewhat defined by resistance to change, would resist the temptation to draw on 'behavioural science' techniques to manipulate citizens' perceptions, cognitions, behaviours, choices, and ultimately, their voting decisions? 
Cambridge Analytica's commercial vice-president Richard Robinson once said that there is no fundamental difference between getting someone to vote and persuading them to swap toothpaste brands. He added: "It is about understanding what message is relevant to that person at that time when they are in that particular mind-set."
Robinson claimed that using data to profile citizens, overlaying "the person" on data – a method that has previously been available to advertisers –  is "humanising marketing." 
I don't agree. I see this level of surveillance, intrusion and micromanagement of citizens decision-making as a form of commodifying and marketising humans for commercial behavioural modification. Without our consent. Or a share in the profits generated. It is profoundly 'dehumanising marketing.'
Our personal data is being used to construct 'persuasion profiles', using sets of estimates – based on probabilities – on the effectiveness of particular influence-strategies on individuals, which are also based on past responses to these strategies. Some of these companies are also experimenting with biometrics. Many businesses in marketing openly admit that they aim to achieve behavioural change. It cannot be right for private companies and governments to use citizens as Pavlovian dogs. Such personalised persuasive strategies seriously undermine the human autonomy that is central to human dignity and democracy. 
The internet has rapidly become an environment in which citizens and populations are being sorted, profiled, typed, categorised, ranked and "managed", based on data mining  mass surveillance and psycho-profiling.
It was only a matter of time before the powerful tools of digital tracking and corporate surveillance, including techniques designed for  manipulating opinions and behaviours, shifted from the realm of PR, product and service marketing to politics and voter targeting. The markets for personal data have always been markets for behavioural control also. And markets of behavioural control are composed of those who sell opportunities to influence behaviour for profit and power, and those who purchase such opportunities.  

Screengrab taken at 2pm on Tuesday from AIQ's homepage. By Thursday, after the company was contacted by the Observer, it had been taken down. Photograph: AggregateIQ. 
The Observer first disclosed connections between the firms a year ago when it published details of an intellectual property licence that linked AIQ and Cambridge Analytica.

The leaked intellectual property licence document that shows a link between AggregateIQ and SCL Elections (the company behind Cambridge Analytica). Photograph: Observer
From the Telegraph in February 2017: Exclusive: How a tiny Canadian IT company helped swing the Brexit vote for Leave 
The overlap between behavioural economics, PR and techniques of persuasion
Last month, the government's procurement service widened the public sector's choice of 'behavioural insight' experts to call on. Previously the Behavioural Insights Team (Nudge Unit) were the single suppliers, but the new Crown Commercial Service Behavioural Insights framework expands the number to six. The framework retains the Nudge Unit, and the new suppliers are CFE (Research and Consulting), Kantar Public, McKinsey, and Ipsos Mori. There is a sixth supplier that has not yet been named because it has not yet formally signed up to the new contract.

The PR industry, with it overlaps in marketing, consultancy, strategic communications,  behavioural economics, nudge and so on has been using behavioural analytics, psychographic profiling and targeted communications for years. Many corporate practices are kept as secret as possible, which places some limitations on research. 
'Data-intensive' companies communicate in a vague and ambiguous way, however they are more bold when it comes to selling their services and in this context they reveal internal practices through public statements, occasionally.
The Hunting Dynasty a "behavioural insight and communications agency," say on their site: "WE IMPROVE THE WAY YOUR WORLD BEHAVES BY DISCOVERING YOUR AUDIENCE'S UNTAPPED DESIRES AND EFFORTLESSLY INCREASING YOUR EFFICIENCY USING ROBUST SCIENCE, PSYCHOLOGY, AND NUDGE TECHNIQUES", and go on to say "welcome to the first step in eliminating damaging behaviour."
"Our unique combination of deep applied and academic behavioural knowledge, and experience working in the world's largest advertising agencies makes us supremely qualified to deliver robust, full-stack, out-of-the-box, A+ projects and retained services, every time."
The company received the gold retail 'Nudge award' in 2015, and were shortlisted for the award in 2016 and last year. 
BeWorks, another example of  a company adopting the nudge approach to communications and marketing, describe themselves as "The first management consulting firm dedicated to the practice of applying behavioral science to strategy, marketing, operations, and policy challenges", also "harness the powerful insights of behavioral economics to solve your toughest challenges."
They work for the government, the energy industry, financial service sector, insurance industry and retail sectors "helping organisations to embed behavioural economics into their culture". 
The company says: "The team combines leading academics from the fields of cognitive and social psychology, neuroscience, and marketing with management consulting experts. Our multi-disciplinary expertise allows us to arm our clients with the latest in scientific insights coupled with a strategic business lens".
They also wrote this article among others: How Science Can Help Get Out the Vote. They claim "Our team of scientists and business experts offers a powerful methodology that analyzes and measurably influences the decisions consumers make". 
They go on to say "Neuromarketing studies, which measure brain activity and other biological indicators, are another way to gauge true emotional reactions instead of relying on how people say they feel. EEG caps and biometric belts are the most common tools used, though other techniques, ranging from reading facial expressions to measuring tiny differences in reaction time, are also used."
Over a six-year period, Ogilvy Public Relations Global CEO, Christopher Graves, digested more than 800 pieces of primary research to connect emerging findings in behavioral economics, neuroscience and narrative theory in order to 'craft a new point of view on narrative effectiveness in communications.'
The findings overturn much of what communications professionals believed through conventional wisdom. The company concludes that "Emotional narrative beats analytical messaging. All human decision making depends heavily on emotion. Our efforts to persuade or explain need to also be rooted in emotion-triggering narratives." 
Linstock Communications consultancy say they are: "AN AWARD-WINNING COMMUNICATIONS CONSULTANCY THAT SPECIALISES IN THOUGHT LEADERSHIP AND CRISIS MANAGEMENT UNDERPINNED BY BEHAVIOURAL SCIENCE."
Rolph Merchant of Instinctif Communications DMCC, says:
"Public relations exists to influence and to effect change. To do so more successfully, the industry needs to find ways to target audiences, those it wishes to move, more scientifically. The PR industry clearly recognises this and I think the adoption of a more surgical targeting strategy will become incumbent on PR companies. 
"A very positive development for the PR industry would be to embrace the more advanced approaches to targeting using techniques based on behavioural economics. The pioneering work of The Behavioural Insights Team to understand what influences the public's decision making, and design 'nudges' to get desired results for government, could certainly be replicated in the private sector. 
These techniques have been touted for use in measuring campaign success, a perennial issue for PR. To give a simple example of its application, by measuring peoples' behaviour or sentiment before and after a period of communications activity, it is possible to gain a clearer idea of how successful a campaign has been. In turn, this insight can be channelled to improve communications strategy and tactics. 
"Though in its infancy, behaviour change is nonetheless a fascinating area of communications, which could well see significant attention and growth in the next decade."
Instinctif offers "strategic insight, and creative solutions; government relations, and public and corporate affairs services that include lobbying, strategic information, analysis and advice, media and reputation management mandates, and public affairs training services."
At the moment, the media is focused on the sins of Cambridge Anaytica/ SCL and Facebook. However, there are MANY other private companies involved in stage managing our democracy, employing the same deeply unethical and antidemocratic methods. Crosby Textor is just one example. 
Cambridge Analytica are not the only company that are being employed by governments to stage-manage our democracy
While the government's controversial 'dark ads' campaign attracted some concerned commentary last year, in part because it used data and psychographic profiling to manipulate individual traits and characteristics, it seems like no-one is joining the dots, still.
From the Crosby Textor Group site
The government claims that they haven't used Cambridge Analytica for their election campaigns. However, in 2017, the Conservatives used several similar shadowy private companies that peddle data analytics, psychological profiling and 'behavioural change'  to research, canvass, advertise and target message voters with 'strategic communications' – which also exploit their psychological characteristics and tendencies.
I trawled through the Conservatives' campaign expenses listed on the Electoral Commission site to find the following: the government spent an eye-watering total of £1502,3516•79p on 'campaigning', to persuade people to vote Conservative.
Here is a breakdown of that sum:
The government used Experian (paid £683,636.34), Reed Consultancy (paid £178,558.03), Google Analytics (paid £1,020,232.17), Facebook (paid £3,177,416.68), Twitter (paid £56,504.32), among others, to research, canvass and advertise their party 'brand'. And £76,800 was spent advertising through Express Newspapers.
Blue Telecoms were paid £375,882.56 for 'unsolicited material to electors' and 'advertising'. It says on their site that Blue Telecoms is a trading name for Direct Market Solutions Ltd. The company director is Sascha Lopez , a businessman who stood as a local council candidate for the Tories in the 2017 local elections. He is also an active director of the Lopez Group, although that company's accounts are very overdue, there is an active proposal to strike off on the government's Companies House page. If directors are late in filing their company accounts, and don't reply to warnings from Companies House, their company can be struck-off the Companies House register and therefore cease to exist. Other companies he was active in have been liquidated (3) and dissolved (2).
An undercover reporter working for Channel 4 News secured work at Blue Telecoms, in Neath, South Wales. In an area plagued by unemployment and low wages, the call centre hired up to a hundred people on zero-hours contracts. For weeks, they contacted thousands of potential voters in marginal seats across the UK. 
The hired callers were told to say they were working for a market research company called "Axe Research". No such company is registered in England and Wales. Furthermore, callers were instructed to say that the call centre was situated in Cardiff, rather than Neath.
The investigation uncovered underhand and potentially unlawful practices at the centre, in calls made on behalf of the Conservative Party. These allegations include:
● Paid canvassing on behalf of Conservative election candidates – illegal under election law.
● Political cold calling to prohibited numbers
● Misleading calls claiming to be from an "independent market research company" which does not appear to exist
The Conservative Party have admitted it had commissioned Blue Telecoms to carry out "market research and direct marketing calls" during the campaign, and insisted the calls were legal.
A Conservative spokesman said: "Political parties of all colours pay for market research and direct marketing calls. All the scripts supplied by the party for these calls are compliant with data protection and information law." 
However, I discovered that the record of funds paid to Blue Telecoms were not listed under 'market research.' They were listed under 'advertising' and 'unsolicited material to electors'. 
(See also: More allegations of Tory election fraud, now we need to talk about democracy)
Much of the 'advertising' was based on data collection, data analytics and psychological profiling, which were used to target people with communications according to their hopes, fears, anxieties, degrees of conformity and other general dispositions. Without their consent.
Another company that the Conservatives used and paid £120,000 out to for market research and canvassing during their general election campaign is Outra. Jim Messina is the executive director, and the team includes Lynton Crosby.
Crosby Textor (listed as CTF) also earned £4,037,400 for market research/canvassing.
Messina Group Inc were also paid £544,153.57 for transport, advertising, market research and canvassing. This company uses data analytics and 'intelligence' services.  The company conducts "Targeted Ads Programs [….] ensuring precise targeting via Facebook, geo-targeting, zipcodes, IP addresses, and other tactics". 
The company also says:
The Messina Group are in a 'strategic partnership' with Outra serving as one of Outra's primary advisors on data, analytics, and 'customer engagement.'
(See also: World leaders across 5 continents trust TMG with the highest stakes in politics.)
British electoral law forbids co-ordination between different campaign groups, which must all comply with strict spending limits. If they plan tactics or co-ordinate together, the organisations must share a cap on spending.
Combobulate Limited, which is listed as a management consultancy, earned £43,200 for research/canvassing and for 'unsolicited material to electors'.
The director is listed as Nicholas Jack Walton Mason, also listed as the director of Uplifting Data. Mason is also listed as Director of Mason Investment Consultants Limited, which was dissolved via compulsory strike-off .
However, I couldn't find an information site for Combobulate, the only site I found bizarrely took me here. I can't find any other website.
Another similar company, An Abundance Limited, which is listed as a 'behaviour change agency', were paid £2,400 for market research and canvassing by the Conservatives in the run-up to the election last year. 
Populus Data Solutions, who say they provide "state of the art data capture", were paid £196,452 for research/canvasing and 'unsolicited material to electors'. This company have also developed the use of biometrics – facial coding in particular.
St Ives management services were paid £3,556,030.91, for research/canvasing, 'unsolicited material to electors', advertising, overheads and general administration, media and rallies, and manifesto material.
Edmonds Elder Ltd, a digital consultancy, were paid £156,240.00 for advertising. The site  says the company also provides services in vague sounding 'government affairs': "We use cutting-edge digital techniques to help government affairs teams make the case for their policy and regulatory positions – harnessing support from communities across the country to ensure a positive outcome."   
Craig Elder is also the Conservative party's digital director. Tom Edmonds was the Conservative party's creative director between 2013 and 2015.
Hines Digital  who is a partner of Edmonds Elder Ltd, "is a conservative digital agency that builds strong brands, huge email lists, and big league fundraising revenue for our clients, helping conservative campaigns & causes, and companies, achieve their goals."

It says on the site that "Hines worked with conservative campaigns & causes in fifteen U.S. states and nine countries." The company designed the 'digital infrastructure' of Theresa May's leadership campaign launch in 2016, they built her website (but aren't listed in election expenses.) Hines says: 
"That timely initial website launch proved invaluable. Approximately 35% of her overall email list signed up on that first day, a significant shot in the arm on Day One made possible because her team — led in part by our partners at Edmonds Elder—was prepared to capitalize on the day's earned media through effective online organizing.
Overall, the initial holding page saw a 18% conversion rate on day one — meaning nearly 1/5 people who visited the website signed up to join the campaign. That's a fantastic response to a site optimized for supporter recruitment."
And: "We are experts at identifying people online – and targeting them to drive the activity your organisation needs."
With political adverts like this, which aren't fact checked and only the person targeted gets to see them: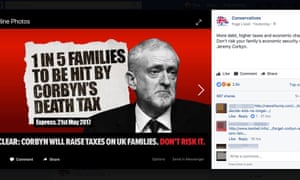 Walker Media Limited are a digital marketing and media company, they facilitate Facebook adverts and campaigns, among other services. They were paid £798,610.21 from the Conservatives' election campaign. One of their other social media marketing campaigns listed on their site is for "The Outdoor and Hunting Industry".
Simon Davis serves as the Chief Executive Officer at Walker Media Holdings Limited and Blue 449. Davis served as Managing Director of Walker Media at M&C Saatchi plc, a global PR and advertising company, who have worked for the Conservatives before, designing campaign posters and anti-Labour adverts – including the controversial 'New Labour, New Danger' one in particular.
There are a few subsidaries of this company which include "harnessing data to find, engage and convert customers efficiently through digital media." M&C Saatchi acquired the online media 'intelligence agency' Human Digital, whose "innovative approach marries rich behavioural insight with robust metrics."

There is a whole submerged world of actors making huge profits from data mining and analytics, 'targeted audience segmentation', behaviour change techniques, 'strategic communications and political lobbying. Much of the PR industry is built upon the same territory of interests: financial profit, maintaining power relations and supporting the vested interests of the privileged class. The subterranean operations of the surveillance and persuasion industry and citizen manipulation has become the establishment's norm, hidden in plain view.
Neoliberalism has evolved into a form of surveillance and microregulation capitalism. Traditional mass marketing has become much more focused, using precise target marketing, techniques which psychologically profile, sort, segment, categorise and target all forms of advertising to individual consumers. From behavioural targeting to mobile messaging apps sharing conversation data for adverts, target marketing requires personal data and a behavioural profile of 'consumers' .
Neuroliberalism
Surveillance strategies and targeted marketing also include the use of biometrics. Endless gain, for example, uses biometrics and psychology and "to understand human emotions and behaviour, and Psychology to optimise human emotions and behaviour. Our way helps our clients convert more customers, keep them for longer, and have them spend more." 
Endless Gain claim on their site to "optimise conversions" in the same way that behavioural economists at the Nudge Unit claim to "optimise decision-making", in their quest to align citizens' choices with neoliberal outcomes.
The company uses eyetracking, facial expression recognition, galvanic skin response,  EEG and pupil dilation – biometrics, in addition to conventional psychological research, "bringing together biometric research with findings from decades of academic psychology – particularly on emotional decision-making and the psychology of persuasion – to make changes to your site that increase both revenue and conversions."  
Other companies, such as the hugely influential Crimson Hexagon, use AI.  The company is based in Boston, Massachusetts and has also a European division in London.  Edelman Intelligence, a massive PR company, are a client of this company, as are Twitter. The company's online data library consists of over 1 trillion posts, and includes documents from social networks such as Twitter and Facebook as well as blogs, forums, and news sites. 
The company's ForSight platform is a Twitter Certified Product. (See also: The anti-social public relations of the PR industry, which details the intrusive '360 degree' social media listening and monitoring posts used by companies to gather data and intelligence and to formulate 'strategic communications' to discredit critics)
This level of surveillance and persuasion is deeply intrusive form of commodification and control that effectively exiles citizens from their own characteristics, perceptions, behaviours and choices, while producing lucrative markets aimed at data mining, behavioural analysis, prediction and modification.
Furthermore, the data collection, analysis and profiling is likely to build in discrimination, reflecting and reinforcing material and power inequalities. Credit reference agencies, insurance companies and the financial sector have previously demonstrated this point only too well. 
The data mining, analytics and persuasion market exists because large corporations and governments want to micromanage and psychoregulate citizens. However, such intrusive surveillance and micromanagement poses fundamental challenges to our democratic norms and personal autonomy.  
Tailored and targeted 'strategic communications' and persuasions are based on behaviour modelling and presupposed preferences, which may or may not be accurate or comprehensive. However, such an approach forecloses the possibility of citizens seeing alternative choices and developing new preferences: of accessing a full range of choices, learning and developing. It reduces citizens, commodifying their biology, psychology and decision-making, and transforming human nature into profits for big businesses and maintaining the power of the establishment.

The Cambridge Analytica scandal highlights the erosion of democracy because governments are paying to use these sophisticated techniques of persuasion to unduly influence voters and to maintain a hegemony, amplifying and normalising dominant political narratives that justify neoliberal policies.
'Behavioural science' is used on every level of our society, from many policy programmes – it's become embedded in our institutions – to forms of "expertise", and through the state's influence on the mass media, and other social and cultural systems. It also operates at a subliminal level: it's embedded in the very language that is being used in political narratives. Repetition is an old propaganda technique that sometimes works. The 'Strong and Stable' ideological motif of the government, however, was a tad overused, and led to ridicule because it became so visible as a ill-conceived technique of persuasion. But what about all of the psycholinguistic cues that remain opaque?
The debate should not be about whether or not these methods of citizen 'conversion' are wholly effective, because that distracts us from the intentions behind the use of them, and especially, the implications for citizen autonomy, civil rights and democracy. 
As I said in my last article, profit-seeking private PR companies are paid to brand, market, engineer a following, build trust and credibility and generally sell the practice of micromanaging the spread of information between an individual or an organisation (such as a business, government agency, the media) and the public.
Most of these companies use 'behavioural science' strategies (a euphemism for psychological warfare) to do so. It's a dark world where governments pay to be advised not to talk about "capitalism," but instead discuss "economic freedom" , "business friendly policies" or the "free market". Austerity is simply translated into "balancing the budget" or "living within our means". The political coercion of sick and disabled people to look for work by cutting their lifeline support is "equality and social justice" or "helping to move them closer to employment". Propaganda and deception is "strategic communications" and "PR". Psychological coercion is "behavioural science". The democratic opposition are described as "virtue signallers", "snowflakes", "Marxists", "militants" and "the hard left." 
On the Institute for Government website, the section called MINDSPACE Behavioural Economics  discusses "behaviour change theory" and "influencing behaviour through public policy." Using a language of managementspeak and psychobabble. A lot.
But surely, in democracies, public policies are supposed to reflect and serve identified public needs, rather than being about the public meeting specific policy outcomes and government needs. And surely governments ought to be elected on what they offer citizens in terms of policy, not on the basis of what they pay for PR, strategic communications, behaviour modification techniques and spying on populations.
We have nothing in place to prevent powerful and wealthy interlopers – such as Robert Mercer, from making an end run around election laws, either. Mercer played a key role in the Brexit campaign by donating data analytics services via Cambridge Analytica to Nigel Farage. 
The company was able to advise Leave.EU through its ability to harvest data from people's Facebook profiles in order to target them with individualized persuasive messages to vote for Brexit. However, Leave.EU did not inform the UK electoral commission of the donation despite the fact that a law demands that all donations valued over £7,500 must be reported.
---
I don't make any money from my work. But you can help by making a donation to help me continue to research and write informative, insightful and independent articles, and to provide support to others. The smallest amount is much appreciated – thank you.