Theresa May faced questions in the Commons over alleged Conservative Party links to the parent company of the embattled data firm Cambridge Analytica, (CA) the company that has been accused of acquiring and misusing the personal data of millions of Facebook users. Both Facebook and CA deny the allegations.

The prime minister's comments follow the suspension of CA's CEO, Alexander Nix, following the allegations that the company harvested personal data from up to 50m Facebook users.
Theresa May insisted that she is unaware of any "current" Government contracts with Strategic Communications Laboratories (SCL) – the parent company of the CA – or CA.  
It is understood that CA contacted the Conservative Party to discuss and offer their services under David Cameron's administration, but the party 'chose not to take the offer any further.' 
"An approach was made and the party decided not to take that forward," May's spokesperson said.
However, here is a photograph (it looks like a selfie) tweeted by the Chairman of the board of the SCL Group, Julian Wheatland, campaigning alongside former Conservative leader David Cameron.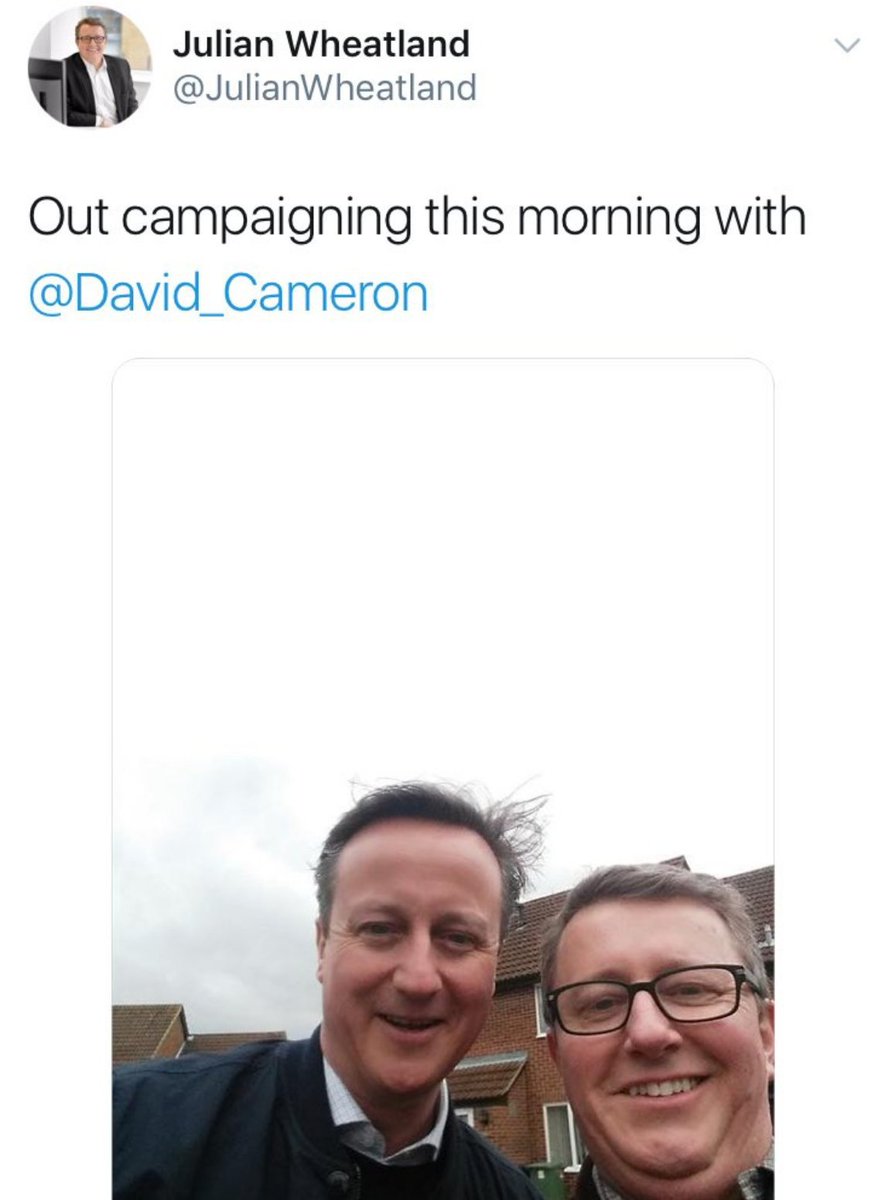 "The Conservative Party has never employed Cambridge Analytica, or its parent company, nor used their services," a party spokesperson said.
Ian Blackford, the SNP's leader in Westminster, had challenged Theresa May over the Conservative party links to SCL Group –  the parent company of CA. Blackford said the company had been run by a chairman of Oxford Conservative Association.
"It's founding chairman was a former Conservative MP," he added. "A director appears to have donated over £700,000 to the Tory Party. A former Conservative Party treasurer is  shareholder. 
"We know about the links to the Conservative Party. They go on and on. Will the Prime Minister confirm to the House her Government's connections to the company?" said Blackford.
However, May replied: "As far as I'm aware the Government has no current contracts with Cambridge Analytica or with the SLC group."

A Downing Street spokesman confirmed that the Ministry of Defence had previously had a contract with SCL, but this had ended before the recent allegations came to light. It was between 2014 and 2015.
"We are looking across Government to see if there were any other contracts," said the spokesman. "As the Prime Minister said, we are not aware of any current contracts."
Reports that the government sought the help of CA have resurfaced as the political consultants face growing questions over their citizen surveilance, data harvesting, psychological profiling, strategic communications and targeting, aimed at 'behaviour change'. 
Conservative chiefs held talks with the company in 2016, according to the Daily Mail. The article, published on December 18, 2016, claims that: "Theresa May wants to deploy an army of computerised 'mind-readers' to help her win the next Election, sources claim."
The source reportedly told the Daily Mail: "The Tories have been in talks with these guys for about three months now and I understand they're close to a deal." 
It is unclear whether an agreement was reached between the company and the Conservatives at that time. 
However, the chair of the Commons home affairs committee has called for a full investigation into the activities of Cambridge Analytica after it emerged that its parent company, SCL, was granted provisional "List X" status by the Ministry of Defence until 2013, granting it access to secret documents.
SCL group and it's 'verticals'
SCL has what they call different "verticals" in politics, military and commercial operations. All of those operations are based on the same methodology (Target Audience Analysis) and, as far as can be discerned from the outside, SCL and affiliates have very obscure corporate structures with confusing and overlapping ownership. 
The SCL Group says on its website that it provides "data, analytics and strategy to governments and military organizations worldwide."
The organisation claims that it has conducted "behavioral change programs" in over 60 countries and its clients have included the British Ministry of Defence, the US State Department and NATO. SLC Defense is another subsidiary of the umbrella organisation
Labour MP Yvette Cooper said there were serious concerns around the SCL Group and its subsidiary, CA, which is being investigated by the information commissioner. The SCL Group had a close working relationship with the MoD and was paid almost £200,000 for carrying out two separate projects. List X contractors are bound by strict rules over document security, and the MoD insists there was no recorded data breach.
The government team, which included psychologists and analysts, worked with SCL in 2014 to assess how "target audience analysis" could be used by the British government.
Over the course of the project in 2014, MoD officials flagged concerns over SCL's data management, saying there were "rudimentary security mechanisms" in place.
As part of Project Duco, UK officials assessed SCL's methods, which included analysing "psychological and anthropological principles" – and the social sciences more generally – and assessing how these could contribute to the government's 'strategic communications'.

The company's 'target audience analysis' allows governments or companies to assess how to target individuals with a psychologically tailored message to 'change behaviour'.
As part of Project Duco, the MoD was given "source background detail" by SCL, which included "analysis processes, data collection plans and sampling strategies".
Target audience analysis (TAA) is a very controversial approach to government communications that evolved during the 'battle for hearts and minds' in Afghanistan.
According to an assessment of the method by Dr Steve Tatham – now a private consultant specialising in 'Strategic Communication, influence, target audience analysis, and information operations' after he resigned from the UK's Armed Forces in July 2014 –  it allows governments to "diagnose the exact groupings that exist within target populations", leading to a ranking that "depends upon the degree of influence they may have in either promoting or mitigating constructive behaviour".
It then uses "psycho-social research parameters" in order to "determine how best to change that group's behaviour".
According to Statham, the data "builds up a detailed understanding of current behaviour, values, attitudes, beliefs and norms, and examines everything from whether a group feels in control of its life to who they respect and what radio stations they listen to." He added: "TAA can be undertaken covertly."
During the work with SCL, the MoD noted that "it was ascertained that some SCL staff are vetted and they have rudimentary security mechanisms in place (eg a locked cabinet)."
The report stated: "It is not thought that they have the capability to handle any electronic material above unclassified not considered the secure dissemination of documents."
The SCL Group says on its website that it provides "data, analytics and strategy to governments and military organizations worldwide."
The organisation claims that it has conducted "behavioral change programs" in over 60 countries and its clients have included the British Ministry of Defence, the US State Department and NATO. SLC Defense is another subsidiary of the umbrella organisation.
A freedom of information request from August 2016, shows that the MOD has twice bought services from SCL in recent years. In 2010/11, the MOD paid £40,000 to SCL for the "provision of external training". Meanwhile, in 2014/2015, it paid SCL £150,000 for the "procurement of target audience analysis". July 2017, the SCL website for Cambridge Analytica claimed its methods has been approved by the "UK Ministry of Defence, the US State Department, Sandia and NATO" and carried their logos on its website.
The SCL Group, that advised Nato on so-called "psy-ops", is a private British behavioural research and strategic communication company. The company describes itself as "global election management agency".  
SCL's approach to propaganda is based upon a methodology developed by the associated Behavioural Dynamics Institute (BDI). Nigel Oakes founded the latter and also set up Strategic Communication Laboratories and using the new methodology from BDI, ran election campaigns and national communication campaigns for a broad variety of international governments. BDI say: "The goal of the BDI is to establish Behavioural Dynamics as a discipline for the study of group behaviour change."
There isn't much information around about BDI's connection with military operations, though links with NATO are well-established – see Countering propaganda: NATO spearheads use of behavioural change science, for example.
From the article: "Target Audience Analysis, a scientific application developed by the UK based Behavioural Dynamics Institute, that involves a comprehensive study of audience groups and forms the basis for interventions aimed at reinforcing or changing attitudes and behaviour."
SCL on the other hand, has a clearly defined defence and military division who: "Target Audience Analysis, a scientific application developed by the UK based Behavioural Dynamics Institute, that involves a comprehensive study of audience groups and forms the basis for interventions aimed at reinforcing or changing attitudes and behaviour."
It's reported that SCL elections was bought by the billionaire Robert Mercer. He is known to be a heavily invested stakeholder in CA. Before becoming a White House advisor, Steve Bannon was a vice-president and part owner of CA. The Guardian reports that the  firm is owned by the Mercer family and the UK company SCL Elections, which is part of the SCL Group.
To give you a flavour of Mercer's interests, you only need to follow the money trail: he funds a climate change denial thinktank, the Heartland Institute, and he likes to disrupt the mainstream media. In this aim, he is helped by his close associate Steve Bannon, self-declared "economic nationalist", fomerly Trump's campaign manager and chief strategist. The money he gives to the Media Research Center, with its paranoid and authoritarian, anti-progressive mission of correcting "liberal bias" is just one of his pet media projects. He has also worked as vice president of  CA's board.
Mercer and his family are major donors to Conservative political causes such as Breitbart News. He is the principal benefactor of the Make America Number 1 political action committee (Super PAC). Around 2012, Mercer reportedly invested $5 million in the SCL Group. Most political campaigns run highly sophisticated micro-targeting efforts to locate voters. However, SCL promised much more, claiming to be able to manipulate voter behaviour through psychographic modeling. This was precisely the kind of work Mercer values.
SCL claimed to be able to formulate complex psychological profiles of voters. These, say the company, would be used to tailor the most persuasive possible message, acting on that voter's personality traits, hopes or fears.
Of course Mercer was a major supporter of Donald Trump's 2016 campaign for president and Brexit in the UK. Mercer donated the services of CA company  to Nigel Farage and UKIP. The company was allegedly able to "advise" and influence Leave.eu through harvesting data from people's Facebook profiles in order to target them with individualised persuasive messages to vote for Brexit. However, Leave.eu did not inform the UK electoral commission of the donation, contrary to the law which demands that all donations valued over £7,500 must be reported. 
When SCL Elections formed Cambridge Analytica in 2013, the company hired researchers from Cambridge University, hence the name. CA collects data on voters using sources such as demographics, consumer behaviour, internet activity, and other public and private sources. CA is using psychological data derived from millions of Facebook users, largely without users' permission or knowledge. The company is also trying to change people's perceptions and behaviours without their consent.The company maintains offices in New York City, Washington, D.C., and London.
Cambridge Analytica claim to predict not just peoples' voting intentions and preferences, but also their personality types. The company is proprietorial about its precise methods, but says large-scale research into personality types, based on hundreds of thousands of interviews with citizens, enables them to chart voters against five main personality types – openness, conscientiousness, extraversion, agreeableness and neuroticism. 
The President of SLC is Sir Geoffrey Pattie, a former Conservative MP and the Defence Minister in Margaret Thatcher's government. Pattie also co-founded Terrington Management which lists BAE Systems and Lockheed Martin among its clients.
As a UK-registered company, SCL Group had investors from the upper echelons of British Society. Lord Marland, a successful businessman who became a minister in 2010, held shares personally and through two related investment vehicles, Herriot Limited and a family trust.
An MoD spokesman said: "We have no current relationship or contracts with SCL Group, which includes Cambridge Analytica. As such, the company has no access to any classified information."
The Cambridge Analytica revelations are a symptom of a much darker disease 
I did some research into the Conservatives' election campaign spending last year. They spent hundreds of thousands of pounds on murky companies that peddle the same methods as Cambridge Analytica and SCL.
While the government's controversial 'dark ads' campaign attracted some concerned commentary last year, in part because it used data and psychographic profiling to manipulate individual traits and characteristics, it seems like no-one is joining the dots, still.
From the Crosby Textor Group site
The government claims that they haven't used Cambridge Analytica for their election campaigns. However, in 2017, the Conservatives used several similar shadowy private companies that peddle data analytics, psychological profiling and 'behavioural change'  to research, canvass, advertise and target message voters with 'strategic communications' – which also exploit their psychological characteristics.
I trawled through the Conservatives' campaign expenses listed on the Electoral Commission site to find the following.
The government used Experian (paid £683,636.34), Reed Consultancy  (paid £178,558.03), Google Analytics (paid £1,020,232.17), Facebook (paid £3,177,416.68), Twitter (paid £56,504.32), among others, to research, canvass and advertise their party 'brand'. And £76,800 was spent advertising through Express Newspapers.
Blue Telecoms were paid £375,882.56 for 'unsolicited material to electors' and 'advertising'. It says on their site that Blue Telecoms is a trading name for Direct Market Solutions Ltd. The company director is Sascha Lopez , a businessman who stood as a local council candidate for the Tories in the 2017 local elections. He is also an active director of the Lopez Group, although that company's accounts are very long overdue, there is an active proposal to strike off on the government's Companies House page. If directors are late in filing their company accounts, and don't reply to warnings from Companies House, their company can be struck-off the Companies House register and therefore cease to exist. Other companies he was active in have been liquidated (3) and dissolved (2).
An undercover reporter working for Channel 4 News secured work at Blue Telecoms, in Neath, South Wales. In an area plagued by unemployment and low wages, the call centre hired up to a hundred people on zero-hours contracts. For weeks, they contacted thousands of potential voters in marginal seats across the UK. 
The hired callers were told to say they were working for a market research company called "Axe Research". No such company is registered in England and Wales. Furthermore, callers were instructed to say that the call centre was situated in Cardiff, rather than Neath.
The investigation uncovered underhand and potentially unlawful practices at the centre, in calls made on behalf of the Conservative Party. These allegations include:
● Paid canvassing on behalf of Conservative election candidates – illegal under election law.
● Political cold calling to prohibited numbers
● Misleading calls claiming to be from an "independent market research company" which does not appear to exist
The Conservative Party have admitted it had commissioned Blue Telecoms to carry out "market research and direct marketing calls" during the campaign, and insisted the calls were legal.
A Conservative spokesman said: "Political parties of all colours pay for market research and direct marketing calls. All the scripts supplied by the party for these calls are compliant with data protection and information law." 
However, I discovered that the record of funds paid to Blue Telecoms were not listed under 'market research', however. They were listed under 'advertising' and 'unsolicited material to electors'. 
(See also: More allegations of Tory election fraud, now we need to talk about democracy)
Much of the 'advertising' was based on data collection, data analytics and psychological profiling, which were used to target people with communications according to their hopes, fears, anxieties, degrees of conformity and other general dispositions. Without their consent.
Another company that the Conservatives used and paid £120,000 for market research and canvassing during their general election campaign is Outra. Jim Messina is the executive director, and the team includes the notorious Lynton Crosby.
Crosby Textor (listed as CTF) also earned £4,037,400 for market research/canvassing.
Messina Group Inc were also paid £544,153.57 for transport, advertising, market research and canvassing. This company uses data analytics and 'intelligence' services. (CRM = 'Customer Relations Management' and BI ='Business Information', which comprises the strategies and technologies used by enterprises for the data analysis of business information.) The company conducts "Targeted Ads Programs [….] ensuring precise targeting via Facebook, geo-targeting, zipcodes, IP addresses, and other tactics". 
The company also says:
(See also: World leaders across 5 continents trust TMG with the highest stakes in politics.)
Combobulate Limited, which is listed as a management consultancy, earned £43,200 for research/canvassing and for 'unsolicited material to electors'.
The director is listed as Nicholas Jack Walton Mason, also listed as the director of Uplifting Data. Mason is also listed as Director of Mason Investment Consultants Limited, which was dissolved via compulsory strike-off . However, I couldn't find an information site for Combobulate, the only site I found bizarrely took me here.
Another similar company, An Abundance Limited, which is listed as a 'behaviour change agency', were paid £2,400 for market research and canvassing by the Conservatives in the run-up to the election last year. 
Populus Data Solutions, who say they provide "state of the art data capture", were paid £196,452 for research/canvasing and 'unsolicited material to electors'. This company have also developed the use of biometrics – facial coding in particular.
St Ives management services were paid £3,556,030.91, for research/canvasing, 'unsolicited material to electors', advertising, overheads and general administration, media and rallies, and manifesto material.

Walker Media Limited are a digital marketing and media company, they facilitate Facebook adverts and campaigns, among other services. They were paid £798,610.21 during the Conservatives' election campaign. One of their other social media marketing campaigns listed on their site is for "The Outdoor and Hunting Industry".
Simon Davis serves as the Chief Executive Officer at Walker Media Holdings Limited and Blue 449. Davis served as Managing Director of Walker Media at M&C Saatchi plc, a global PR and advertising company, who have worked for the Conservatives before, designing campaign posters and anti-Labour adverts – including the controversial 'New Labour, New Danger' one in particular.
There are a few subsidaries of this company which include "harnessing data to find, engage and convert customers efficiently through digital media." M&C Saatchi acquired the online media 'intelligence agency' Human Digital, whose "innovative approach marries rich behavioural insight with robust metrics."

There is a whole submerged world of actors making huge profits from data mining and analytics, 'targeted audience segmentation', behaviour change techniques, 'strategic communications and political lobbying. Much of the PR industry is built upon the same territory of interests: financial profit, maintaining power relations and supporting the vested interests of the privileged class. The subterranean operations of the surveillance and persuasion industry and citizen manipulation has become the establishment's norm, hidden in plain view.
Related
The government hired several murky companies plying the same methods as Cambridge Analytica in their election campaign
---
I don't make any money from my work. But you can support Politics and Insights and contribute by making a donation which will help me continue to research and write informative, insightful and independent articles, and to provide support to others. The smallest amount is much appreciated, and helps to keep my articles free and accessible to all – thank you.