Political context
The Labour party's strong inclusion, equality and diversity principles are being used to undermine the party by the neoliberal right, as part of an ongoing propaganda war. Jeremy Corbyn throughout his leadership – and particularly before elections – has been accused of "siding" with variety of state constructed and reconstucted 'enemies'. However, every Labour leader with the exception of Tony Blair, who was conveniently neoliberal, has been accused of having some kind of 'sympathy' with Russia.
It's a Conservative idée fixe that began with the fake Zinoviev letter and should have ended with Ben Bradley's libellous attempt at combining Conservative malice with bon mot. The Conservatives are creatures of  tradition and habit, no matter how much the world moves on, they try to pull it back to where they stand. 
The Conservatives' McCarthyist leitmotif of 'enemies and the traitor' reveals a lot about their own operant bullying, emphasises their divisive and hierarchical perspective of societies and their outdated colonialism, ethnocentrism and nationalist understanding of the world.
One of Corbyn's finest qualities is his mature internationalism, and his inclusive and respectful vision of the world. Corbyn sees people first, and does not differentiate their human worth and value on the basis of their group identities and individual characteristics. This is why he is an outstanding diplomat, and champion of social justice.
In an era of nuclear first strike posturing, which indicates the international breakdown of the principle of nuclear deterrence, I'd personally prefer a leader who has such skills and qualities, rather than someone who has no regard for the lives and safety of citizens.
The Conservatives have said that they "wouldn't hesitate in some circumstances to launch a nuclear attack, even if we weren't under threat." The government throw scorn at Corbyn for his reluctance to incinerate populations, and some of the UK public don't seem to realise that they too face the same fate due to the mutually assured destruction which comes free with the nuclear retaliation principle.
Corbyn has publicly condemned the vilification and abuse of Labour MPs who attended Monday night's demonstration against antisemitism in the party.
Leaders of the Jewish organisations that staged the protest told him that they would not meet him until he intervened to halt the attacks on social media, Corbyn said he was profoundly concerned by any abuse. It's difficult to know who is making the attacks on social media, since many fake accounts exist for the purpose of creating disruptions, discrediting political opponents, and harassing them. Furthermore, it would be impossible for the Labour leader to monitor social media, given his work load. No-one expects the Conservative government to end the abusive trolling of Conservative supporters, yet I have encountered MANY of them.
"People have the right to speak out and the right to demonstrate," Corbyn told the Jewish News in an interview. "I will not tolerate abuse of people for their beliefs."
"Any abuse that's done is not done in my name," he added.
He also rejected the idea – put forward by a rival demonstration by the Jewish Voice for Labour on Monday – that the reason for the main protest was to smear Corbyn himself.
"Of course it's not a smear, it's perfectly reasonable to raise any question about one's public profile activities," he went on. "I don't see that as a smear."
He is right of course. However that doesn't quite explain the vitiolic and often irrational comments from some of the right wing pundits over the last few weeks. As a person who has written extensively about prejudice, I won't ever claim that antisemitism is eradicated or negligible. It isn't either, unfortunately. There are two issues here. One is absolutely genuine concern about antisemitism. The other is how that concern is being used politically, outside of the Jewish community. 
Yesterday, Corbyn condemned Israel's killing of at least 27 Palestinians on the Gaza border as an "outrage" and attacked Western silence about the deaths. In a message read out at a demonstration outside Downing Street, the Labour leader quite reasonably demanded that Theresa May support the United Nation's call for an independent international inquiry. He also said that Britain should also consider stopping the sale of arms to Israel that "could be used in violation of international law". Israel has faced very little criticism over the killing of civilian Palestinians. 
The latest deaths came a week after 18 Palestinians lost their lives when Israeli soldiers opened fire at similar demonstrations in support of a "right to return" to land lost to Israel in 1948. The UN human rights spokeswoman, Elizabeth Throssell, has suggested the shootings could amount to wilful killing of civilians – a breach of the fourth Geneva Convention.
Corbyn spoke out after at least nine more Palestinians were killed, and hundreds more injured, by Israeli gunfire, some reportedly shot in the head or upper body.
He said "The majority of the people of the Gaza Strip are stateless refugees, subject to a decade-long blockade and the denial of basic human and political rights.
"More than two thirds are reliant on humanitarian assistance, with limited access to the most basic amenities, such as water and electricity.
"They have a right to protest against their appalling conditions and the continuing blockade and occupation of Palestinian land, and in support of their right to return to their homes and their right to self-determination." 
"The silence from international powers with the responsibility of bringing a just settlement of the Israel-Palestine conflict must end," he added.
The foreign secretary, Boris Johnson, has said nothing since the first killings on 30 March, although his deputy, Alistair Burt, issued a statement saying he was "appalled by the deaths and injuries". Burt said: "There is an urgent need to establish the facts, including why such a volume of live fire was used and what role Hamas played in the violence."
Israel came under pressure after a video was released which showed a protester being shot in the back by an Israeli soldier as he walked away from the fence separating Gaza from Israel. In other footage, Palestinians were shown being killed or wounded as they prayed, walked empty-handed towards the border fence, or simply held up a Palestinian flag.
According to reports in the Israeli media, the Israel Defence Forces' rules of engagement allow live fire to be used against anyone who approaches the fence. Justifying its response, the Israeli military said: "Several attempts have been made to damage and cross the security fence under the cover of the smokescreen created by the burning tyres that the rioters ignited."
Corbyn has been loudly condemned previously by the Conservatives because he wanted to include all parties in discussions to bring about a peace process in the region. However, it is worth noting that Corbyn has never made any demands that Jewish communities publicly repudiate the actions of  Israeli settlers and extremists. People who make this demand are assuming that Jewish people more generally are undeserving of being heard out unless they "prove" themselves acceptable by non-Jewish' standards.
Nor is it acceptable to demand that Palestinians publicly repudiate the actions of Hamas in order to be accepted or trusted, either.
It's also worth noting that although people in power in Israel are Jews, not all Jews are Israelis (let alone Israeli leaders). There are many people left and right who don't understand what Zionism is, and it has frequently been used as a derogatory label. However, Zionism is simply the belief that Jewish people should have a country in part of their ancestral homeland where they can take refuge from the antisemitism and persecution they face elsewhere.
It does not, however, mean a belief that Jews have a right to take land from others, or a belief that Jews are superior to non-Jews. Using the word "Zionists" in place of "Israelis" is inaccurate and harmful. "Zionists" includes Diasporan Jews as well (most of whom support a two-state solution to the Israeli-Palestinian conflict and pretty much none of whom have any influence on Israel's policies).
Misunderstanding of Zionism is used to justify antisemitic attacks outside of Israel.  Many of the Jews in Israel who are violent against Palestinians are actually anti-Zionist – they believe that the modern state of Israel is an offense against God because it isn't governed by halakha (traditional Jewish religious law). We must be very careful with the labels we use. The problem with labelling is that it is often used to create negative stereotypes, denying us our complexity and diversity. Labelling creates stigma and prejudice.
Now, with this clarified, I am not going to claim there hasn't ever been antisemitic Labour party members or that no problem has ever occurred. Antisemitism is a prejudice arising in wider society. Few people would deny that some people joining the Labour Party may harbour antisemitic prejudices. It's not possible to know in advance if a person joining the party is prejudiced, however, until that prejudice has been revealed in some way. It's also important to keep in mind that condemning the murder of Palestinians is not antisemitic.
I want to make this clear: I absolutely condemn any form of prejudice, including antisemitism, regardless of where it arises. 
The party has taken action in addressing these arising issues by vowing to implement all of the recommendations in Shami Chakrabarti's 2016 report (PDF) into alleged antisemitism in the party. Corbyn has also told the party's newly appointed general secretary Jennie Formby "that her first priority has to be the full implementation of the Chakrabarti Report and there has to be an appointment of an in-house lawyer, a legal team, to ensure that there is a proper approach to these cases."  
Corbyn has always been a consistent and reliable opponent of racism in all of its forms and he has committed Labour to dealing robustly with the allegations of antisemitism.
Antisemitism is profoundly disturbing, as is any other kind of prejudice and discrimination in democratic, civilised societies. If it is happening, I want to see it addressed just as I want to see prejudice and discrimination against disabled people and other socal groups in the UK addressed. People seem to forget that disabled people were the first social group to be murdered by the Nazis – the Aktion T4 "euthanasia" programme. 
Perhaps at this point it's worth reflecting on the many deaths and suicides among the disabled community over recent years, and that a correlation with the Conservative welfare "reforms" has been established several times over. The government have persistently denied that there is any "causal relationship" between their policies and the distress, harm and fear experienced by disabled citizens, and furthermore, have refused to investigate this issue any further. There has been relatively little media attention concerning this issue and no public outcry. Yet disabled people are living in fear for their future.
Each case of premature mortality or suicide linked with welfare policy that has been presented to the government has been disregarded, described with contempt as "anecdotal evidence". Each academic study that shows a clear correlation between policy and harm has been dismissed. The complicit media are by and large far more interested in anything that may be used to smear and criticise Corbyn than in holding the government to account for the terrible consequences of their draconian policies. 
Framing and entrapment 
The allegations regarding Labour's "problem with antisemitism" are framed using the same kind of psycholinguistic entrapment tactics that we have seen deployed in trying to frame Corbyn as a "Russian dupe", and by implication, a "threat" to UK security.  This propaganda process was projected onto a basic McCarthy-styled, over-simplistic and  false dichotomy frame: "You either agree with our very narrow terms, or you're 'siding with the enemy'".
As it turns out, Corbyn was absolutely right to exercise caution in stating that Russia was "irrefutably" behind the attack. It would have been more appropriate to claim "on balance of probability" it is likely to be a Russian attack – because of the context and history. However, it now emerges that Boris Johnson lied about the information Porton Down provided the government. Regardless of whether or not Russia were actually behind the poisoning of the Skripals, the UK has lost its international credibility.   
Armin Laschet, the leader of North Rhine-Westphalia and a deputy chairman of Angela Merkel's Christian Democratic Union (CDU), took to Twitter after the UK's Porton Down government laboratory announced on Tuesday that it could not link nerve agent samples it had collected to Russia.
"If you force almost all NATO countries to show solidarity, shouldn't you have sound evidence?" Laschet said. "You can think of Russia what you want, but I have learned a different way of dealing with states from studying international law." 
The international law framework is designed, after all, to ensure that inadequately evidenced allegations and knee jerk political responses don't lead to the collapse of diplomatic relations and a descent into a catastrophic, escalating war among nuclear states. As a citizen, I'd prefer a leader who is skilled in diplomacy and international law,  who regards the safety of the world's citizens as a key priority. Instead we have a group of blundering elitist authoritarians in office who, not content with creating monstrous social and economic divisions in the UK, want to extend their dystopic neoliberal vision on a global scale.
It is the same kind of simplistic false dichotomy frame regarding the Labour party's alleged antisemitism, which the media have also rolled out. It runs like this: If the Labour party confirm that they are "addressing" an antisemitism problem, regardless of whether that problem is real – then it is read as an admission of guilt. However, if the party says there is no problem – regardless of whether there is or isn't – that will simply be read as a denial of "guilt" and the action of a party that "doesn't care" about antisemitism more generally.
It's an accusation designed to make the party and members look bad either way. Note that word – designed. However, as a person who has written extensively about prejudice, Again, I won't ever claim that antisemitism is eradicated or negligible. It isn't either, unfortunately. There are two issues here, which I hope I have made clear. One is the justified concern regarding antisemitism, the other is how that is being politically exploited.
The accusations of antisemitism have been redesigned for use as a political stick with which to beat Corbyn. Again, I would not claim there is no antisemitism within the party. If there is, it must be addressed. However, mine is a question of proportionality, and whether the media focus and comments of right wing commentators are reasonable and justified. This is the same media that displayed no qualms in systematically dehumanising migrants and asylum seekers in their drive to force the EU referendum.
There is an element of irrationality and unreasonableness in trying to blame Corbyn for every allegation made of party members, since any member of the public is free to join the party of their choice. Political parties have no way of knowing of the prejudices of each new member in advance. There has also been a surge in membership over the past couple of years. The Labour party has put in place measures to deal with allegations of antisemitism among members. Nor can party leaders be omnipresent in social media groups to monitor offensive antisemitic comments made. The important issue is that it is addressed when it does arise and is brought to party leader's attention.
In my own experience of Facebook political groups, there are recognisably active trolls and shills who are present simply to discredit Labour activists and derail discussion. There is always a marked increase in their activity prior to elections.
Unfortunately, even vetting people who wish to join groups doesn't seem to stop this happening, as some of the profiles are very credible, with no indication they are fakes. If this sounds too "conspiracy theory" for you, perhaps it's worth considering the implications of the Cambridge Analytica scandal, and the uncovered psychological profiling and "strategic communications" element that was revealed in its' wake. The Snowden leaks before that also revealed that a variety of covert actors, including the state, infiltate groups to manipulate and derail discussions, and to discredit critics and opposition.
I am not, once again, arguing that no Labour party member or supporter holds antisemitic views. And again that must be addressed. However, there is an intense focus and constant, irrational and negative commentary aimed at Corbyn in particular, which is also based on orchestrated and purely politically motivated attacks. There is a lack of openness and reasonableness on behalf of some of the more aggressive critics as to how the party have been permitted to respond by the government, the media and by some of the centrist neoliberals within the party to an array of issues, including the allegations of antisemitism. 
Corbyn and Labour party members have been the target of severe criticism, with allegations being made that left wing members are more prone to antisemitic opinions and behaviour – and of course that Corbyn has "not done enough to prevent this." 
However data commissioned by a leading antisemitism charity strongly suggest that this narrative is not only inaccurate but counter-factual. YouGov carried out two surveys which may be compared, and the findings are that since Jeremy Corbyn became Labour leader, the party and its supporters have become significantly less antisemitic on every metric used in the survey. (YouGov's full datasets: 2015 and 2017.)
Concerns among Jewish communities about antisemitism are absolutely valid and absolutely must not be minimised or dismissed. However, it does no-one any favours when those concerns have also been distorted by the media, misused as a propaganda tool and weaponised for political gain. 
Antisemitism quite rightly draws horror from the public because of the terrible atrocity of the Holocaust, the process that led to it, and the historical consequences. It was founded in part on social Darwinist and eugenic ideas.
Those same ideas also underpinned the ideology of competitive individualism in the US and UK. Whenever we have socioeconomic systems that create hierarchies of human worth (based on meritocratic notions of 'deserving' or 'talent'), we also have social prejudice and that is perpetuated by the use of political justification narratives regarding inequality. 
These usually place responsibility on individuals for their low socioeconomic status, rather than the system, which inevitably creates a few 'winners' and many 'losers' – because that is the nature of any system based on competition. However, inequality is a fundamental feature of the neoliberal system of organisation. Justifying inequality creates stigma, outgrouping and hierarchies of worth.
Prejudice and oppression
Prejudice is a form of oppression which operates to establish a "defined norm" or standard of "rightness" under which everyone is judged. This defined norm is enforced with individual and institutional violence which makes and sustains the oppression.
Oppression may be defined as a pervasive system of supremacy and discrimination that perpetuates itself through differential treatment, ideological domination, and institutional control. At an individual level, oppression is expressed through beliefs (stereotypes), attitudes, values (prejudice), and actions (discrimination) used to justify unfair treatment based on distinct characteristics of one's identity, real or perceived. These can be internalised and directed towards the self or externalised and directed towards those we interact with on a day-to-day basis. 
Oppression expresses itself through default positions of power within an organised group, both formal and informal. Specifically, it is the denial of accessing and holding positions of power based on the belief that one lacks experience in and/or is incapable of fulfilling (or learning how to fulfill) certain roles and responsibilities based on assumptions related to identity. This also includes the assumption that someone sharing identity with a dominant group is automatically capable, regardless of experience, skills  or talent.
On an institutional level, oppression expresses itself through the denial and limitation of resources, agency and dignity based on one's social identity. This includes policies, laws, and practices that are enforced in and by an institution, such as governments, made for the benefit of the dominant group with little to no consideration for the longer term harm inflicted on marginalised individuals and groups. In turn, institutions have the power to shape and control cultural narratives that reach individuals on a global scale, regardless of whether they directly interact with such institutions. Narratives are used to normalise oppression, which are shaped by the ruling class. 
Antisemitism is not the only form of oppression. Saying that does not minimise it, however. We currently live in a society where prejudices more generally has been politically encouraged and permitted to flourish. Prejudice tends to multitask. I have written a lot about this over the last few years, as a witness. 
We live in a society where racism has grown over the last few years. We have witnessed profoundly socially divisive rhetoric from an authoritarian government and that has been amplified by a largely right wing, compliant media. As a consequence of that, the far right was given a public platform. The same thing happened under the Thatcher administration, we saw parties like the National Front and the British National Party flourish. This is because the context provided by a such socioeconomically divisive governments leads to the creation of political scapegoats to justify their own prejudices and authoritarianism, draconian policies and wider inequality –  this always leads to racism, as well as other forms of prejudice, too.
The scale of social prejudice
Various forms and systems of oppression are not separate, and can't be isolated into distinct categories, to be addressed on their own. Oppression is a network of intersecting and related forms of domination and the oppression of one group must be resisted alongside the oppression of others. We must stand side by side to address oppression in solidarity.
Jo Cox was murdered by a far-right supporting individual who gave gardening tips and services to his neighbours, with a secret festering hatred of some groups of citizens. No-one knew about his monstrous prejudice and intention until he murdered a British MP, who staunchly opposed racism.
This is what political propaganda and scapegoating does to susceptible individuals – it shapes their perception of others and permits them to hate. Some social groups have been marginalised and dehumanised by the government, including disabled people and those needing social security support. It's no coincidence that hate crime directed at these groups has risen in the UK.
The government have violated the human rights of disabled people, and such acts serve as a role model of behaviours that indicate prejudice and discrimination is publicly acceptable. It also sends out a message that emphasises the differential status and implied devaluation of social groups.
This is how moral and rational boundaries are being pushed: casual comments from more than one Conservative minister about disabled people, who are not "worth the minimum wage", from a chancellor who claims that national productivity is reduced because more disabled people are in work; a Conservative councillor who called for the extermination of gypsies, and a Conservative deputy mayor said, unforgivably, that the "best thing for disabled children is the guillotine."
These weren't "slips", it's patently clear that the Conservatives believe these comments are acceptable, and we need only look at the discriminatory nature of policies such as the legal aid bill, the wider welfare "reforms" and research the consequences of austerity for the most economically vulnerable citizens – those with the "least broad shoulders" –  to understand that these comments reflect how Conservatives think. It is only when such comments conflict with our collective moral norms that we see the process for what it is, and wonder how such comments could ever be deemed acceptable. However, those moral norms are being intentionally transformed. 
This is a government that is creating and using public prejudice to justify massive socioeconomic inequalities and their own policies that are creating a steeply hierarchical society based on social Darwinism and neoliberal "small state" principles. We have already seen the introduction of a clear eugenic welfare policy – only the first two children in families needing social security support will be provided with any support. Aside from the frightful human rights implications of this, the fact that it was announced and introduced to "change the behaviours" of the poorest citizens – regardless of whether they work – indicates a political prejudice and active discrimination regarding poor citizens, and a political intention to limit the number of children they have. 
The political creation of socioeconomic scapegoats, involving vicious stigmatisation of previously protected social groups, particularly endorsed by the mainstream media, is simply a means of manipulating public perceptions and securing public acceptance of the increasingly punitive and repressive basis of the welfare "reforms", and the steady stripping away of essential state support and provision. It also indirectly justifies low and exploitative wages and insecure employment, since these issues are no longer considered to be part of the problem of poverty. Instead the poverty debate is reduced to a political narrative of "incentives" and individual behaviours.
The state is informing the public that poor people can simply be punished out of their poverty. Regardless of the incoherence of that narrative, the media have been complicit in amplifying this dogma. The pathological socioeconomic structure of our society, the market place Darwinism and the growing imbalances of power relationships remain hidden in plain view, obscurred by linguistic behaviourism and normative manipulation.
The political construction of social problems also marks an era of increasing state control of citizens with behaviour modification techniques, (under the guise of paternalistic libertarianism) all of which are a part of the process of restricting access rights to welfare provision, which is being steadily dismantled. The mainstream media has been complicit in the process of constructing deviant welfare stereotypes and in engaging prejudice and generating moral outrage from the public:
"If working people ever get to discover where their tax money really ends up, at a time when they find it tough enough to feed their own families, let alone those of workshy scroungers, then that'll be the end of the line for our welfare state gravy train." James Delingpole 2014
Those the government perceives to be the weakest are carrying the burden of austerity to cover the tracks and guilt of the wealthy and powerful people, who are actually responsible for the global recession. Scapegoats. If you read any social psychology, you will know that this is how social prejudice grows. It's an incremental process, where normative boundaries are pushed until what was once perceived as unacceptable suddenly becomes a reality. 
Gordon Allport wrote about the advancement of that process – by almost inscrutable degrees – in Nazi Germany. It starts with dehumanising language and scapegoating, it progresses to open prejudice and political discrimination, violations of human rights, social and economic isolation, hate crime, murders then, if left unchecked, it results, ultimately, in genocide.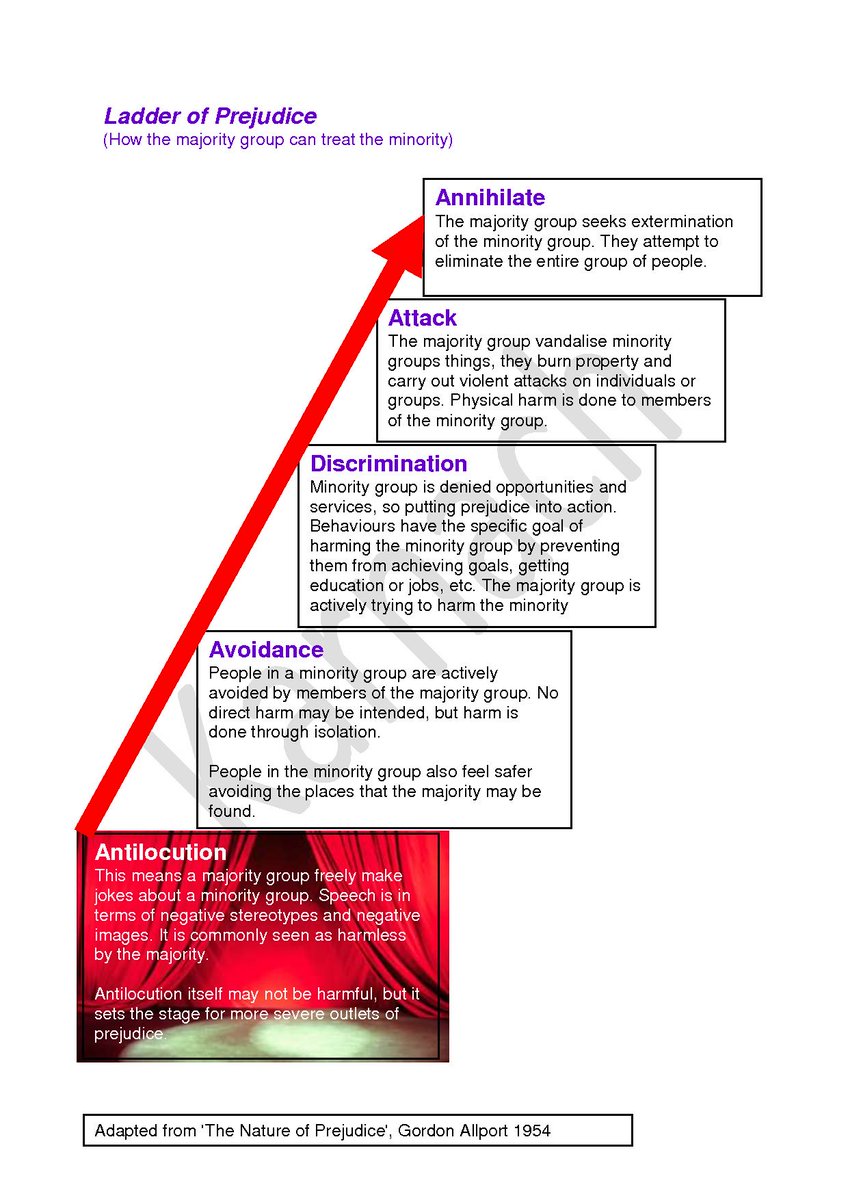 Antisemitism exists in our society. It isn't a "Labour" problem, it is a SOCIAL problem. It flourishes in a context of extremely divisive political rhetoric. That rhetoric is in part to justify a socioeconomic system that leads to massive social inequality. That inequality is being politically justified by the creation of political scapegoats and the Othering of already marginalised groups. Neoliberalism is a system that leads to the growth of wealth and power for those who already have wealth and power – it sustains an elite.
For citizens, it results in a decline in our standard of living, disempowerment, growing poverty and because it requires an authoritarian regime to impose it – see the history of Pinochet's neoliberal experiment in Chile, for example – it also profoundly erodes our democracy. The media and right wing ideologues are now simply the PR agents for more neoliberalism. The answer to the disastrous socioeconomic problems created by neoliberalism is apparently, to apply more aggressive neoliberalism. That also means the steady erosion of human rights, citizen freedoms, massive inequality and the removal of any democratic alternative. That is where we are at, as a society. This is happening, and we are the witnesses.
When Corbyn met with a Jewish group recently, commentators on the right – Andrew Neil and  Fraser Nelson, for example – ranted about how this left leaning Jewish group weren't "representative of Jews". Fraser Nelson dismissed anyone who disagreed with his views as members of a left wing "cult". This displays a kind of totalitarian thinking, in that it portrays Her Majesty's opposition as somehow non-legitimate, and emphasises the sole legitimacy and hegemony of neoliberalism. It also undermines the very notion of democracy. 
It's reasonable that a left leaning leader would meet a left leaning group. The right leaning Jewish groups have not exactly been particularly accommodating in meeting with Corbyn. However, Andrew Neil actually commented on Jewdas: "who are all these 'nutters'". Now THAT is antisemitism. Neil was implying that some groups are "acceptably Jewish" and some are not, defining by his own prejudiced criteria which are "acceptable". 
These mainstream media commentators on the right are so caught up in a clear ideological crusade and propaganda war that they really don't see their own prejudices. And furthermore they are furious that Corbyn has allies in the Jewish community. Hence the irrational and diversity-blind rage. And there is this to consider: the criticisms of Corbyn and allegations of antisemitism being rife in the party because of him are coming almost exclusively from the right. 
This tweet is so offensive and displays prejudice on more than one level. 
Of course Jewish people reflect a variety of political preferences. Political debate is an essential Jewish tradition that allows no section of opinion to set itself up as the only acceptable one. But the UK right wing don't particularly value democratic principles, and treat every opposition leader with an outrageous loathing and sneering contempt. They oppose antisemitism only on condition that Jewish groups do not show any support towards the left, and in particular, for Corbyn. 
Yesterday I saw a comment from Dan Hodges –  who writes for the Daily Mail, that Labour are "irredeemably racist". This is simply untrue. He never responded to the comment I left him, reminding him of the Daily Mail's constant anti-immigration rants, in a series of shots of toxic Daily Mail headlines.  I explained that most Labour supporters were not up for taking lectures on the value of inclusion and diversity from Daily Mail journalists. 
I posted this to remind him of the significant contribution the Mail has made to the growth of racism in the UK. 
And this was very offensive, antisemitic, irrational and dangerous comment:
The right have manipulated a concern for social justice on the left – and particularly that concern regarding the murder of Palestinian civilians – and have intentionally pathologised it, weaponising it as a propaganda tool. This has been going on for a long time. 
Which "mainstream Jewish community" is that, John? How does a meeting with a Jewish community "bait" the Jewish Community? Why are Corbyn's critics okay with marginalising a Jewish group and deliberately attempting to discredit them when it suits them to? This is absolutely atrocious hypocrisy and completely unacceptable antisemitic behaviour. 
It is telling that some of the Labour "moderates" used right wing gossip-mongers and bloggers – Paul Staines and Alex Whickam – to criticise their own leader. These people should be ejected from the party, since all they do is damage it and support another Conservative term. They don't care about the misery and despair of citizens living in escalating poverty because of Tory policies, the suicides and deaths of disabled people, or those children living in poverty with their futures and human potential stolen from them, by an authoritarian government.
Shame on them. This is not what the Labour party are about, and until Blair, it never was. The neoliberals' time has been and gone, the party has moved on and realigned itself to the majority of its members demands for a democratic agenda that reflects their values of inclusion, equality and diversity. That's how it should be.
Corbyn is one of the leading anti-racists in parliament – one of the very least racist MPs we have. So naturally Corbyn signed numerous Early Day motions in Parliament condemning antisemitism, years before he became leader and backed the campaign to stop Neo-Nazis from meeting in Golders Green in 2015.
Before being elected as Labour party leader, Corbyn chaired Liberation (formerly the Movement for Colonial Freedom) in succession to Stan Newens, who is the President of , Liberation. Liberation, founded in 1954 on the initiative of Fenner Brockway, was in the forefront of the struggle against all forms of racism.
When Jeremy took the chair it was accepted that one of our continuing fundamental purposes was opposition to racism – including antisemitism. Liberation has been critical of Israel's treatment of the Palestinians – and often had Israeli or Jewish speakers at meetings arguing the case.
Newens says "It is patently obvious that criticism of Corbyn and the Labour party on grounds of antisemitism is being encouraged by individuals who – unlike the Labour leader himself – have rarely participated in the general struggle against racism. Most are motivated by opposition to Labour under Corbyn and any excuse to harass him will be taken."
Joseph Finlay, writing for the Jewish News online, says: "The Labour party has thousands of Jewish members, many Jewish councillors, a number of prominent Jewish MPs and several Jewish members of it's ruling council. Many people at the heart of the Corbyn team, such as Jon Lansman, James Schneider and Rhea Wolfson are also Jewish. Ed Miliband, the previous party leader, was Jewish (and suffered antisemitism at the hands of the press and the Conservatives). I have been a member for five years and, as a Jew, have had only positive experiences.
"Jeremy Corbyn has been MP for Islington North since 1983 – a constituency with a significant Jewish population. Given that he has regularly polled over 60% of the vote (73% in 2017) it seems likely that a sizeable number of Jewish constituents voted for him,  As a constituency MP he regularly visited synagogues and has appeared at many Jewish religious and cultural events. He is close friends with the leaders of the Jewish Socialist Group, from whom he has gained a rich knowledge of the history of the Jewish Labour Bund, and he has named the defeat of Mosley's Fascists at the Battle of Cable as a key historical moment for him. His 2017 Holocaust Memorial Day statement talked about Shmuel Zygielboym, the Polish Bund leader exiled to London who committed suicide in an attempt to awaken the world to the Nazi genocide. How many British politicians have that level of knowledge of modern Jewish history?"
He goes on to say: "Because all racisms are interlinked it is worth examining Corbyn's wider anti-racist record. Corbyn was being arrested for protesting against apartheid while the Thatcher government defended white majority rule and branded Nelson Mandela a terrorist. Corbyn was a strong supporter of Labour Black Sections – championing the right of Black and Asian people to organise independently in the Labour party while the Press demonised them as extremists.
"He has long been one of the leaders of the campaign to allow the indigenous people of the Chagos Islands to return after they were forcibly evicted by Britain in the 1960s to make way for an American military base. Whenever there has been a protest against racism, the two people you can always guarantee will be there are Jeremy Corbyn and John McDonnell. Who do you put your trust in — the people who hate antisemitism because they hate all racism or the people (be they in the Conservative party or the press) who praise Jews whilst engaging in Islamophobia and anti-black racism? The right-wing proponents of the Labour antisemitism narrative seek to divide us into 'good' and 'bad' minorities — they do not have the well-being of Jews at heart.
"Let's return the story to the facts. Antisemitism is always beyond the pale. Labour, now a party of over half a million members, has a small minority of antisemites in its ranks, and it suspends them whenever it discovers them. I expect nothing less from an anti-racist party and an anti-racist leader. If the Conservatives took the same approach to racism they would have to suspend their own foreign secretary, who has described Africans as 'Picanninies' and described Barack Obama as 'The part-Kenyan President [with an] ancestral dislike of the British Empire'. 
"From the Monday club, linked to the National Front, to MP Aidan Burley dressing up a  Nazi, to Lynton Crosby's dogwhistle portrayal of Ed Miliband as a nasal North London intellectual it is the Conservative Party that is deeply tainted by racism and antisemitism.
"There are many threats to Jews – and we are right to be vigilant. These threats come primarily from resurgent nationalism, anti-immigrant sentiment and a Brexit narrative that seeks to restore Britain to a mythical age of ethnic purity. The idea that Britain's leading anti-racist politician is the key problem the Jewish community faces is an absurdity, a distraction, and a massive error. Worst of all, it's a bad story that we've been telling for far too long. Let's start to tell a better one."
The Labour party has prided itself on its inclusion, equality and diversity principles since its inception. Corbyn has always been one of the most inclusive MPs and this is being used to undermine him. His idea of a "broad church" Labour party was based on an assumption that the neoliberals within the party shared the same equality, diversity and inclusion values, and supported a social justice agenda.  It was assumed that they had principles in common with the wider Labour party.  They don't.
These are MPs that would prefer another Conservative term, further damage to our society, and more suffering of poor and disabled citizens than see a party they consider ideologically "inpure" take office. Their comments and actions are vile. The implications are vile. They are contributing to the sabotage of our party just in time for the local elections. Again. 
I have thought carefully these past months about these issues, and explored the evidence. I haven't commented on it all until now because I needed to see evidence, analyse and evaluate. The hypocritical outrage from the likes of Hodges, Nelson, Neil and Lord Sugar, along with the sheer rage, incoherence and unreasonableness of their attacks has convinced me that this is a serious strategic propaganda war, nothing more or less.
However, I also agree with Jonathan Freedland, who says "Yes, you can make a strong case that plenty are acting in bad faith, trying to use this issue as a stick to beat Labour – but if you do that, you need to exempt Jews themselves from that charge." I absolutely agree, and for many of the reasons he has laid out. 
I don't, however, agree with his assessment that Corbyn represents the "hard left".
He goes on to say, however, "Less tangibly, it's the cast of mind, the way of thinking, that antisemitism represents that we should fear. Conspiracy theory, fake news, demonisation of an unpopular group: what happens to our politics if all these become the norm? This is why Jews have often functioned as a canary in the coalmine: when a society turns on its Jews, it is usually a sign of wider ill health.
"Put another way, hasn't history shown us that racism never stays confined to mere "pockets"? Once the virus is inside, it does not rest until it has infected the entire body."
As I discussed earlier in this article, the symptoms of an increase in social prejudice have been there for some years, he seems to have overlooked the fact that it has been the disabled community who were the "canary in the coalmine", and still are.
I agree that prejudice multitasks and grows. Freedland has overlooked that racism has already become the norm, not least because the oppression of others has remained invisible and unacknowledged by the media. In fact the media has tended to amplify it. Furthermore, political prejudice and legislative discrimination directed at already marginalised social groups is causing absolute poverty, harm, distress, death and suicide. Those are visible, real consequences of political prejudice which the media have chosen to ignore. It seems that some prejudices are considered more important than others, even when outright political discrimination and its tragic consequences are evident for all to see. You see, this is how the Holocaust began. 
This poster (from around 1938) reads: "60,000 Reichsmark is what this person suffering from a hereditary defect costs the People's community during his lifetime. Fellow citizen, that is your money too. Read '[A] New People', the monthly magazine of the Bureau for Race Politics of the NSDAP." 
Here the political portrayal of German disabled people as a "socioeconomic burden" is being used to justify the AktionT4 extermination programme. 
The UK government prefers a wall of private bureacracy that extends a system on their behalf, which simply leaves many disabled people without the means to meet their basic living requirements, while making a profit at the expense of those people in doing so.
This said, Pfannmüller also advocated killing disabled people by a gradual decrease of food, which he believed was more merciful than poison injections. Most of the Nazis were eugenicists, nationalists and antisemites. Carbon monoxide gas was first used to kill disabled people, then its use was extended to other groups of people. The methods used initially at German hospitals such as lethal injections and bottled gas poisoning were expanded to form the basis for the creation of extermination camps where the gas chambers were built from scratch to conduct the extermination of the Jews, Poles, Russians, Ukrainians, Serbs, Spanish Republicans, Romani and political dissidents, including many leftists, socialists and communists. 
The Nazis promoted xenophobia and racism against all "non-Aryan" races. African (black sub-Saharan or North African) and Asian (East and South Asian) residents of Germany and black prisoners of war, such as French colonial troops and African Americans, were also victims of Nazi racial policy.  In Germany, gay men and, to a lesser extent, lesbians, were two of the numerous groups targeted by the Nazis and were also, ultimately, among the millions of Holocaust victims.
The role of propaganda and the media
Propaganda can be defined as biased information or misinformation designed to shape public perception, opinion, decision-making and behaviour. It simplifies complicated issues or ideology for popular consumption, is always biased, and is geared to achieving a particular end. Propaganda is often transmitted to the public through various media, drawing upon techniques and strategies used in advertising, public relations, communications, and mass psychology.
The real danger of propaganda lies when competing voices are silenced. When democratic dialogue, legitimate criticism and valid opposition is systematically pathologised and dismissed as a "cult", "the loony left", "Marxists" "leftards", "virtue signalers" and so forth. Using the internet as well as mainstream media outlets, propagandists have been able to transmit their messages to a wide audience. 
Propaganda served as an important tool to win over the majority of the German public who had not supported Adolf Hitler and to push forward the Nazis' radical program, which required the acquiescence, support, or participation of broad sectors of the population.
In 2016, the European Commission against Racism and Intolerance (ECRI) took aim at some British media outlets, particularly tabloid newspapers, for "offensive, discriminatory and provocative terminology".
The  report said hate speech was a serious problem, including against Roma, gypsies and travellers, as well as "unscrupulous press reporting" targeting the LGBT community. The ECRI's report also concluded that some reporting on immigration, terrorism and the refugee crisis was "contributing to creating an atmosphere of hostility and rejection".
It cited Katie Hopkins' infamous column in The Sun, where she likened refugees to "cockroaches" and sparked a blistering response from the UN High Commissioner for Human Rights, and the same newspaper's debunked claim over "1 in 5 Brit Muslims' sympathy for jihadis". 
"ECRI urges the media to take stock of the importance of responsible reporting, not only to avoid perpetuating prejudice and biased information, but also to avoid harm to targeted persons or vulnerable groups," the report concluded. Yet this international condemnation has not encouraged more journalistic responsibility in the UK.
The Nazis used propaganda successfully to increase their public support and appeal. They spent huge sums of money on newspapers, leaflets and poster campaigns with simple slogans encouraging people to support the party. The military style of the Nazis also involved using large political rallies to gain support. Joseph Goebbels began to build an image of Hitler as a great leader. Goebbels manipulated people's fear of uncertainty and instability to portray Hitler as a man with a great vision for "prosperity and stability." Germany's economy was in such a poor state that Hitler's promise of "strong government" and stability was widely supported.  
I do maintain that our own media are being controlled by the government, and are being used to stage-manage our democracy. The recent history of sustained and vile smear campaigns, lies and unchecked fury directed at the last two labour leaders is pretty clear evidence of that, as is the blatant scapegoating project dressed up as the divisive stigmatising rhetorics of xenophobia, bigotry, prejudice and open discrimination directed at disabled people and other groups who need social security support.
Prejudice multitasks. This is a point made very well by Martin Niemöller, who was a Lutheran minister and early Nazi supporter who was later imprisoned for opposing Hitler's regime. Martin Niemöller (1892–1984) emerged as an outspoken public critic and foe of Adolf Hitler and spent the last seven years of Nazi rule in concentration camps.
Niemöller is perhaps best remembered for the quotation:
First they came for the Socialists, and I did not speak out—
Because I was not a Socialist.
Then they came for the Trade Unionists, and I did not speak out— 
Because I was not a Trade Unionist.
Then they came for the Jews, and I did not speak out— 
Because I was not a Jew.
Then they came for me—and there was no one left to speak for me.
The quotation stems from Niemöller's lectures during the early postwar period. Different versions of the quotation exist. These can be attributed to the fact that Niemöller spoke extemporaneously and in a number of settings. Some controversy surrounds the content of the poem as it has been printed in varying forms, referring to diverse groups such as Catholics, Jehovah's Witnesses, Jews, Trade Unionists,  disabled people or Communists depending upon the version. Nonetheless his point was that there had been what he saw as a cowardly complicity through the silence of the church the media, academic institutions and citizens regarding the Nazi imprisonment, persecution and murder of millions of people.
The UK media are at best compliant, paralysed by bystander apathy, and at worst, directly complicit in extending political prejudice, justifying discimination and manipulating social divisions. Unless we actually want to live with an authoritarian one-party state, it's time to research, think and analyse these issues for ourselves, and quickly.
If not for ourselves, then for our friends, neighbours and loved ones. And especially, for our children.
May there be peace, justice and unity in our days.
---
I don't make any money from my work. I'm disabled through illness and on a very low income. But you can make a donation to help me continue to research and write free, informative, insightful and independent articles, and to provide support to others. The smallest amount is much appreciated – thank you.