David Lammy
Oxford University has published data about its undergraduate admissions for the first time. The figures showed a continuing inequality gap in offered opportunities to study based on race and economic status. 
The 850-year-old university published data that was intended to challenge the views that it endured as a place of white, wealth-driven privilege and elitism.
The statistics offer some very worrying insights into a clear lack of representative diversity among undergraduate admissions. In a breakdown of admissions to the 29 individual colleges that are the blocks of Oxford's academic structure, eight — including some of the most prestigious — failed to admit a single black Briton in one or more of the years from 2015 to 2017.
Oxford University has had to apologise to David Lammy after retweeting a post labelling his legitimate criticism "bitter".
The original tweet, sent by a student, was in response to the Labour MP saying Oxford was "a bastion of white, middle class, southern privilege".
Lammy asked if the tweet represented the university's official position – at which point a senior staff member apologised and took responsibility.
Cherwell, a student newspaper at Oxford, reported on Wednesday that the university had admitted more students in 2017 from a single London private school, than it had admitted black undergraduates from the rest of Britain. .
Lammy's original remarks came as Oxford University data revealed that eight of its 29 colleges included in the report accepted fewer than three black applicants in the past three years.
The university has a total of 38 colleges and permanent private halls. The university said it was "not getting the right number of black people with the talent to apply".
Director of undergraduate admissions, Dr Samina Khan, said she was "pushing hard" on outreach activity to make sure those students felt welcome.
The proportion of Oxford students identifying as black and minority ethnic was 18% in 2017, up from 14% in 2013. However, that figure still falls below the wider UK university average of 25%.
The most recent UK census showed 14% of the UK population identifies as black or minority ethnic. Data in the university's report showed that, of the students that achieved three 'A' grades or higher in their A-levels nationwide, 20% identified as black and minority ethnic.
One college, Corpus Christi, which has around 350 students, admitted just one black student resident in the UK in its 2015-2017 intakes. Balliol college, which has around 680 students, admitted two black and minority ethnic students over the same period, despite receiving 46 applications.
The number of admissions from state schools, during the same period, rose by just 1%, from 57% to 58%. 
Oxford's intake also displayed a substantial geographic imbalance between the north of Britain and the more affluent south. London and the South East made up 46.7% of UK applications between 2015 and 2017, (and 47.9% of students admitted) while the North East accounted for 2% (2.3% admitted).
"Oxford reflects the inequalities — socio-economic, ethnic and regional — that exist in British society," Louise Richardson, the university's vice chancellor, said in a foreword to the report.
"The picture that emergesis of a university which is changing: evolving fast for an institution of its age and standing, but perhaps too slowly to meet public expectations. It is a picture of progress on a great many fronts, but with work remaining to be done," she added
In a section titled Key Points, the report focused on progress in admissions, including "more women admitted than men in 2017" and higher proportions of undergraduate admissions among groups that were traditionally disadvantaged.
According to the Cherwell article, "17 of the top 20 schools for Oxford admissions in 2017 are fee-paying, while the other three are prestigious grammar schools." Additionally, the newspaper said, state-educated students tended to apply to the most oversubscribed subjects, lowering their prospects, while applicants from private schools tended to apply to less sought-after courses, such as classics or modern languages. 
Lammy, a former education minister who has campaigned against what he has called "social apartheid" at Oxford, said the latest figures showed that the university was "an institution defined by entrenched privilege that is the preserve of wealthy white students from London and the Southeast."
Lammy previously accused the university of "social apartheid", after a Freedom of Information (FoI) request by him revealed 10 out of 32 Oxford colleges did not award a place to any black British pupil with A-levels in 2015.
This prompted more than 100 MPs to write to Oxford and Cambridge urging the universities to recruit more students from disadvantaged and under-represented backgrounds.
Reacting to the latest figures, Lammy said the problem was "self-perpetuating".
He added "If you're on the 20th floor of a tower block estate and you're getting straight A's, you apply, go for a difficult interview.. you don't get in, then none of the other kids apply the following year."
Some of the responses on Twitter to Lammy's reasonable and empirically evidenced comments are dismally and appallingly racist: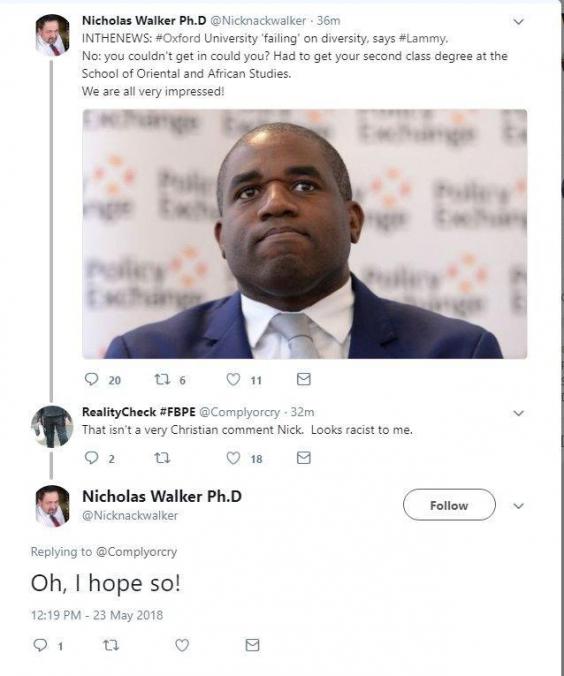 Walker has since deleted his tweet, following Lammy's neat shot response:
And then this oik piped up:
And the response:
A spokesperson for Lammy recently told the BBC: "David regularly receives abusive and malicious communications, often of a racist nature.
"All such letters are passed onto the police. As David has made clear, receiving racist abuse will not have any impact on his work."
In April, the Labour MP posted an image of a letter he received after he criticised the government's handling of the deportation of Windrush migrants.
The offensive note told  Lammy to "be grateful that we have taken you in as a black man" and suggested he "go back to your country".
Lammy pointed out that he was born in Whittington Hospital in north London.
He shouldn't have had to. It's a disgrace in a so-called civilised society that anyone has to confront racist and abusive comments. The barrage of hate that Lammy and others are subjected to on a regular basis is in part a product of an increasingly divided and prejudiced society. One which the government has contributed to by role modelling prejudiced and discriminatory behaviours, which in turn signals permission for citizens to do the same.
As Lammy says: "At root the hostile environment is a policy rooted in pernicious cruelty designed to make life so difficult for people who are here legally that they simply give up and, as suggested by Theresa May's vans, "go home". (…) A minister falling on their sword is usually an attempt to draw a line under a scandal and encourage the media to move on.
"But the person sat in the hot seat at the Home Office makes no difference to the thousands of people suffering as a result of the hostile environment policy. An unjust law is no law at all. The Windrush generation will not get justice until it is the law that is changed, not just the home secretary." 
Attitudes, behaviours and ideologies that foster division, inequality, prejudice  and discrimination must also change. 
That is unlikely to happen under a Conservative government
---
I don't make any money from my work. I'm disabled through illness and on a very low income. But you can make a donation to help me continue to research and write free, informative, insightful and independent articles, and to provide support to others. The smallest amount is much appreciated – thank you.