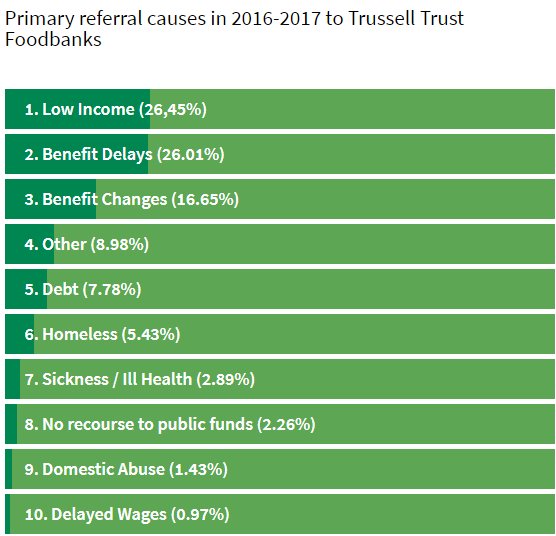 In a very wealthy so-called liberal democracy, from 2016 to last year, these are the reasons why people were referred to food banks. The highest number of referals are among the low earners, demonstrating the government's slogan 'making work pay' is a myth. Work does not pay for many. However, the government chooses to gaslight the population about consequences of it's policies.
Today in Prime Minister's Questions: 
As my local Labour MP, Kevan Jones quipped: "the Conservatives will be celebrating re-opening workhouses next."
The spite and malice on the Prime Minister's face as she responds to the opposition, using blatant and snide playground gestures to intimidate never fails to anger me. It's disgraceful that the government reduce serious political issues to immature 'win or lose' game playing and PR tactics.
The truth is that Universal Credit is not just failing our 'relative' contemporary standards of poverty but those of William Beveridge in the 1940s. Conservatives accuse Labour of 'taking us back to the seventies', but May's government have taken us back to the 1940s, and to absolute poverty levels that existed before there was a welfare state. Absolute poverty is when people cannot meet their basic survival needs: food, fuel and shelter. The UK's publicly funded social security system is no longer an adequate provision for people to meet the costs of their most fundamental and universal human needs. 
This is a government that has demanded the most from those citizens with the very least under the guise of austerity, while handing out public funds to the private banks accounts of the wealthiest.
Theresa May also selectively and maliciously quoted a section of a book – Economics For The Many  – which was edited by Shadow Chancellor John McDonnell, declaring Labour's costed manifesto "doesn't add up". the Prime Minister went on it to claim the Labour party would "wreck the economy", but as usual she was being Conservative with the facts.
She attempted to make it look like Professor Simon Wren-Lewis was criticising Labour's economic strategy, but he wasn't. The quote mining – a frequently used Conservative strategy to present lies and to mislead parliament and the public – referred to a book chapter May referred to by Wren Lewis , an economist and member of Labour's Economic Advisory Committee.  Basically the chapter says that Labour will ensure: 
The Government is spending less than it takes in in tax within five years

Government debt is falling within five years

Labour will only borrow for investment and infrastructure, not for day-to-day spending.
Wren Lewis never said that Labour's manifesto didn't 'add up'. He said that other people claimed it didn't add up. And he said that it didn't matter.
Wren Lewis notes in the chapter that the Institute for Fiscal Studies (IFS)claimed it 'doesn't add up' – which is a very different thing. And actually, the IFS didn't really say that either. It said that it was "hard to say" whether Labour's pledge to reduce debt was compatible with their promises of a wave of nationalisations of water and energy.
The IFS said essentially that because the Labour party would transform the economy so radically, it would be impossible to say whether their manifesto costings would be accurate.
It's a priceless cheek, as well as a malicious attack, especially considering that the Conservatives did not bother to cost their own manifesto at all.
The blatant lie also shows the prime minister's utter contempt for democracy.
Finally, a word about the Conservative's crowing regarding 'their' employment levels. 
The 'high employment' narrative does not benefit citizens, who face zero hour contracts, little employment security and more than half of those people needing to claim welfare support are in work. The Conservative's definition of 'employment' includes people who work as little as one hour a week. It includes carers. It also includes people who have been sanctioned.
Now there is a perverse incentive to furnish a hostile environment of Department for Work and Pensions' administrative practices in action.
When the Conservatives took office in 2010, on average citizens earned £467 a week. The latest figures from the Office for National Statistics (ONS) show that we now take home £460 a week. In other words, average wages have gone down in real terms during the eight years of Conservative-Lib Dem and Conservative governments, while the cost of living has risen substantially. It's a misleading to make these claims at all when weekly earnings are actually 1.3 per cent lower now in real terms than they were when the Conservatives took office in 2010.
Furthermore, the ONS also produced household data suggesting that the true rate of unemployment is 4 times greater than the government's preferred statistic.
The Conservative's official definition of unemployment disguises the true rate, of course. In reality, about 21.5% of all working-age people (defined as ages 16 to 64) are without jobs, or 8.83 million people, according to the Office for National Statistics. I know whose statistics I believe, given the Conservative's track record of abusing figures and telling lies.
Here is more data here on the effect of chronic underemployment of the unemployment rate, and the depressing Conservative reality of the 'business friendly' gig economy.
Conservatives being conservative with the truth as ever.
And spiteful.
---
I don't make any money from my work. But you can help me by making a donation to help me continue to research and write informative, insightful and independent articles, and to provide support to others. The smallest amount is much appreciated – thank you.