A breakdown of spending on health care under each government up to 2016. Under the Major government, we saw a post code lottery of health care provision and patients were left for hours on end in hospital corridors. It's a grim consideration that the Major government spent rather more on health care than the Conservatives in office since 2010.
Earlier this year, the prime minister was warned that patients being treated within the National Health Service are dying prematurely in hospital corridors, in a letter from A&E chiefs outlining "very serious concerns" about patient safety. 
Sixty-eight senior doctors in charge of some of the busiest accident and emergency departments in England and Wales said safety compromises are becoming "intolerable". 
The letter includes accounts from frontline A&E doctors, one of whom warned 120 patients a day were being treated in corridors because of a lack of space on wards.
The letter said: "The fact remains that the NHS is severely and chronically underfunded. We have insufficient hospital and community beds and staff of all disciplines especially at the front door to cope with our ageing population's health needs."
Other issues raised in the letter, first reported in the Health Service Journal, include patients waiting up to 12 hours for a bed after doctors had decided to admit them, with queues of 50 patients waiting in one emergency department. May said that the cancellation of 55,000 appointments  was "part of the plan" for the NHS last winter, but said of her government's response "nothing is perfect".
The National Health Service (NHS) faces significant financial problems in many different areas. It is succeeding in treating more patients than in the past, but this rise in public need for health care, and rising costs coupled with very tight budgets, are translating into widespread pressures on the capacity of staff and managers to keep up with past performance and the standards the service sets itself." 
Lengthening queues for treatment are happening despite the NHS treating more patients. In England, Scotland, Wales and Northern Ireland, the number of episodes of care provided in NHS hospitals has been rising. In England, for example, the number of episodes of care overseen by a hospital consultant has risen 11.4% between 2010/11 and 2015/16. It is just that the rise in the treatment provided is not keeping pace with the even faster rise in the number of people coming forward.
At the same time, England, Scotland and Wales have all started in different ways to look at reducing the provision of treatments that may be deemed of 'less benefit' to patients. That means that some people who would have had treatment on the NHS before may not in future. 
This decade health services have seen some of the lowest spending increases in their history. In England, real annual increases are only around 1% a year.
Real terms spending has also been roughly flat per person since 2010 in Wales, Scotland and Northern Ireland.
This compares to an average increase of nearly 4% over the history of the NHS reflecting the fact that, as the OBR has found, an aging population, new technology and rising wealth all tend to increase health spending in a country.
Matt Hancock, the demedicalisation of illness and the neoliberal psychosocial model
Matt Hancock, the Secretary of State for Health and Social Care, has called on patients to have greater responsibility for their own health in the launch of new a policy paper entitled Prevention is better than cure which outlines a vision for a "new 21st-century focus on prevention".
He says he wants to "radically change the focus of health and social care onto prevention". 
Last month I wrote an article that pre-empted Hancock's policy paper, published yesterday. I wrote critically about a number of his proposals in Government plans to use your phone and online data to police your lifestyle and predict 'threats' to your health.
Hancock has called for an increase in 'social prescribing' – referring patients to classes and community groups – in a bid to "shift the balance" away from GPs 'automatically prescribing drugs for many illnesses.' 
He said in September: "The evidence increasingly shows that activities like social clubs, art, ballroom dancing and gardening can be more effective than medicines for some people and I want to see an increase in that sort of social prescribing." 
In practice, social prescribing means that GPs, nurses and other healthcare practitioners work with patients to identify non-medical opportunities or interventions that will help, improving support and the wider social aspects of their lives. The services that patients can choose from include everything from debt counselling, support groups, allotments and walking clubs, to community cooking classes and one-to-one coaching.
Both evidence and commons sense suggests that social prescribing may be particularly appropriate and beneficial for isolated, marginalised groups. It is a needs-led community provision that supports and enhances psychosocial health and wellbeing. However, Hancock seems to think it may be used as a substitute for medicine. 
The psychosocial approach has already been used to cut the budget for disability welfare support, with some tragic consequences. Now, the same approach in the form of social prescriptions is being proposed to cut the NHS bill. The University of York has already produced research to show that there is little good quality evidence that social prescribing is cost-effective. 
The Conservative government has made a link between social prescriptions, cost-cutting and (as I deeply suspected) as a mechanism of extending behavioural modification (euphemistically called "nudging" by the government's team of behavioural economists and decision-making "experts").
Nesta, who now partly own the government's Behavioural Insights Team (the Nudge Unit) are of course at the forefront of promoting social prescriptions among medical professionals, firmly linking what is very good idea with very anti-democratic Conservative notions of behaviour change, citizen responsibility and small-state ideology. So, it's no longer just about helping people to access a wider range of community-based services and support, social prescribing has also places strong emphasis on "encouraging patients to think about how they can take better care of themselves." 
Nesta may have a whopping 'cognitive bias' here. A 'perverse incentive'. It's called the 'profit' incentive.
The same (bio)psychosocial model has been used to disingenuously trivialise and euphemise serious physical illnesses, implying either a psychosomatic basis or reducing symptoms to nothing more than a presentation of malingering tactics. This ploy has been exploited by medical insurance companies (infamously by Unum Provident in the USA) and government welfare departments keen to limit or deny access to medical, social care and social security payments, and to manufacture ideologically determined outcomes that are not at all in the best interests of patients, invalidating diagnoses, people's experience and accounts, and the existence of serious medical conditions. 
Unum was involved in advising the government on making the devastating cuts to disabled people's support in the UK's controversial Welfare Reform Bill.
Hancock said in his speech at the International Association of National Public Health Institutes: "Prevention is also about ensuring people take greater responsibility for managing their own health.
"It's about people choosing to look after themselves better, staying active and stopping smoking. Making better choices by limiting alcohol, sugar, salt and fat."
Hancock claims it is not about "patronising" patients, "It's about helping them make better choices, giving them all the support we can, because we know taking the tough decisions is never easy."
"In the UK, we are spending £97bn of public money on treating disease and only £8bn preventing it across the UK".
"You don't have to be an economist to see those numbers don't stack up."
No, the numbers don't stack up. Approximately 14 billion is spent by the Department of Health on things like public health initiatives (which aim to improve people's health so they don't need to use the NHS as often), education, training, and infrastructure (such as IT and building new hospitals). 
The Conservatives said in their 2015 election manifesto they would provide £8 billion in government, and expect another other £22 billion in savings from the NHS. The Nuffield Trust said this still left unanswered questions on funding:
"£8bn is the bare minimum to maintain existing standards of care for a growing and ageing population …
"improving productivity on this scale [£22 billion] would be unprecedented"
The Conservative government followed through on the commitment and then started claiming it was giving £10 billion, providing the NHS what it asked for, and more.
In their 2017 election manifesto, the Conservatives said they would increase NHS spending by at least £8 billion in real terms over the next five years, and increase funding per head of the population for the duration of the parliament.
Last year the think tanks said there would be a £4 billion gap in health spending in 2018/19 alone, but the £1.9 billion provided by the government at the end of last year meant that "around half of the minimum gap we calculated has been filled."
They said even based on the government's current spending plans there is likely to be a spending gap of over £20 billion by 2022/23. 
Approximately 44 % of NHS trusts—which provide secondary care to patients who've been referred there by a GP—were in the red in 2017/18. The figure was 65% just among acute hospital trusts—which make up the bulk of NHS trusts across England.
Collectively they finished 2017/18 with a deficit of around £960 million.
In this context, social prescriptions are used to maintain the status quo, and are likely to be part of a broader process of responsibility ascription – based on the traditional Conservative maxim of self-help, which is used to prop up fiscal discipline and public funding cuts, the extensive privatisation of public services, defense of private property and privilege, and of course, the free market. The irony of the New Right, neoliberal, paternalistic libertarianism is that the associated policies are not remotely libertarian. They are strongly authoritarian. It's a government that doesn't respond to public needs, but rather, it's one that pre-determines public interests to fit within an ideological framework.
Theresa May has pledged millions of pounds to use Artificial Intelligence (AI) to "improve early diagnosis of cancer and chronic disease." In a speech delivered earlier this year, May also called for the industry and charities to "join the NHS in creating algorithms that can predict a patient's care requirements based on their medical records and lifestyle information." 
The government believes that early intervention would provide "less invasive, more affordable and more successful care than late intervention," which they claim "often fails."  
While the government has assumed that the unmatched size of the NHS's collection of data makes it ideal for implementing AI, many are concerned about data privacy.
Importantly, May's proposal would (once again) allow commercial firms to access NHS data for profit.
In April 2018, a £1bn AI sector deal between UK Government and industry was announced, including £300million towards AI research. AI is lauded as having the potential to help address important health challenges, such as meeting the care needs of an ageing population. 
Major technology companies – including Google, Microsoft, and IBM – are investing in the development of AI for healthcare and research. The number of AI start-up companies has also been steadily increasing. There are several UK based companies, some of which have been set up in collaboration with UK universities and hospitals.
Partnerships have already been formed between NHS providers and AI developers such as IBM, DeepMind, Babylon Health and Ultromics. Such partnerships have attracted controversy, and wider concerns about AI have been the focus of several inquiries and initiatives within industry, and medical and policy communities. 
Last year, Sir John Bell, a professor of medicine at Oxford university, led a government-commissioned review. He said that NHS patient records are uniquely suited for driving the development of powerful algorithms that could "transform healthcare" and seed an "entirely new industry" in profitable AI-based diagnostics. 
Bell describes the recent controversy surrounding the Royal Free hospital in London granting Google DeepMind access to 1.6m patient records as the "canary in the coalmine".
"I heard that story and thought 'Hang on a minute, who's going to profit from that?'" he said. 
Bell gave the hypothetical example of using an anonymised data for chest radiographs to develop an algorithm that eliminated the need for chest x-rays from the 'analytical pathway'.
"That's worth a fortune," he said. "All the value is in the data and the data is owned by the UK taxpayer. There has to be really serious thought about protecting those interests as we go forward."
However, Bell highlighted a "very urgent" need to review how private companies are given access to NHS data and the ownership of algorithms developed using these records.
Hancock, the recently appointed health secretary, is now planning a "radical" and highly invasive system of "predictive prevention", in which algorithms will use detailed data on citizens to send targeted "healthy living messages" to those flagged as having "propensities to health problems", such as taking up smoking or becoming obese. 
People's medical records will be combined with social and smartphone data to predict who will pick up bad habits and stop them getting ill, under radical government proposals. Of course this betrays a fundamnetal assumption of the government: that illness arises because of  bad "lifestyle choices." 
In the policy paper released yesterday, Hancock says "Prevention means stopping problems from arising in the first place; focusing on keeping people healthy, not just treating them when they become ill. And if they do, it means supporting them to manage their health earlier and more effectively. 
"This means giving people the knowledge, skills and confidence to take full control of their lives and their health and social care, and making healthy choices as easy as possible." 
And: "Last year, over 20 million people used the NHS website. Over the next ten years, digital services will become even more widespread, and the first point of contact for many. The management of health will move out of clinical settings, and into the hands of people. Devices and applications will provide guidance and support around the clock."
Hancock also said that Public Health England will look at "harnessing digital technology" as a form of "predictive prevention", potentially leading to targeted health advice for people based on their their location and lifestyle. 
His focus is on "improving health, reducing demand for public services and supporting economic growth.
And: "Predictive prevention will transform public health by harnessing digital technology and personal data – appropriately safeguarded – to prevent people becoming patients. The availability of public data, combined with the existing understanding of wider determinants of health, means we can use digital tools to better identify risks and then help the behaviours of people most in need – before they become patients. 
"Historically, public health has dealt with populations as a whole – a one-size-fits-all approach. The power of predictive prevention comes from enabling people to look at their health in the context of their own life, their own circumstances, and their own behaviour. "
"This means moving beyond a simply clinical view of a body system or disease. It means envisioning a world where everyone can understand their own risks, both in their genetic make-up and from their personal behaviour. We will be able to empower people to make positive changes – and not always in ways we have traditionally thought about."
Whenever the Conservatives use words like 'empower', 'help' or 'support', I worry, because the ideological context of neoliberalism changes the political meaning of these Orwellian Conservative signpost words. Similarly, when Conservatives use the word 'sustainability', it is invariably with a view to making catastrophic funding cuts to social safety net provision and wider public services. 
Hancock says more than once: "The ambition is to prevent people becoming patients."
Inevitably, he came to : "We want to ensure better integration between health and employment support services to help people with health conditions to enter and stay in work. This means ensuring people receive work-related advice and support within the NHS as part of making work a health outcome; on the basis that good work is good for health." The basis is unverified.
The government conducted a survey in 2011 that showed if people believed that work is good for them, they are less likely to take time off. There is no evidence that demonstrates work is good for health. There is evidence that suggests people who are well enough to work generally do. It is not possible to 'make' work 'a health outcome'. People are either healthy enough to work or they are not. The fact that healthier people work on the whole does not make work 'good' for people's health. Poverty is historically linked with poor health. In work poverty has risen over the last decade. Having a job is no guarantee of escaping poverty or ill health. 
Job coaches are already asking GPs to refer patients to them, and have even suggested that GPs should make sick notes conditional on patients making an appointment with a work coach. 
Hancock's proposals hint at a plan to extend conditionality in health care. 
Helen Donovan, Professional Lead for Public Health at the Royal College of Nursing, said: "We welcome the fact that the Health Secretary is making prevention a priority, and clearly recognises that a focus on public health will keep people healthier for longer and save the NHS money and resources in the long run.
"But Matt Hancock must realise his plans will start at a disadvantage as local authorities struggle with planned cuts to public health budgets of almost four per cent per year until 2021. While it's clear he sees that prevention isn't an optional extra, we need to see properly funded, accountable services delivered by a fully staffed nursing workforce backed by adequate resources. Disadvantaged areas emerge worse off without these vital services with life expectancy and the poorest bear the brunt of underinvestment in public health."
Jonathan Ashworth MP, Labour's Shadow Health and Social Care Secretary, said: "The Tories have imposed swingeing cuts to public health services, slashing vital prevention support such as smoking cessation services, sexual health services, substance misuse services and obesity help.
"In local communities, years of cuts and failed privatisation have resulted in health visitor and school nurse numbers falling, whilst children are losing out on the key early years health interventions they need.
"Many of the aims announced today are laudable but the reality is currently a further £1bn worth of cuts to health services including public health are set to be imposed by this Government next year."
He added that unless the cuts were reversed, the green paper (planned for next year) would "be dismissed as a litany of hollow promises".
Simon Capewell, a professor of public health and policy at Liverpool University, said the minister was right to emphasise the need for effective prevention of epidemics such as obesity, type 2 diabetes and dementia.
But he added: "We must recognise the huge power of our lived environment, and avoid naively just focusing on 'personal responsibility' and 'individual choices'. People do not 'choose' obesity or diabetes or cancer. They have just been overwhelmed by a toxic environment."
The big drop in the last decade in the number of  UK citizens who smoke showed that firm, consistent government action was the best way to boost public health, Capewell said.
He added: "Mr Hancock can celebrate previous health successes with tobacco control. That success was built not on victim blaming, but on strong tax and regulation policies to reduce the 'three As' of tobacco affordability, availability and acceptability."
Ministers need to take similarly tough action now against "the production of the commodities which harm people's ill health, including junk food, cheap booze and fixed-odds betting terminals," he said.
Hancock has of course denied that the government's austerity programme had an impact on public health. In an interview for the BBC's Today programme Hancock said: "The biggest impact on your health from the economy is whether or not you have got a job, and there are record numbers of jobs in this country."
This of course is utter rubbish. If Hancock's magical thinking was true, health in the UK would have dramatically improved over the last few years in line with 'record employment levels'. But it hasn't. The Conservatives are a party that prefers dogma over evidence, ideology over public services and the pseudopsychology of nudge over policies that meet public needs. 
Several health organisations have highlighted that local councils in England have had to cut their public health budgets in recent years, and will do so again next year, because Hancock's department of health and social care has reduced their grants to divert more money to frontline NHS services. Many local councils have delivered preventative health programmes, but are now finding it increasingly difficult to deliver the statutory services. 
Jonathan Ashworth, the shadow health secretary, heavily criticised Hancock's remarks. "From telling people to stand up in meetings to now lecturing people about their habits, while cutting £1bn from health services, isn't a serious plan for improving the health of the nation," he said.
Over the weekend Theresa May said the Conservatives "are now the natural party of the NHS" and said the Government was putting the public health system, created 70 years ago, on a path to "prosper for another 70 years and more". That is most certainly an empirically unverified statement. 
It's utter rubbish.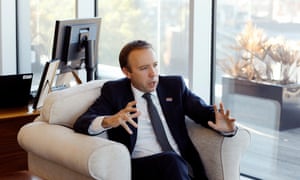 Demedicalising illness and deprofessionalising healthcare: Rogue company Unum's profiteering hand in the government's work, health and disability green paper
GPs told to consider making fit notes conditional on patients having appointment with work coach
Government plans to use your phone and online data to police your lifestyle and predict 'threats' to your health
Cash for Care: nudging doctors to ration healthcare provision
Rationing and resource gatekeeping in the NHS is the consequence of privatisation
---
My work is unfunded and I don't make any money from it. This is a pay as you like site. If you wish you can support me by making a one-off donation or a monthly contribution. This will help me continue to research and write independent, insightful and informative articles, and to continue to support others.