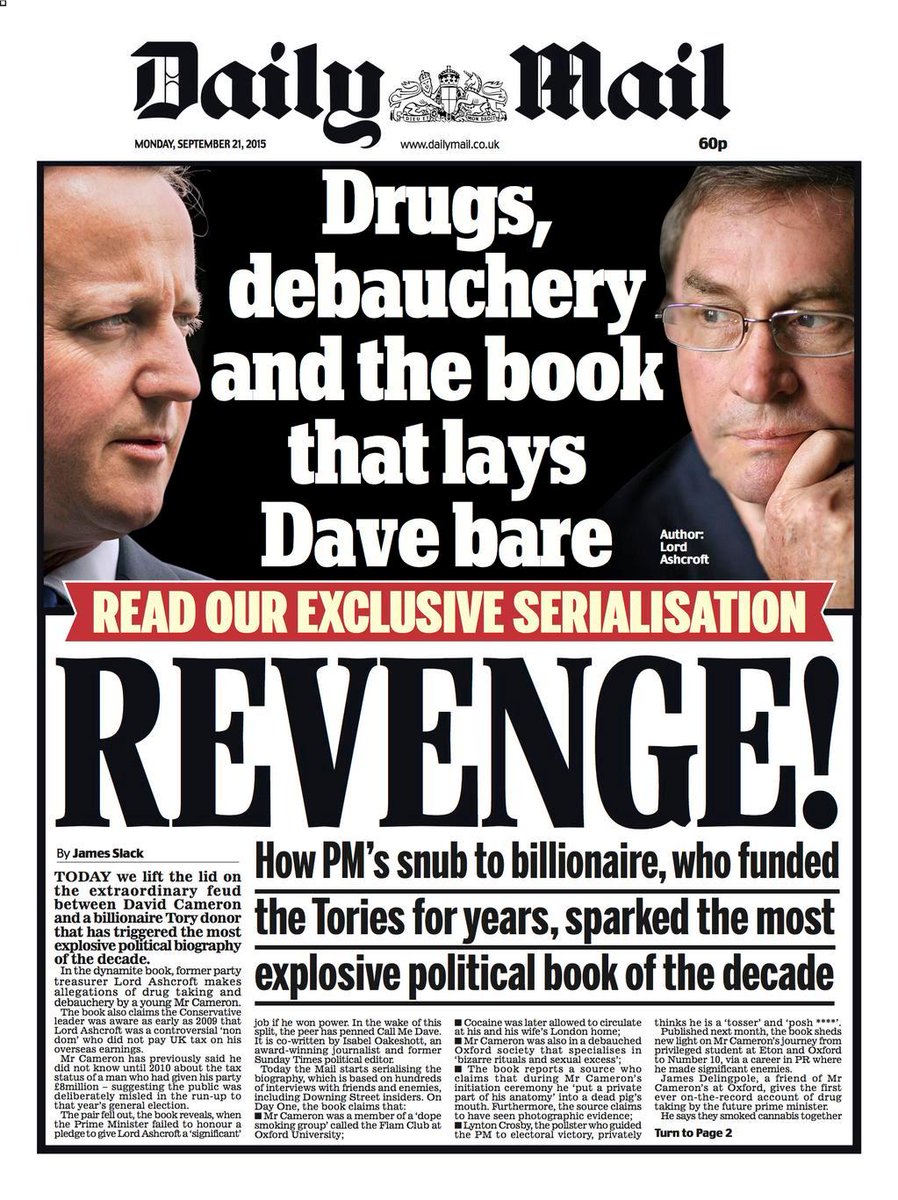 Too late. It's now impossible to unsee the once unthinkable.
The Daily Mail (admittedly not the world's most reliable, factual newspaper,) has given David Cameron a taste of his own medicine by publishing an exclusive sneak preview of a soon to be published,  intimately detailed and strictly unauthorised biography of the Prime Minister.
It was co-written by a senior Conservative Party figure, Lord Ashcroft, and Isobel Oakeshott, former Sunday Times political editor, and Call Me Dave promises to reveal some extremely uncomfortable and embarrassing details about Cameron's infamously uber-privileged younger years.
The biography contains some fairly prosaic stories of the kid Cameron smoking weed and listening to Supertramp with the likes of James Delingpole and generally being a very obnoxious, wealthy Tory numpty. However an unnamed source in the book alleges that Hameron was a member of a glorified and debauched fraternity boy's club at Oxford University called the Piers Gaveston. The source claims that the then future Prime Minister of Great Britain "inserted a private part of his anatomy" into a dead pig's mouth that was resting on the lap of another club member, at an initiation ceremony for the club. What a very ghastly silly sausage.
I hadn't realised that Charlie Brooker's Black Mirror was actually a documentary series.
The internet has exploded with glee at the story, with some jolly japes and lots of mirthful revenge aimed at the swine minister – check out #piggate on Twitter.
The revelations have added new layers of meaning to phrases such as "ham shanks", "ham fisted", "telling porkies" , "bringing home the bacon" , "making a pig's ear of it" and  "pig-headed." 
I never thought that the Daily Mail would make me laugh out loud with such a suprisingly welcomed sense of poetic justice, though I did flinch a little. I'm a vegetarian for moral reasons.

Undoubtedly, amidst all of the oinky tonk glee and frivolity generated by Lord Ashcroft's revelations, David Cameron is certain to face some hamstringing questions from Labour over the allegations made by the former Conservative deputy chairman that the prime minister conspired to mislead the public before the 2010 election about his knowledge of Ashcroft's non-dom tax status.
There's a darker side to contemplate in all of this. My first thought is that perhaps the dead pig story is really a dead cat. What are we being diverted from?

Secondly, the unacceptably ugly is deeply rooted in the public school class and its culture. If someone ever told me to abuse a dead animal in order to gain acceptance of a ghastly ingroup, I would have told them no without hesitation. Even as a child. Cameron clearly doesn't have such well-defined moral boundaries. How a person treats and regards animals (dead or alive) reflects something of how they are likely to treat and regard other people, too.

Boarding school: the trauma of the 'privileged' child by Joy Schaverien explores the emotional deprivation and abuse that many experience as a result of public school culture. Psychotherapist Nick Duffell (2000) wrote a book based on workshops he has conducted over ten years with adults who attended boarding schools as children. He has identified many lasting pathological psychological patterns common in those he calls Boarding school survivors.
In his recent work: Wounded Leaders: the Psychohistory of British Elitism and the Entitlement Illusion, Nick says:
"A cherished national character ideal, eschewing vulnerability and practising a normalised covert hostility based on bullying in the dorm adversely affects even those who did not have the privilege of such an education. It leaves Britain in the social and emotional dark ages, led by "the boys in the men that run things."

This specific culture of elitism, protected by financial interests and the "It never did me any harm" syndrome, means that Britain is unlikely to foster the kind of leadership necessary in our world of increasing complexity, which needs a communal mindset and cooperative global solutions. But worse, new scientific evidence shows that this hyper-rational training leaves its devotees trapped within the confines of an inflexible mind, beset with functional defects, presented here as the Entitled Brain."
It's a sobering thought that so many boarding school survivors, psychologically and emotionally damaged individuals, are involved in running the country and determining the terms and conditions of our lives.
However you see Piggate, it's worth considering that when even the bastion of working-class Conservatism, the Daily Mail, finds it necessary to exercise a critical voice (whatever next?), you know it's time to worry.