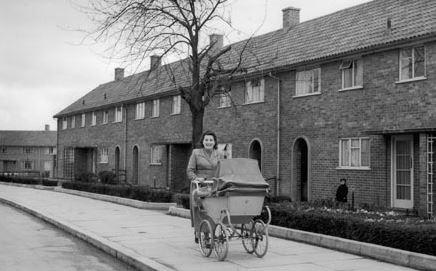 Social housing arose to supply uncrowded, well-built homes on secure tenancies at reasonable rents to primarily working class people. The First World War indirectly provided a new impetus for house building programmes, when the poor physical health and condition of many urban recruits to the army raised alarm. This led to a post-war campaign – Homes fit for heroes and in 1919 the Government first required councils to provide housing, helping them to do so through the provision of subsidies, under the Housing Act 1919.
Determined to "lift the shadow of the workhouse from the homes of the poor", David Lloyd George also promised "a land fit for heroes." But it was after the Second World War that council house building programmes and inner city slum clearance began in earnest. There was and still is a constant demand for social housing, and "waiting lists" are maintained, with preference being given to those in greatest need.

The post-war settlement refers to an era of public policy consensus that included support for collectivism, a mixed economy, access to justice, healthcare, social housing and a broader welfare state. It lasted until the monetarism and privatisation programmes of the New Right government of Thatcher.
Thatcher's "right to buy" scheme depleted social housing stock, and there was a sharp decline in the building of new council homes, as she legislated to prevent councils reinvesting money from the sales of housing in building new council houses.
Now the Conservative government is planning to scrap lifetime security of tenure for renters in council and housing association properties, in favour of in favour of fixed-term contracts, according to housing industry reports. Up until recently, most tenants in council and housing association properties had lifetime security, compare to private renters who generally face six-month or one year tenancies.
However, the Tory bedroom tax has eroded the very idea of secure social housing tenure, because people on unemployment benefits, low wages and particularly disabled people now face either an unaffordable housing benefit penalty (and therefore a rise in the amount they have to pay in rent) if they are deemed to be "under-occupying" their home.
Now, under government plans, social landlords will no longer be able to automatically issue tenancies on a lifetime basis and would instead be forced to offer fixed-term lets for prospective tenants.
Although social landlords have been allowed to issue five-year tenancies since the Government changed the law in 2012, only around 1 in 10 new tenancies have seen the offer taken up.
In July the government said it would review the use of lifetime tenancies and limit their use. Civil servants have briefed several sector figures in the last few weeks that this strategy will go as far as preventing landlords offering lifetime tenancies to new tenants.
The Government and the social housing sector recently had a major disagreement over Tory plans to extend its Right To Buy policy to housing associations.
Landlords initially threatened legal action over the proposals when they first appeared in the Tory manifesto, but were apparently encouraged to agree a deal that involved no primary legislation.
The Government recently cut social housing rents in the budget but is planning to raise them for higher earners, under a new policy dubbed "pay to stay".
Although Natalie Elphicke, co-author of the Treasury-commissioned House/Elphicke review of council house building, has previously urged that lifetime tenancies are restricted to groups such as those in "extreme old age" or "highly disabled" people, at the moment there is no guarrantee  that this will happen.
Michael Gelling, chair of the Tenants and Residents Organisations of England (TAROE), said the prospect was "alarming", and that long-term tenancies gave tenants and communities stability.
Civil servants are said to be briefing industry figures on the changes, with an official announcement due within the next few months.
A spokesperson for the Department for Communities and Local Government told Inside Housing: "More details will be available in due course."
Courtesy of Robert Livingstone
—
This post was written for Welfare Weekly, which is a socially responsible and ethical news provider, specialising in social welfare related news and opinion.