This article was written by Rachel Pugh and first published in the Guardian today.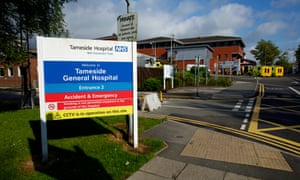 A central food collection point will sit by the canteen at Tameside hospital. Photograph: Christopher Thomond for the Guardian
Emergency staff at a hospital are being asked to offer food boxes discreetly to patients they believe may benefit as they are discharged amid rising concerns among doctors of malnourishment.
Tameside hospital in Greater Manchester is also planning to open a permanent food bank collection centre inside the hospital next month to help the nutrition of both patients and locals in the area.
News of the move came after it was announced on Wednesday by the work and pensions secretary Iain Duncan Smith that job advisers have been posted in a food bank in Manchester as part of a trial set to be rolled out across the UK.
Bosses at Tameside hospital said they had made the decision after doctors and nurses became worried about what they said was a significant rise in patients showing signs of malnourishment, and also staff living locally becoming worried about some neighbours. Staff have been given training to spot malnourishment.
Tameside hospital's chief executive, Karen James, said: "I was talking to an old lady recovering on a ward, who was in financial difficulties and chose to feed her dog first after paying the bills, whilst she went without. It's heartrending."
Elsewhere, the Queen Elizabeth hospital in Birmingham opened a food and clothing bank on its main premises earlier this month, and a spokeswoman said on Wednesday that they had been inundated with donations. In the summer the Royal Victoria Infirmary in Newcastle began offering parcels to parents using its neonatal care unit.
Malnutrition affects three million people in the UK and costs the NHS an estimated £5bn a year.
Malnourished surgical patients have complication and mortality rates three to four times higher than normally nourished patients, with longer hospital admissions. Similar findings have been described in medical patients, and particularly the elderly.
Tameside hospital was placed in special measures in summer 2013 after a review by the NHS England medical director, Sir Bruce Keogh. It was taken out of special measures in September this year.
A spokeswoman for Birmingham's Queen Elizabeth hospital said its scheme was part of a wider community initiative that involves using hospital land for community orchards, gardens and beekeeping. Twice a month, the hospital hosts a farmer's market, one of the largest in Birmingham. "Food banks are about more than food," said the hospital. "People who are referred to them are also offered practical and emotional support by signposting other agencies, whether that is financial advice or counselling services or in some cases help with clothing."
Speaking earlier on Wednesday, Duncan Smith told the Work and Pensions Committee that people who turn to charities for help when they cannot afford to eat will be given advice on claiming benefits and finding work while they pick up emergency food parcels.
"I am trialling at the moment a job adviser situating themselves in the food bank for the time that the food bank is open, and we are already getting very strong feedback about that," he said. "If this works and if the other food banks are willing to encompass this and we think it works, we think we would like to roll this out across the whole of the UK."
Robert Devereux, the permanent secretary to the Department for Work and Pensions, who appeared alongside Duncan Smith at the hearing, said two advisers had been working one day a week at the Lalley Welcome Centre in Manchester.
Duncan Smith said: "They are to provide support to people who come in, and that can include people saying: 'I haven't had my payment'," giving the example of a claimant whose money was delayed because officials had not seen the right documents."