It's absolutely freezing here in the North East. There's a sparkling, thick layer of frost outside of my window every morning and the road gritters are out around the village every night. In some parts of the county, temperatures as low as minus 7 have been reported.
It's an awful and distressing thought that there are homeless people who will be fighting to survive hypothermia and worse at this time of year. But it's far more awful and distressing for those who are facing homelessness. This dangerous, freezing weather kills people who are exposed outdoors very quickly, especially at night when shops and public buildings are closed and locked up. In 2017, in one of the wealthiest nations, the number of people who are homeless is increasing, and as a society, we've permitted that to happen.
Research underlines the particular difficulties many councils will face finding accommodation for young people and families over the next two to three years. This is because of the severity of local authority budget cuts. There are serious concerns for single young people because of rising unemployment, benefit cuts and spiralling rents.
Two thirds of local authorities told us they expect it to be "much more difficult" to help 18-21 year olds access housing in the next few years. These concerns will be amplified by planned removal of entitlement to support with housing costs for many people in this age group. 
Once again this year's Homelessness Monitor warns about ongoing welfare reforms with the discrepancy between Local Housing Allowance and rents highlighted as a significant barrier to council attempts to house homeless applicants.
An ongoing upward trend in officially estimated rough sleeper numbers remained evident in 2016, with the national total up by 132 per cent since 2010. The welfare cuts introduced in this decade, and those planned for introduction in the coming years, will
cumulatively reduce the incomes of poor households in and out of work by some £25 billion a year by 2020/21.
This is in a context where existing welfare cuts, economic trends, and higher housing costs associated with the growth of private renting have already increased poverty amongst members of working families to record levels.
Then there are the recently publicised failings of Universal Credit, which was designed to reduce welfare spending, rather than to improve support for people who need it. 
And it's going to get worse. The welfare "reforms" announced in the summer 2015 Budget and Autumn Statement will have particularly marked consequences both for families with more than two children, and for young single people.
These groups will either potentially be entirely excluded from support with their housing costs (if 18-21 and not subject to an exemption), or subject to Shared Accommodation Rate limits on eligible rents in the social as well as the private rented sector. Consequently, these are the groups that local authorities report greatest difficulty in rehousing.
More than 300,000 people in Britain – equivalent to one in every 200 – are officially recorded as homeless or living in inadequate homes, according to figures released by the charity Shelter. Using official government data and freedom of information returns from local authorities, it estimates that 307,000 people are sleeping rough, or accommodated in temporary housing, bed and breakfast rooms, or hostels – an increase of 13,000 over the past year.  However, Shelter say that this is likely to be an underestimation
Polly Neate, chief executive of Shelter, said: "It's shocking to think that today, more than 300,000 people in Britain are waking up homeless. Some will have spent the night shivering on a cold pavement, others crammed into a dingy hostel room with their children. And what is worse, many are simply unaccounted for.
"On a daily basis, we speak to hundreds of people and families who are desperately trying to escape the devastating trap of homelessness. A trap that is tightening thanks to decades of failure to build enough affordable homes and the impact of welfare cuts."
Although public perceptions of homelessness are dominated by rough sleeping, Shelter points out that the single leading cause of recorded homelessness is the ending of a private tenancy, accounting for three in every 10 cases, and often triggered by a combination of soaring rents and housing benefit cuts.
A National Audit Office (NAO) inquiry in September criticised the government for failing to get a grip on homelessness, despite recorded numbers of homeless people rising every year since 2010. The NAO said local housing allowance cuts helped fuel the crisis, which cost us around £1bn a year.  
One in five young people in the UK have sofa-surfed in the past year and almost half of them have done so for more than a month. In a country that is among the wealthiest in the world, how can this be possible?
A report by the London Assembly housing committee on hidden homelessness is a timely reminder of an issue that goes unseen by most of the public and by many local and national politicians. 
However, as a so-called civilised society, we mustn't look the other way. In cold weather, the plight of people who have no shelter is especially harsh, and many passersby may struggle to know what to do. But here are small things we can each do to make a difference, and reduce the dangers of freezing weather for homeless citizens. For example:
We could stop, smile and buy someone a warm drink, or provide some warm food.

We could set up places were people can take their old coats and blankets, socks, hats, gloves, scarves – and then distribute those to people sleeping rough. Or even set up a point in each town so that homeless people know where to go for warm clothes that have been donated.

We can also contact

Streetlink

. (Click) When a rough sleeper is reported via the 

Streetlink app

, or by phone – telephone number 0300-500 0914. The details  you provide are sent to the local authority concerned, so they can help connect the person to local services and support. You will also receive an update on what action was taken so you'll know if the situation was resolved. StreetLink aims to offer the public a means to act when they see someone sleeping rough, and is the first step someone can take to ensure rough sleepers are connected to the local services and support available to them.
The thing is, we must do something. We must not become desensitised to the fact that so many people are struggling to survive. Shelter is one of our most fundamental survival needs, and it's shameful that people in the UK cannot meet their most basic needs. It's not enough to simply spare a thought. That doesn't save lives, unless we act on those thoughts.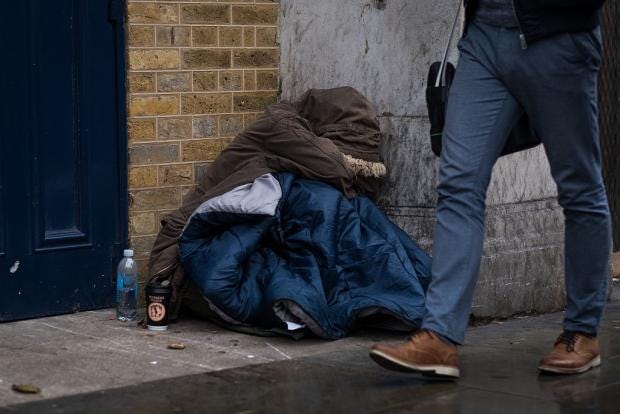 Please don't just walk on by.
---
I'm disabled through an illness called lupus. I don't make any money from my work. However, I do what I can, when I can, and in my own way. You can support Politics and Insights and contribute by making a donation which will help me continue to research and write informative, insightful and independent articles, and to provide support to others. The smallest amount is much appreciated, and helps to keep my articles free and accessible to all – thank you.