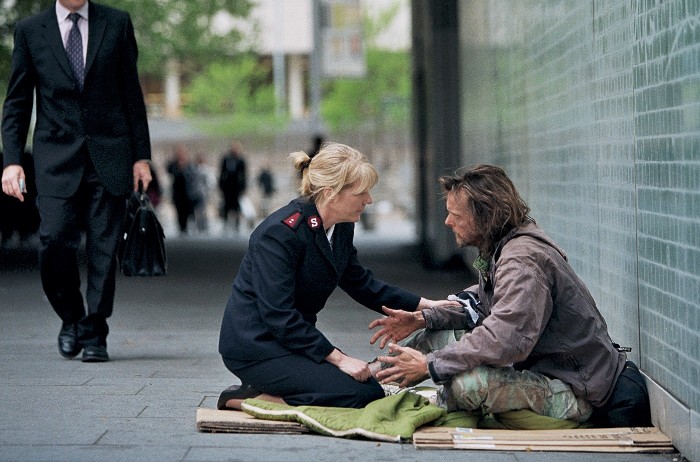 On Wednesday, I travelled down to Westminster to meet with John McDonnell, Margaret Greenwood, Mike Amesbury and Marsha de Cordova and a group of disability rights campaigners, journalists, researchers and organisations. One of the issues we discussed during the meeting was the harm and distress that the roll out of Universal Credit is creating for some of our citizens.
I got back from my trip to the Commons, arriving by train back in Newcastle around eleven, I missed the last bus back to Durham. Outside of the train station, I met Liam, a young homeless man, and his partner, Michelle.
Liam told me that the couple became homeless because of the inbuilt failure of Universal Credit to support people both in and out of work. Liam took some temporary work over last Christmas, and was promised that there would be full-time posts in the new year. However there was no full-time work available, and Liam explained that although they had claimed Universal Credit over this period, the couple didn't receive any support at all. As the work was part-time and the pay was low, Liam and his partner ran up rent and council tax arrears very quickly, as they could not afford to meet their basic living costs. 
When Liam's part-time work ended, he was told at the job centre that he had to start a new Universal Credit claim. Yet government ministers have assured us that this doesn't happen. It was during this time that the couple ended up with arrears which led to their eviction. The housing association that the couple rented their flat from significantly pressured Liam into signing an eviction order that was effective immediately. The couple lost most of their belongings as well as their home. 
Liam told me "Once this happens, it is so hard getting out of the situation". He explained to me that when they became homeless, the couple were told at the job centre that they could no longer claim any welfare support, because they have no fixed abode. (*See below.)
The situation has quickly spiralled downwards. Liam also said that many people are just one pay cheque away from homelessness, but they don't realise that until it happens to them.
As Liam and Michelle are originally from another regional city, they cannot access  Newcastle Crisis for help. Michelle has PTSD, she cannot access any support for her mental health conditions, and Liam is understandably worried about her safety and mental wellbeing on the streets. It struck me how very much they both cared deeply for each other
I made sure they have some accommodation for tonight, at least. I'm not well off but gave them what I had. Liam told me he hasn't slept for several nights, because he has to keep Michelle safe. They have to pay £15.50 for a temporary room for the night. That is the only available help they can access. As the couple cannot claim any welfare support, the fact that temporary accommodation costs them money, and of course they need to eat, leaves them with no choice whatsoever but to beg. They do access 'People's Kitchen' in the city, too. But although it helps in providing food sometimes, it isn't adequate provision for people who are homeless 24/7.
What struck me most about this couple is how friendly and humble they were, and that they are both such lovely people. One word that kept cropping up over and over in my dialogue with them was 'invisible'. Our whole society looks the other way. Liam told me it is always assumed that homeless people are substance abusers, yet neither Liam nor Michelle drink alcohol or use drugs. It's distressing enough to end up homeless without the additional prejudices and stigma attached to it. 
I also witnessed first hand how the local police are trying to clear the streets and prevent begging. They are prosecuting homeless people. I was asked by a policeman how long I was planning on interviewing Liam and Michelle, but what he really meant was 'How long are you going to provide an excuse for them to be here?' 
Often, anti-social behaviour powers are used to ban activities often associated with rough sleeping, and concerns have grown that an increase in the use of these powers is criminalising homelessness and is not addressing the root cause of the problem. 
Begging is also an offence under section 3 of the Vagrancy Act 1824 (as amended). It is a recordable offence. The maximum sentence is a fine at level 3 on the standard scale (currently £1000). I'm wondering how people that cannot afford a roof over their head and need to beg for food would manage to somehow produce money to pay a fine.
Other provisions also criminalise 'begging behaviour': wilfully blocking free passage along a highway is an offence contrary to section 137 of the Highways Act 1980 (as amended), punishable by a level 3 fine. Using threatening or abusive words or behaviour is an offence under section 5 of the Public Order Act 1986, which also carries a level 3 fine. 
Voluntary sector organisations have voiced concerns that the use of anti-social behaviour powers to tackle rough sleeping is criminalising homelessness and leaving vulnerable people in an even more marginalised position. According to Liberty, a Human Rights organisation, "PSPOs don't alleviate hardship on any level. They are blunt instruments which fast-track so-called "offenders" into the criminal justice system". Liberty has urged the Government to rethink these powers: "handing hefty fines to homeless people … is obviously absurd, counterproductive and downright cruel".
There is also a concern that enforcement activity in one area simply displaces street activity to another geographical area, and can sometimes lead to the displacement of activity (e.g. from begging into acquisitive crime). Moreover, it does not address the underlying causes of rough sleeping.
There was a notice up on the train station door that said begging is illegal. Liam has been prosecuted twice under section 35, and a dispersal order was served on him, preventing him from returning to the area for 48 hours. The policeman was stiffly polite, but he hovered around waiting for me to leave, which was a little intimidating. I told him I would hold conversation with whoever I chose to. I felt that Liam and Michelle were being harassed.
It was a stark contrast to the experience of homeless people outside of King's Cross station that I witnessed. While I was chatting to them, a charity group arrived with a table and some food, which was set up right outside. The policeman there was friendly with the homeless group and chatted to them, while they ate their meal. 
Prior to becoming homeless, Liam had no criminal convictions. Now he has been criminalised for begging because he is homeless. He also told me he stole food on one occasion from the shop Greggs because the couple were starving. They seldom have enough food to get by, and the impact of hunger on their health is a major concern. 
Health care for homeless people is a major public health challenge. Homeless people are more likely to suffer injuries and medical problems from their lifestyle on the street, which includes poor nutrition, exposure to the severe elements of weather, and a higher exposure to violence (robberies, hate crime, beatings, and so on). Yet at the same time, they have little access to public medical services or clinics, in part because they often lack identification or registration for public health care services. There are significant challenges in treating homeless people who have psychiatric disorders because clinical appointments may not be kept, their continuing whereabouts are unknown, their medicines may not be taken as prescribed and monitored, medical and psychiatric histories are not accurate, and for other reasons. 
Yet despite the fact that the couple have had no support at all, Liam has gone into the job centre and local library pretty much every day to look for work. He has finally found a painting and decorating job, which he starts on Monday.  Imagine just how difficult it is to do this without access to a regular bed, clean clothes and washing facilities.
Article 25 of the Universal Declaration of Human Rights, adopted 10 December 1948 by the UN General Assembly, contains this text regarding housing and quality of living:
"Everyone has the right to a standard of living adequate for the health and well-being of himself and of his family, including food, clothing, housing and medical care and necessary social services, and the right to security in the event of unemployment, sickness, disability, widowhood, old age or other lack of livelihood in circumstances beyond his control."
As a society, we seemed to have forgotten this fundamental human right in the punitive political era of citizen 'responsibilities not rights'. But I have yet to see a homeless person successfully punished out of being homeless.
Prior to 1983, the term homeless implied that economic conditions caused homelessness. However, after 1983, under the neoliberal regime of Margaret Thatcher, conditions such as alcoholism and mental illness also became associated with the term in the media. This narrative was often backed up with testimony made by high-ranking Conservative officials. Yet one of the major causes of home;essness is a lack of sustainable employment and adequate wage levels.
This stigmatising approach rested on the notion that the people who are sleeping on the streets are those who are homeless by choice. I have no idea how this narrative of blaming the victims of neoliberalism gained traction, but somehow it has. It is being used to drown out the voices of those that have been failed by dismal neoliberal policies.
This claim – that homelessness is about 'personal choice' and an individual's cognitive and  psychological condition, untethered it from the broader structural context, and in particular, from the New Right's neoliberal reforms sweeping through the socioeconomic system. In the broader sense, it tended to portray homelessness as something that would exist even under the best economic conditions, and therefore independent of economic policies and economic conditions.
Homeless people may find it difficult to vote as they have no fixed address, they may not have identification documents, or a mailbox. However, equal access to the right to vote is crucial in maintaining a democracy. 
One effect of the political and media stigmatising and dehumanising project has been a total social exclusion. Homeless people experience a profound isolation. This gives the homeless community no say in how things are. Neither government nor wider society listen to them or consider their accounts of their experiences. 
Yet we can't claim to live in a democracy when increasing numbers of citizens facing destitution and living in absolute poverty are excluded politically, economically, culturally and socially.
The only way that things will ever change for the better is if we do listen. And hear about the lived experiences of Liam, Michelle and the growing numbers of others who have been made destitute by a broken system.
*It's important that people know they are still eligible for Universal Credit if they become homeless.
If you are told you are not at the job centre, you should challenge this.
Justin Tomlinson, minister for family support, housing and child maintenance, says:
"There is some confusion around whether or not homeless people can claim Universal Credit. 
"I would like to reassure people that support is available, and it's incredibly important that people who are homeless – whether they're rough sleeping, sofa surfing or living in temporary accommodation – should, and are able to, receive this support.
1. People can receive Universal Credit without an address
Usually when a person makes a claim for Universal Credit, they are asked to provide an address to register their claim to. 
If a person doesn't have a fixed address they can register their hostel or temporary accommodation as their address, and if they're rough sleeping they can use the job centre address.
2. People don't need ID to receive Universal Credit
Undoubtedly, having ID makes the process of applying for Universal Credit simpler and quicker but in cases where a person doesn't have ID, work coaches can use other methods to identify a person and help them make a claim.
This isn't just for people who are homeless, but could be used in other situations as well, such as for people who have lost belongings in a fire or flood, or if they're fleeing domestic violence.
3. You don't need a bank account to receive Universal Credit
Having a bank account is important, and it makes it easier for people to make payments, manage money and get into work.
But we understand that a homeless person may not necessarily have a bank account. There are measures in place to make payments through other methods, including post office accounts or the Payment Exception Service, and a work coach can help people through the process of setting up a bank account when appropriate.
4. Finding a home is prioritised over finding work
You can ask Job centre staff to apply an 'easement' of up to one month, which means a person is not asked to look for work during this period and can focus on finding suitable accommodation. 
Work coaches have the discretion to extend the easement period further, depending on a person's circumstances."
If you are told that you can't claim Universal Credit because you are homeless or have "no fixed abode", tell the job centre advisor that:
Justin Tomlinson, minister for family support, housing and child maintenance, has said you CAN. 
—
Liam and Michelle, if you are reading this, wishing you the very best, and good luck with your new job, Liam. Hoping that it will help you secure somewhere to live quickly. x
Related
Two very vulnerable homeless men left to die in sub-zero temperatures
Please don't just walk on by, we are better than this
Government backs new law to prevent people made homeless through government laws from becoming homeless
From the abstract to the concrete: urban design as a mechanism of behaviour change and social exclusion
Conservative MPs accuse citizens of 'scaremongering stories' about experiences of Universal Credit.
---
I don't make any money from my work. But you can help by making a donation to help me continue to research and write informative, insightful and independent articles, and to provide support to others. The smallest amount is much appreciated – thank you.