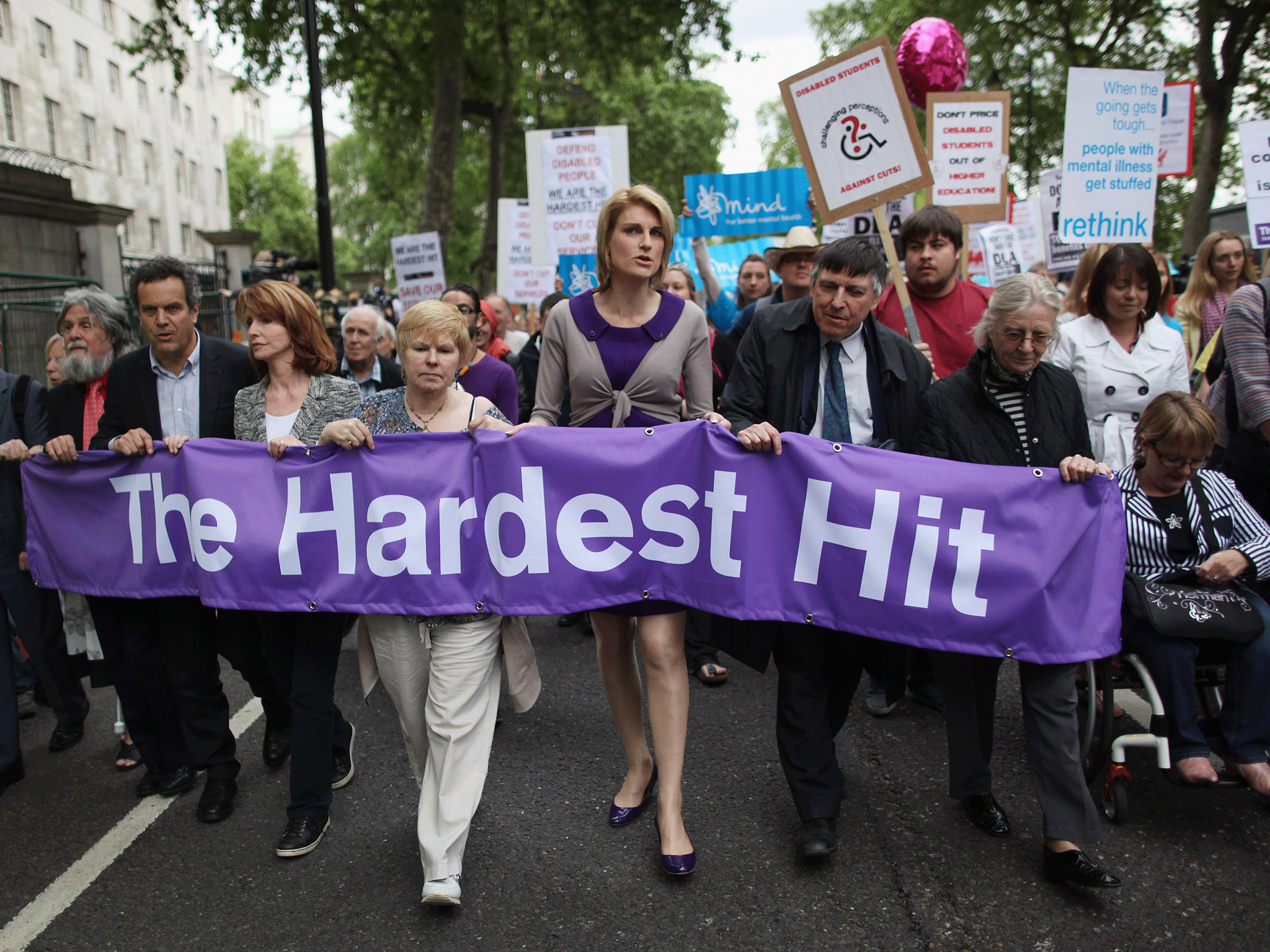 A study has found that people with disabilities who claim social security support are 26-53 per cent more likely to be sanctioned than people who are not disabled. According to the research, the main reason behind this is a "culture of disbelief" among jobcentre staff, who fail to take sufficient account of the impact of people's disabilities on their capacity to meet strict welfare conditionality criteria.
This implies that welfare conditionality has an inbuilt discrimination, as it disproportionately affects people according to their characteristics.
Such discrimination violates the Equality Act 2010:
Ahead of the release of a Demos report by Ben Baumberg Geiger on the Work Capability Assessment on Tuesday, the headline findings on benefits conditionality were featured today in the Observer: 'More than a million benefit sanctions imposed on disabled people since 2010′.
Ben is a Senior Lecturer in Sociology and Social Policy at the School of Social Policy, Sociology and Social Research (SSPSSR) at the University of Kent. The figures on benefits sanctions can be found in Ben's 2017 paper 'Benefits conditionality for disabled people: stylised facts from a review of international evidence and practice' published (open access) here (p109-111), and the appendices that provide the source for the UK benefit sanctions data is here.
The article in the Guardian also briefly mentions new polling on the public's attitudes to sanctioning disabled benefit claimants. However, full details of this will be available in the report to be released on Tuesday. 
The recent Work and Pensions Committee inquiry into Employment and Support Allowance (ESA) and Personal Independence Payment (PIP) assessments highlights how disability benefits are not a 'safe place' for disabled people, despite ministers using language that implies it is. Warnings from Iain Duncan Smith about "up to a million people 'languishing' on sickness benefits, who could be 'put back to work' with the right 'help'", or descriptions in policy papers of disabled people being "parked" on benefits mislead the public.
It is through such political definitions that groups become restricted, face boundaries, become oppressed. Over the last seven years, disabled people have somehow lost the right to self-determination and to express our own group identity. The Government have redefined us and radically rewritten the terms and conditions of the social contract more generally, removing state obligations and duties towards citizens. The Conservative settlement – a fusion of economic neoliberalism with state and social authoritarianism – openly demonstrates an aversion to any notion of social equality and justice.  
Sanctions – the cutting or withholding of lifeline benefits – are applied as a punishment when citizens infringe the conditions of their welfare support by, say, through missing an appointment, being late or failing to apply for enough jobs.
The sanctions regime has been championed by the Government as a means of imposing 'behavioural change' on claimants, as they believe that people are unemployed because they need 'incentives to work'. However, rather than addressing low pay, insecure employment and poor working conditions, the Government has instead decided that unemployed people and welfare itself are the problem: welfare is seen as a 'perverse incentive' that prevents people from looking for employment.
Sanctions and wider welfare conditionality were introduced to significantly reduce the basic security and material comfort of people needing social security, in order to push them back into the labour market. This behaviourist turn has transformed a system that was designed to ensure that all citizens could meet their basic survival needs into one that punishes people for non-compliance with politically imposed conditionality criteria, comprised of what the Conservatives regard as acceptable 'job seeking behaviours'. In this way, Conservatives claim that people are more likely to gain employment. 
However, unsurprisingly most of the experts consulted as part of the Demos project have concluded that welfare conditionality has little or no effect on improving employment  for disabled people, often having a negative impact to the point where disabled people were even less likely to find employment than if they hadn't been subjected to state impositions. There was also widespread anecdotal evidence that the threat of sanctions can lead to anxiety and have a wider impact on peoples' health.
Polly Mackenzie, director of Demos, said it was now clear that the benefits system isn't working for disabled people: "Conditionality is important in any benefits system, but when disabled people are so much more likely to be sanctioned, something is going wrong. Jobcentre advisers and capability assessors too often have a culture of disbelief about disability, especially mental illness, that leads them to sanction claimants who genuinely could not do the job they are being bullied into applying for.
"We need to think again about how we assess work capability. Employers also need to be better at adapting to disabled people's needs so that more jobs can be done by people with fluctuating conditions."
A damning research report by the National Audit Office (NAO) in 2016, also found that there was no evidence that sanctions were working. It also said there was a failure to measure whether money was being saved, and that the application of sanctions varied from one jobcentre to another. 
The 2017 Demos study uncovered that more than 900,000 JSA claimants who report a disability have been sanctioned since May 2010. People who claim ESA and have been placed in a work-related activity group – which requires them to attend jobcentre interviews and complete work-related activities – can also be sanctioned. The research found that more than 110,000 ESA sanctions have been applied since May 2010.
Mark Atkinson, chief executive at disability charity Scope, said: "Punitive sanctions can be extremely harmful to disabled people, who already face the financial penalty of higher living costs. There is no clear evidence that cutting disabled people's benefits supports them to get into and stay in work.
"Sanctions are likely to cause unnecessary stress, pushing the very people that the government aims to support into work further away from the jobs market."
The Work Capability Assessment (WCA) was introduced in part to bolster neoliberal imperatives related to the supply of labour. The political focus on these economic concerns fails to  prioritise the wellbeing of disabled people. Another reason for the introduction of the WCA was to cut costs. This intention was evident in the 'scrounger' and fraud' narrative that seeped into political and media discourse. Disability welfare is portrayed as 'unsustainable', with the Government claiming that resources need to be 'targeted' at those 'most in need'.
However, it is evident from the recent Work and Pensions inquiry into ESA and PIP assessments is that many of those most in need are being catastrophically let down by the current system.
The Guardian reports: Polling for the Demos project found that while the public often supported the imposition of sanctions for disabled people, they did not back the way in which they were applied in practice.
A majority thought that disabled people's benefits should be cut if they do not take a job they can do, but they were less supportive of sanctioning for minor non-compliance, such as sometimes turning up late for meetings. Even those who supported sanctions preferred a much less punitive approach than the government currently imposes.
The sanctions are taking place in a context where the number of unemployed disabled people being supported with specialist help to find work has actually been halved. according to the companies running the government's Health and Work programme.
Kirsty McHugh, chief executive of the Employment Related Services Association (Ersa), which represents the employment support sector, said: "The size of the new Work and Health Programme means only one in eight disabled people who want to work will have specialist help to do so. As a society, we have an obligation to ensure appropriate support is available and the report shows that we are in danger of failing disabled people and their families." 
The analysis shows that there is to be a cut in funding from £750m in 2013-14 to less than £130m in 2017. Ersa says that the cut in funding will severely hamper the Government in its goal of securing work for more than 1.2 million more people with disabilities. It seems that the Government is relying on punitive and coercive measures such as the threat and use of sanctions, to achieve its goal. Disabled people are not permitted to have goals that don't align with state-defined neoliberal ones. 
The collaborative Demos researchers recommend a reduction in the use of so-called "benefit conditionality" for disabled people and a strengthening of the safeguards to ensure disabled people are not unfairly punished. However, despite the growing numbers of campaigners, charity groups and academic researchers calling for the Government to introduce less aggressive sanctions, the Government remains disinclined to do so.
The theories of 'behaviour change' underpinning conditionality have been questioned by commentators, particularly with respect to the assumed 'rationality' of citzens' responses to financial sanctions.
Concerns have been raised that welfare conditionality leads to a range of unintended effects, including distancing people from support, causing hardship and even destitution. There is also ample evidence that those social groups with complex needs, such as disabled people, young people with chaotic lifestyles and homeless people have been disproportionately affected by the intensification of welfare conditionality under successive Conservative governments. Research implies that there are differential impacts based on citizens' characteristics. 
This observation is also consistent with international evidence, especially from the US, that the most potentially vulnerable claimants are at greatest disadvantage within highly conditional social security systems, for example, those with mental health problems, those with long term illnesses and disabled people more generally.
Welfare ensures that people are able to meet their basic needs. Welfare covers the costs of food, fuel and shelter. It's a safeguard to prevent absolute poverty. That was its original purpose when it was introduced. It is difficult to imagine how removing the means that people have of meeting their basic survival needs can possibly motivate them to find work. Comprehensive historical research shows that when people cannot meet their basic biological needs, their pressing cognitive priority is simply survival.
In other words, when people are hungry and facing destitution, addressing those fundamental needs becomes a significant barrier to addressing their psychosocial needs such as seeking employment.
For disabled people, who already face additional barriers to addressing their  fundamental needs.  Welfare sanctions for disabled people has created injustices, caused fear and inflicted considerable distress and harm on disabled people.
---
I don't make any money from my work. I am disabled because of illness and have a very limited income. But you can help by making a donation to help me continue to research and write informative, insightful and independent articles, and to provide support to others. The smallest amount is much appreciated – thank you.