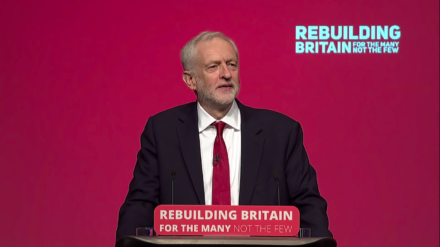 I have just received the following email:
Sue, this country needs a proper government
Jeremy Corbyn
Dear Sue,
Theresa May's Brexit deal has just been defeated.
The government is in chaos. The country is in crisis. This can't go on.
The country needs an election. That's why tonight I tabled a vote of no confidence in Theresa May and her hopeless government.
But the Tories are getting ready too. Right now their millionaire donors will be reaching for their cheque books.
We're relying on people like you to help fight and win.
Your donation will give the country the government it desperately needs. Will you help? 
An election is coming, and your support will help to win it. Please, donate now.
Thank you.
Jeremy Corbyn
Leader of the Labour Party

—
I've chipped in my last £3, for now. 
Update
So, Theresa May is facing a no-confidence vote that could bring down her government after MPs rejected her Brexit blueprint by a record 230 votes – an historic defeat.
Jeremy Corbyn said he had put forward a confidence motion in the aftermath of  May's crushing Commons defeat, with the dramatic debate scheduled for Wednesday. 
Parliament finally delivered its verdict on the prime minister's withdrawal agreement after months of debate as hundreds of Leave and Remain protesters gathered outside parliament to express their anger.
The EU president says UK remaining is only option 'if a deal is impossible, and no one wants no deal'.
Interesting times…
---
My work is unfunded and I don't make any money from it. This is a pay as you like site. If you wish you can support me by making a one-off donation or a monthly contribution. This will help me continue to research and write independent, insightful and informative articles, and to continue to provide support others who are affected by the welfare 'reforms'.