The Grenfell Tower fire reflects a colossal betrayal of working class people's trust by the state. The Conservatives have emphasised "economic growth" at the expense of citizen's welfare in their policies since taking office in 2010. This is a government that has rewarded the propertied class and punished the renting class (by inflicting policies such as the bedroom tax, and the welfare cap, for example). It's a government that values and supports profiteering landlords, who have lobbied against essential safeguarding regulation, and one that has also imposed massive local authority budget cuts.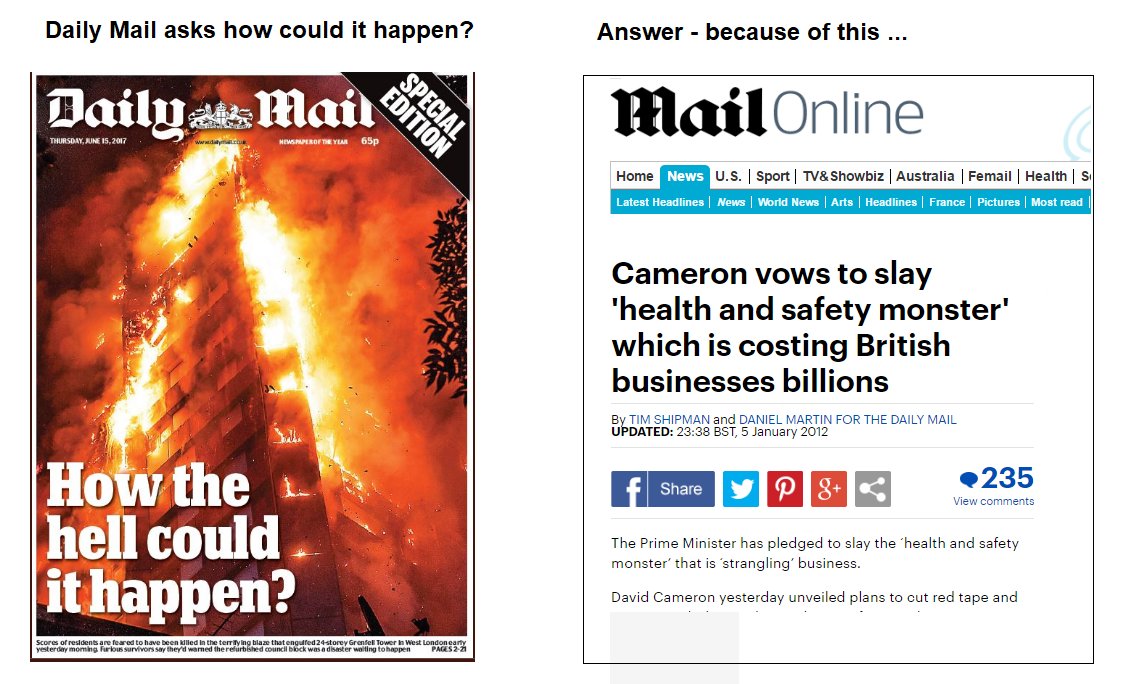 It's estimated that there are more than 700 tower blocks in London. These range from the brand new luxury apartments to the post-war council-owned buildings which were seen as a convenient cure to problems caused by the crumbling and unsanitary 19th Century slums.
Around 8% of Londoners now live in tower blocks. Some of the flats are bought for millions; others are relatively low-cost social housing, rented from a local council at a fraction of the private rate. Grenfell Tower itself was designed in 1967, building started in 1972 and finished in 1974.
Originally built as municipal housing as part of the slum clearances of the 1960s, it had 120 one and two-bedroom flats over 20 of its 24 storeys, and was renovated in 2016.
Grenfell House is in a neighbourhood ranked among the most deprived 10% in England.
"Just two miles away – or four stops along the Circle/Hammersmith and City line – is 3 Merchant Square, a 21-storey tower that is part of a new development around Paddington Basin. The contemporary block was finished in 2016 and holds 60 apartments over 15 storeys.
It's a different world. The penthouse apartment was sold for £7.5m. One-bedroom flats are at least £1m.
Surrounded by restaurants and bars, workers and residents can lounge on deckchairs on a newly-built floating park. Lunchtime yoga sessions are held and there's a luxury fitness club.
There's an enormous fountain and a bridge created by renowned designer Thomas Heatherwick, a nursery and winter garden.
But nice though these peripheries undoubtedly are, they don't keep people safe from fire. For that, we must have a look at the specifications of the apartments in the tower. 
Once you get past the sales brochure description of 3 Merchant Square's walnut cutlery drawer inserts and integral wine coolers, the adjustable mood lighting and heated bathroom walls, you come to the fire safety details: Every flat has not only ceiling mounted smoke detectors but sprinklers.
The International Fire Sprinkler Association (IFSA) says that automatic fire sprinkler systems are the single most effective fire protection measure available, and are able to make up for a wide range of other fire protection deficiencies.
There has never been a multiple loss of life from a fire developing in a building protected by a properly designed, installed and maintained fire sprinkler system. While fire sprinkler systems have been required in new high-rise residential buildings in England since 2007, it is not compulsory to retrofit them into existing buildings. So Grenfell Tower had none."
It's a tale of two cities.
The former chief fire officer Ronnie King, honorary secretary of the all-party parliamentary group on fire safety and rescue – which had recommended fitting sprinklers to buildings to save lives – has said the regulations "badly need updating" and "three successive ministers have not done it".
"My own thinking is there was the red tape challenge and they don't really want to put regulation on to businesses, adding a burden.
"It's one of those that if you bring in a new regulation, you have got to give three up to get it." 
This echoes my own comments yesterday. 
In 2012, David Cameron vowed to "cut back on the health and safety legislation "monster", and to "kill off the health and safety culture for good." The Conservatives' Cutting Red Tape programme "allows Business to tell Government how it can cut red tape and reduce bureaucratic barriers to growth and productivity within their sector." The Tories boast these "big successes" in getting rid of "unnecessary bureaucracy": 
Over 2,400 regulations scrapped through the Red Tape Challenge

Saving home builders and councils around £100m by reducing 100s of locally applied housing standards to 5 national standards

£90m annual savings to business from Defra reducing environmental guidance by over 80%

Businesses with good records have had fire safety inspections reduced from 6 hours to 45 minutes, allowing managers to quickly get back to their day job. 
Among others.  
Apparently, "Cutting Red Tape wants to work with business, for business." I don't see any balanced democratic representation and reflection of public needs. Back in 2015, business Secretary Vince Cable and Business and Enterprise Minister Matthew Hancock announced that "better enforcement of regulation" is saving business more than £40 million every year. What that phrase actually means is not "better enforcement" – it's deregulation. The Tories are masters of Doublespeak. 
The Focus on Enforcement review programme, which asks companies to identify poor "enforcement practices" that "hold them back", has benefited around one million businesses and boosted growth in 9 vital sectors of the economy from coastal developments to childcare. And building. 
This "builds on government action to scrap or reform regulatory rules which has saved firms some £10 billion over this parliament." It has also undermined health and safety legislation, consideration of which has a direct impact on the welfare of public. Conservative ideology prioritises private profit over human needs. New Right neoliberalism is all about privatisation, fiscal austerity, deregulation, free trade, and a "small state" commitment entailing reductions in government spending in order to increase the role of the private sector in the economy and society.
The problem is that the government regards regulations as an inconvenience – as raising unnecessary obstacles to free market economics – business, growth, competition and "innovation", while disregarding the fact that regulations actually serve important social objectives. 
The Conservatives have long argued that "red tape" impedes freedom and "damages productivity". They have glibly assured us that the UK would be a better place with a lot of deregulation and fewer bureacratic "barriers" to business. The 2010-15 Tory Health and Safety "reforms" (that word is always a Conservative euphemism for cuts) have been motivated, for example, by a belief that: "good health and safety is important, but the burden of excessive health and safety rules and regulations on business had become too great and a damaging compensation culture was stifling innovation and growth. We want to protect people in the workplace while reducing the burden of unnecessary health and safety rules and regulations on businesses."
The "red tape" that the Conservatives regard with such disdain consists of laws that provide essential public protections and rights that prioritise citizen's lives. The freedoms being protected by this government are those of the rich to exploit the poor, of corporations to exploit employees and the public, of landlords to exploit their tenants and, to nick a sentence from George Monbiot, of industry to use the planet as its dustbin.
A 2012 report by the British Automatic Fire Sprinkler Association (BAFSA) concluded that fire sprinklers could be retrofitted with tenants in place at a cost of about £1,150 a flat. Since the 24-storey Grenfell Tower contained 120 flats, it would have worked out at £138,000. That's significantly less than the £2.6m spent on the cosmetic cladding and replacement windows. 
Architect and fire expert Sam Webb said: "We are still wrapping post-war high-rise buildings in highly flammable materials and leaving them without sprinkler systems installed, then being surprised when they burn down.
"I really don't think the building industry understands how fire behaves in buildings and how dangerous it can be. The government's mania for deregulation means our current safety standards just aren't good enough."
Some of these issues were raised in a report following a fatal fire at a tower block in 2009 in Camberwell, in which six people were killed.
The Secretary of State for Communities and Local Government, Sajid Javid, said his predecessor in the role had accepted the report's recommendations and put them into action.
He said: "The coroner did not recommend new planning regulations. The coroner recommended a change in the guidance. There is a lot of information out there and it is right that it is independently looked at by a judge-led inquiry." 
When asked whether the government would retrofit sprinkler systems to tower blocks, he said: "I don't think we can immediately jump to the conclusion that sprinklers is the issue here. We will do whatever it takes."
An associate pastor of Notting Hill Community Church, Danny Vance, says "the poor are constantly neglected" in the city.
He said: "The disparity between rich and poor in this city is disgusting. This would not have happened to the £5m flats around the corner" [from the Grenfell tower].
Theresa May has announced a £5 million emergency fund for the survivors of the Grenfell inferno, amid angry protests over the government's lack of appropriate reaction to the tragedy, and what survivors see as the slow emergence of information with regard to loved ones and friends who are still missing.
It's worth considering that the Conservatives consistently spend close to the £19m general election spending limit on their campaigns. In comparison with the funding offered to people and their families who have lost loved ones and friends, their homes, and all of their belongings, it highlights a problem with our democracy. It is one of political priority. Much more money is spent by the Conservatives on staying in power than it is on pressing social need, reflecting the somewhat corrupt priorities of this government. 
The Labour party have said that the £5 million isn't enough. It really isn't. 
Grenfell Tower stands as a dreadful symbol of the failings of austerity for which the Conservatives are culpable. It's an emblem of the intentional Conservative attacks on our poorer citizens. Tory MPs have sneeringly  rejected housing regulation; they implemented cuts to councils responsible for retro-fitting fire suppressants; they disregarded the coroner's instructions after the 2009 Lakanal House tragedy; and plan to opt out of EU safety regulations. Conservative Kensington and Chelsea council have regularly blocked its ears to tenants' well-founded anxieties
For many, the blackened husk of Grenfell Tower is a terrible and tragic monument to inequality. It stands as an awful accusation. It should not be the case that society's most disadvantaged citizens suffer most from the mistakes of the powerful. The state should protect and value citizens' lives – each life has equal worth, it is equally precious – and not remain indifferent to people who complain that their home is potentially a death trap, neglecting their fundamental concerns and needs. We live in a society where our government values property rights over more fundamental human rights. It's a democracy for property-owners, but not for tenants.
Danny Dorling has highlighted that black and minority ethnic people in social housing are disproportionately housed in flats, to the extent that most black children in London and Birmingham are housed above the sixth floor. This is not to do with a shortage of housing, but is a reflection of the fact that not only are ethnic minorities more likely to be working-class by wage and occupation, but they experience discrimination – tacitly or blatantly – when allocated housing. Jeremy Corbyn and other Labour MPs are absolutely right to call for the use of empty homes in Kensington to rehouse locally those made homeless, and experiencing such devastating losses, by the fire. 
We live in a society where it's become normal and somehow acceptable that the privileged class can buy their safety, their security, rights and their legal representation, while many working class people and those citizens who are vulnerable have none of these. 
Grenfell Tower is a charred and bitter testament to how our poorest citizens are placed at risk because we live in a society that values unfettered private profiteering, no matter what the cost to ordinary people, and the superficial and appearance over what really matters – people's lives. The deadly cladding was added as cheaply as possible to improve the view for others, while the sprinklers, working alarm and fire extinguishers that would have saved lives were omitted. 

Related
Grenfell is a horrific consequence of a Conservative 'leaner and more efficient state'
The Conservatives are forced to end austerity because they face a turning tide and electoral extinction
London protests as they happened: Demonstrators demand justice for Grenfell victims after day of fury and sorrow
---
My work is unfunded and I don't make any money from it. But you can support Politics and Insights and contribute by making a donation which will help me continue to research and write informative, insightful and independent articles, and to provide support to others.