Helen Whatley
I was absolutely shocked and appalled to receive the following targeted and malicious Integrity Initiative styled strategic communication from the Conservative party:
From: Helen Whately MP, Conservative Party Vice Chair, Women
Sent: 20 December 2018 00:50
To: suejones
Subject: Don't stand for this
Ordinarily I write fairly measured, factual and challenging responses when the Conservatives have previously contacted me. However I am far too angry on this occasion to be polite.
Here is my rapid response: 
No. I wont be standing for this.
How DARE you send this utter crap to my inbox. Firstly, it was ALLEGED that the leader of HM's opposition made that comment. My friend is deaf and can lip read extremely well. He says that Jeremy Corbyn mumbled "stupid people". I scrutinised the video footage and agree that he said he did say "stupid people". Other people who can lip read on social media have said the same. Your party's orchestrated outrage and howling spite was completely wasted on me.
Your own party's behaviour was an absolutely disgusting and disrespectful pantomime in parliament, with MPs and Ministers mocking, howling and braying like uncouth, malicious barnyard animals, as usual. You behaved in fact exactly like very authoritarian and stupid people.
I made my own mind up, so you're wasting your time trying to make it up for me. Here is my own view of the Conservatives' latest dead cat strategy, along with that of one surprisingly reasonable Conservative MP: https://kittysjones.wordpress.com/2018/12/19/a-conservative-mp-defends-jeremy-corbyn-as-he-responds-to-conservatives-dead-cat-strategy-allegations-of-sexism/
As for your claims about female employment, and wages, I made my own mind up about that too, by looking at the empirical evidence, and your claims are utter rubbish: https://kittysjones.wordpress.com/2018/12/13/about-the-governments-claims-on-real-wages-being-the-highest-since-2011/
That is why the ONS and statistical authority has constantly had need to officially rebuke this government for telling lies and misusing statistical data.
This is not the kind of action that I would expect from a party that was principled and genuinely fighting sexism: Tories reinstate MPs suspended over sex allegations for confidence vote: Labour calls restoration of Andrew Griffiths and Charlie Elphicke 'betrayal of women'. 
Nor would I expect a genuinely principled party fighting sexism to impose the 2 child policy, the rape clause, the condition that social security is paid to one person in a household – usually males – rather than being split to protect women and children from potentially abusive partners.
You know, people can actually see the chasmic gap between what you say you do and what you actually do. Feigned principles fool no one for long.

Just so you know, I will NEVER join the Tory party, particularly after the way I have witnessed how you have treated ill and disabled people, because of YOUR party's vile, punitive, patronising and despicably mean spirited policies. Many people worked for years and contributed to the Treasury until they couldn't any more, and then got treated as if they are some kind of fraud just for becoming seriously ill. Welfare is not your money to cut: social security is paid for by the public FOR the public. 
It was intended as a system of support and protection from absolute poverty, not a system to administer punishment based on traditional Tory prejudices. Or as a source of pocket money for millionaires.
I'll be voting Labour. Stick your spin "bulletin", your rotten dead cat strategy and rehearsed strategic comms. where the sun doesn't shine and rotate it all. Don't ever insult my intelligence with rubbish like this ever again.
I will be reporting this strategic, profoundly undemocratic and malicious communication, by the way, to the Electoral Commission and other relevant agencies. 
Sincerely.
—
PS. Your email to me, a long standing Labour party member and campaigner, was almost as big a balls-up as this one:  Tories apologise after couple receive letter addressed to 'Mr Youmustbe F******joking'.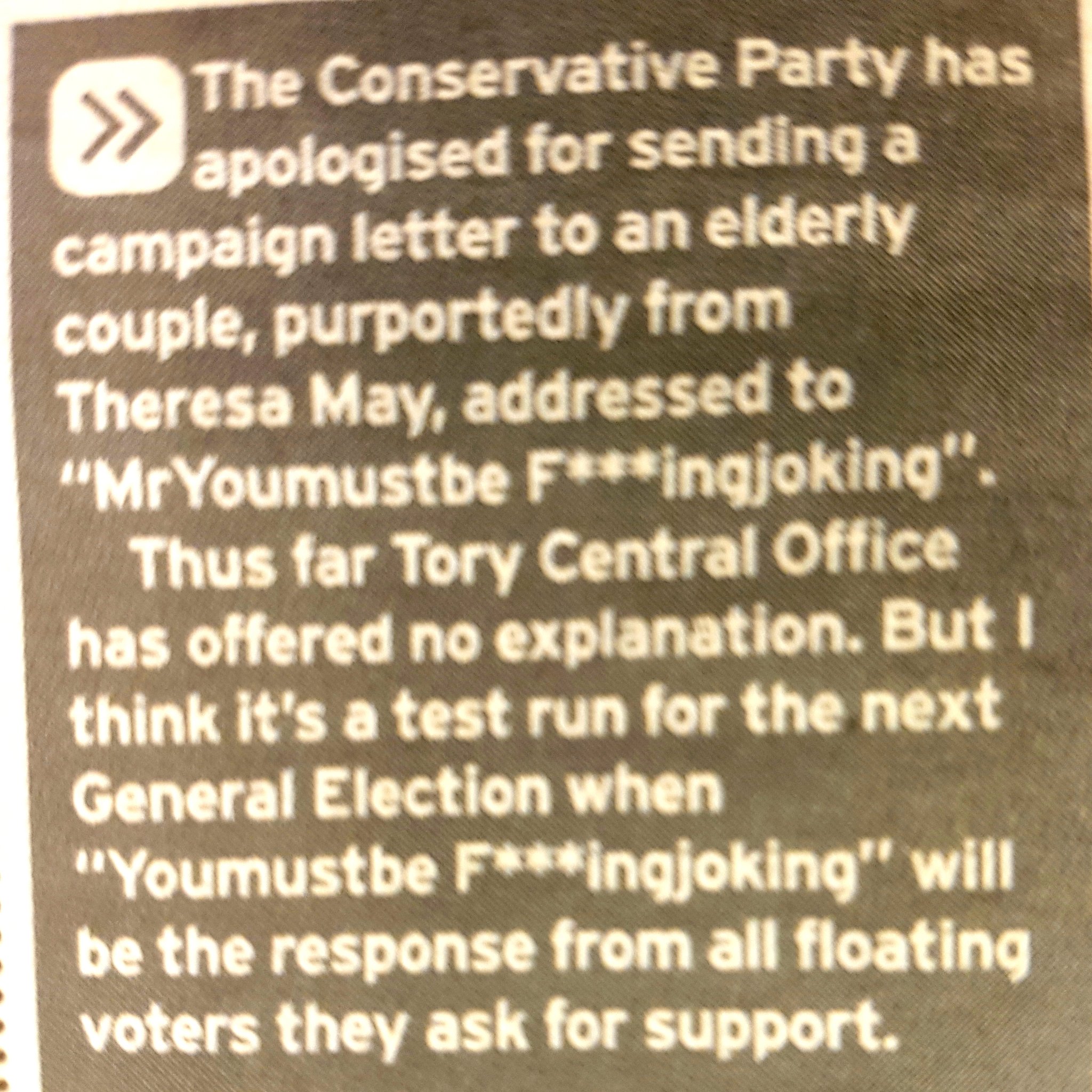 ---
I don't make any money from my work. If you want to, you can help by making a donation to help me continue to research and write informative, insightful and independent articles, and to provide support to others.